I had the honor of working with my good friend JoyAngelica Chan'17 and 5 other Bi-Co dancers on Joy's thesis dance piece InVisIBle, which was performed last Saturday and Sunday nights in the Hepburn Teaching Theater. Joy had been working on this project for the past 9 months, including the approximate 4 months of rehearsals with the dancers.
Conceived nine months ago, this piece is an episodic work with seven dancers. It is influenced by Joy's experience with contemporary choreographers from Graham and Gaga technique to styles of the West African diaspora and is a melding of these expressions. Over a process of six months, four movement episodes emerged that captures each of the four syllables of the world "invisible".
In
Vis
made (I) a woman
Ble
The literal and figurative ideas of invisibility and visibility are explored through group and solo pieces enhanced by an environment created by 50 yards of fabric. The dance investigates complex relationship we have with our many identities and in particular, those that are easily seen and others that are easily hidden.
Dancers (in order of appearance): JoyAngelica Chan*, Kyra Sagal*, Elizabeth Culp, Miranda Canilang*, Emma Cohen*, Jasmine Stanton, Sophia Silver
Music: Soundscape recorded at the Institute of Contemporary Art, Philadelphia and Singapore Art Museum; Flowers by Andrew Ashong and Theo Parrish; Poetry excerpts from Women of Colour by Rupi Kaur, There's Wisdom in Women by Rupert Brooke, The Hurting by Rupi Kaur, Twitter Quotes by Warsan Shire, and The New Colossus by Emma Lazarus; Drop by Chloe x Halle; Good Night Dear Heart by Dan Forrest
___________________________________________________
I felt extremely honored to be a part of the creative process because Joy is both my close friend and fellow dance friend. She is incredibly talented, and I am thankful she believed I was worthy of contributing to her piece as a dancer. I am also good friends with the other dancers in the piece as well, and it was always fun spending late Monday nights (and tech week) in rehearsal together.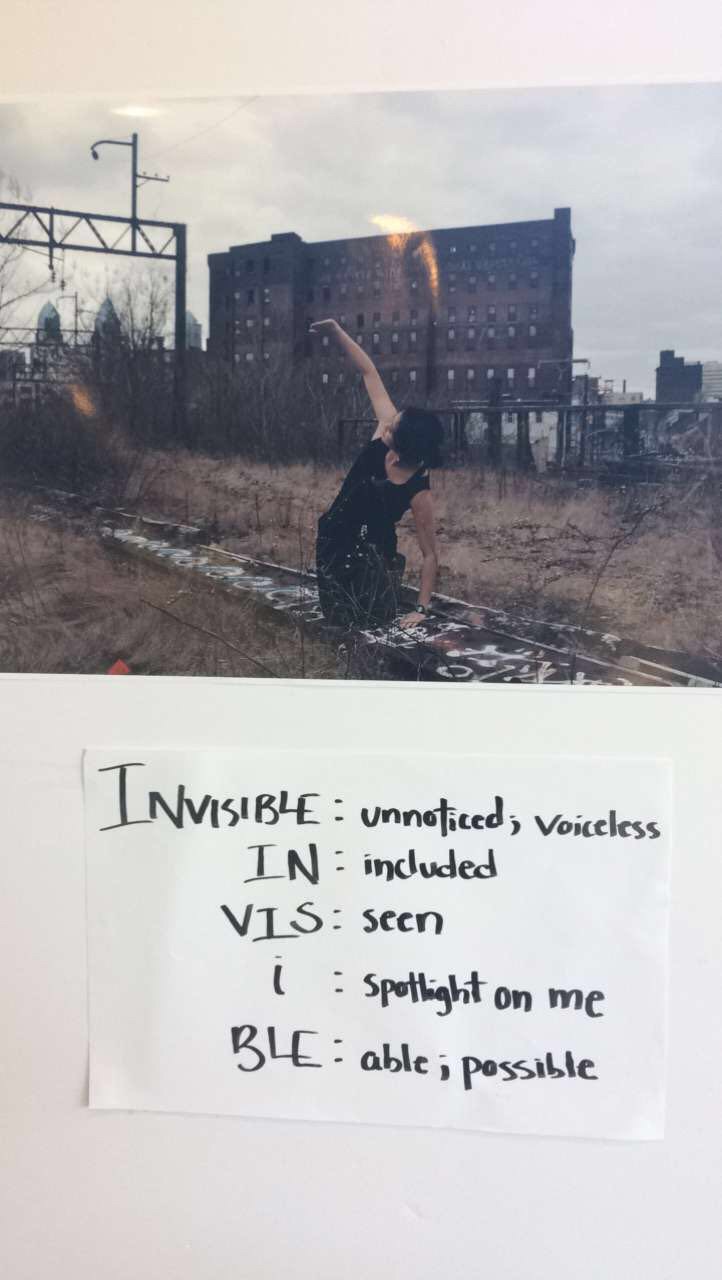 Joy strives to connect dance with deeper spiritual meaning. She had us define what we thought Invisible and the broken up parts of the work mean to us. She also asked us to write about where and when we would choose to be invisible bystanders in time. I wrote about the pros and cons of being invisible. Sometimes it is still worth it to be there even if I feel voiceless or unnoticed. In the end, it is still my decision to choose to be there. Other times, I may get frustrated with my lack of voice if I feel under valued or unrecognized.