On Tuesday November 15, the Health Professions Advisors hosted a panel on women in medical research. The panel featured 3 women at different stages of their medical careers who spoke to students about pathways into medical research, trends among women in the field, and advice on balancing professional and personal lives.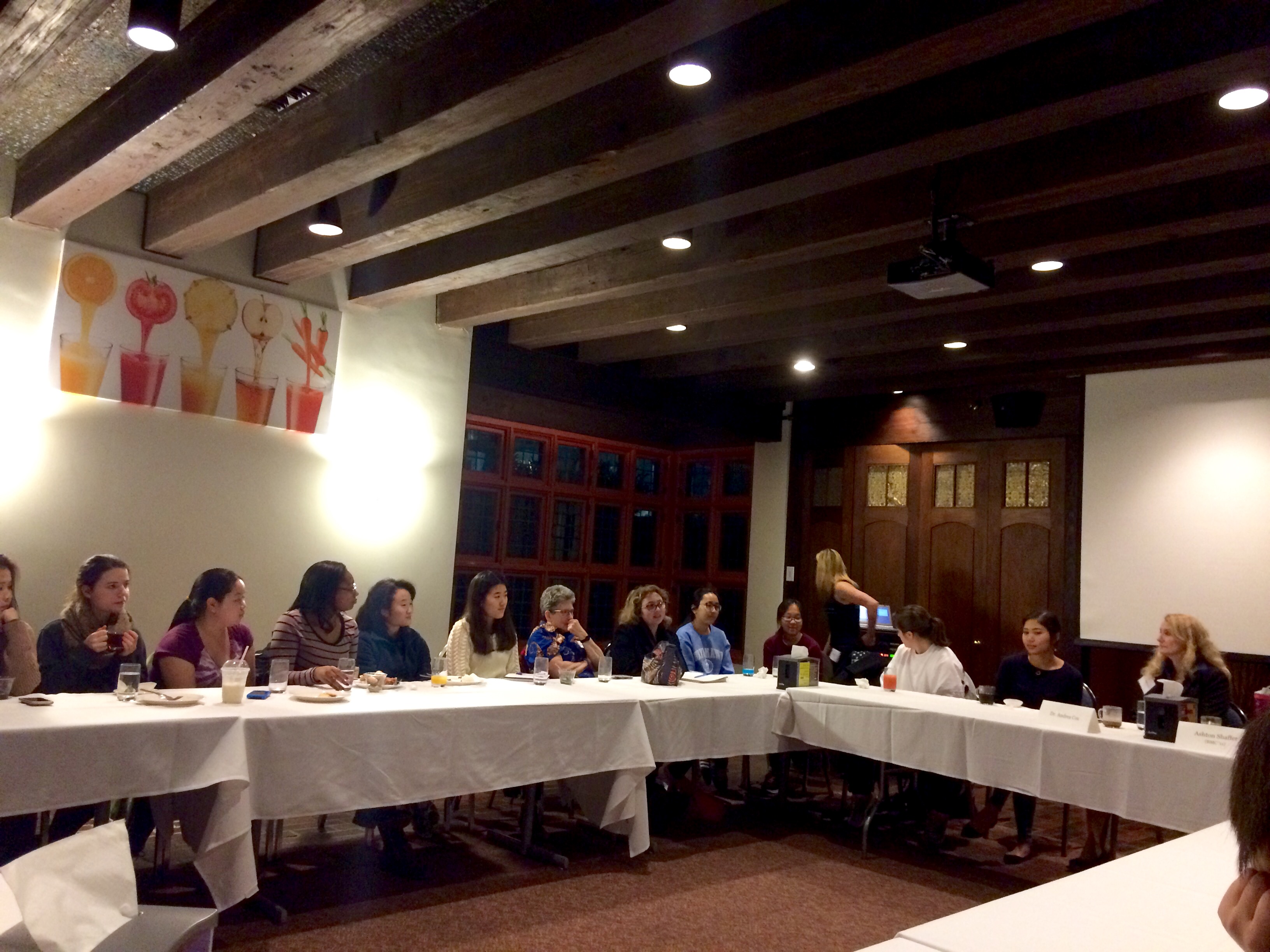 Andrea Cox, MD, PhD, Director, Medical Scientist Training Program (MD/PhD), Johns Hopkins  University School of Medicine, Professor of Medicine, Oncology, and Immunology
Donna Mildvan, MD (BMC '63, Hopkins '67), Professor of Medicine, Icahn Mount Sinai, Former Chief of Infectious Diseases and AIDS Divisions and Director of AIDS Research at Mount Sinai Beth Israel
Ashton Shaffer, (BMC Chemistry & Philosophy '11), Student, Medical Scientist Training Program, Johns Hopkins University School of Medicine and Bloomberg School of Public Health, Epidemiology Research Group for Organ Transplantation
Dr. Cox presented first on The Physician Scientist's Path. Dr. Cox had actually received her Ph.D in Chemistry prior to her MD, but she encourages prospective medical researchers to pursue an MD/PhD because of the overlap between the two. Healthcare often creates immediate gratification for the patient and doctor, but long term research, while being a delayed gratification process, can be just as rewarding. Having two careers in one also breaks up the monotony of a job.
According to trends, physician scientists are on decline. The MD/PhD path requires a commitment to a lot of clinical training, and women often leave the profession because of the lack of role models. Statistics show that 50% of matriculating medical students are women, yet only 38% in the full time academic workforce are women. Women are often pressured to choose between research, clinical time, and a personal life, but Dr. Cox showed us that women can have it all if they try.
Ashton Shaffer then shared her insights on her experience as a Bryn Mawr grad currently pursuing the MD/PhD. Her track consists of 2 years of medical school, followed by 4 years of PhD studying, then 2 more final years of medical school. She highly encouraged us to find mentors in the profession.
Mentors are people who give you a shot even if you haven't earned it yet because that's how you get your foot in the door. – Ashton Shaffer
On her Bryn Mawr experience, she thought Bryn Mawr prepared her well for critical thinking and writing. Some people joke to her saying she probably never uses her philosophy degree, but that's not true at all. Her writing background has helped her write grants and successfully tell stories. Most of her PhD work is reading and writing heavy. The MD/PhD path is still a very difficult path, and it is important to have the love for learning and challenges.
Figure out the trade offs you can live with and the ones that are the deal breakers. – Ashton Shaffer
Dr. Mildvan shared her career path next. She said that she had never intended to go into research, but "research came knocking on her door" when the AIDS epidemic broke out. She credits her tenacity for looking for answers and people to join her efforts to her time at Bryn Mawr when she wanted to write her thesis on a person her advisor found insignificant. That was the moment she learned to never take no for an answer. She used that tenacity to get people to work on studying AIDS and to put together an NIH grant for research funding.
Everything starts at the bed side. Every physician has the capability of turning their career into research. – Dr. Mildvan
Thank you to Dean Gail Glickman for organizing this panel.