On Wednesday November 16, photographer Kris Graves joined Dean Walters's weekly lunch discussion as a special guest. He shared insights on his inspiration for his work and the process behind his latest exhibit Testament Project, which is on display in the Canaday Library Class of 1912 Rare Book Room (until December 18). Graves is currently a New York based photographer, Studio Manager at Guggenheim Museum, and Adjunct Professor, Parsons School of Design, New York.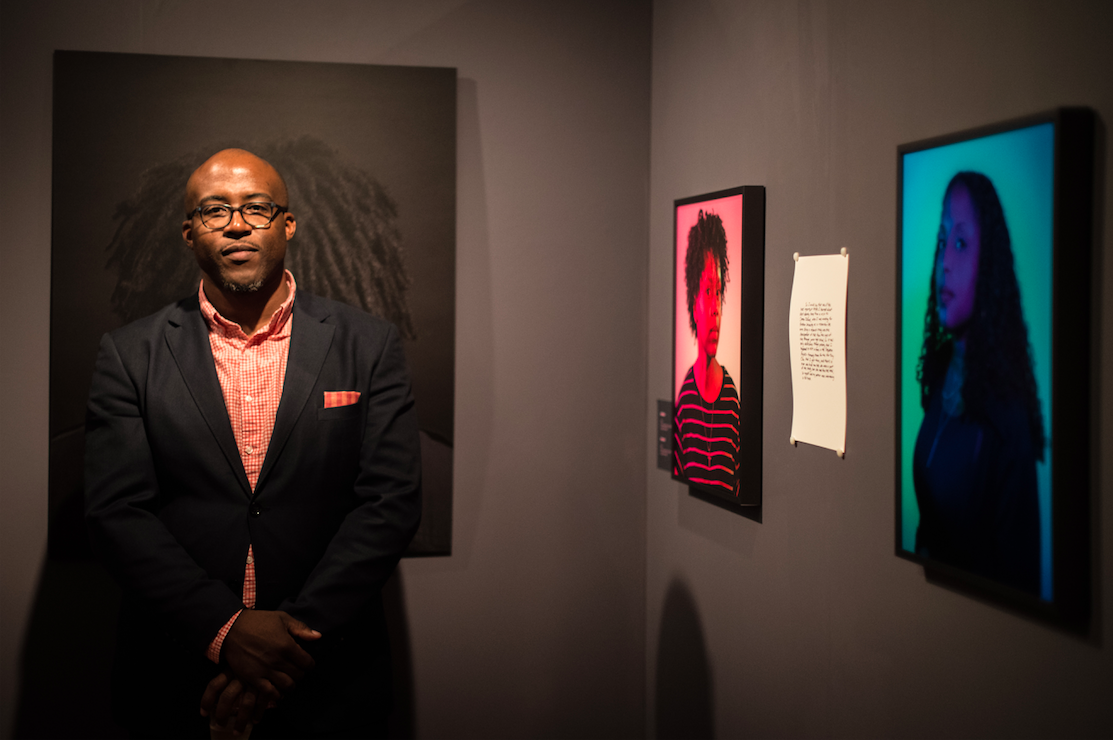 Testament Project grew out of Graves's dissatisfaction with people calling Black people Black people. He used LED light to change the skin color of his Black friends, family, and friends of friends. The resulting portrait series, accompanied by hand written reflections and video interviews of some of the men in the exhibit, focused on what it is like to be Black in America. Testament Project has been shown at various galleries with some raw footage of the interviews released on YouTube and social media. Much of the feedback to Graves's project has been positive, but one instance that stuck with Graves was the reactions of 7 year olds who felt sad for their own futures and even sadder for the project subjects who recalled their daily encounters with racism and discrimination.
Graves is primarily a landscape photographer. He likes to keep his work personal by only taking photos of people he knows or of landscapes he has a connection to. He knew early on that he did not want to photograph fashion models because he felt the set up was too fake. Despite the meaning behind his works, Graves does not consider himself a political artist. However, he says he may have to "go all out activist" in the next couple months because of the current times.
Upcoming Projects:
In the process of trying to learn more about Black photography in America, Graves has been hanging out with historians and other people in and out of the art world. Testament Project was an outlet to break away from his usual landscape photography to explore Black people in portraiture, an art field primarily dominated by White artists and subjects. Testament Project will likely continue as a photography series taken in public spaces like national parks and other places where minorites are often not present. Graves also has plans to create a video from the photoshoot of lights changing with dramatic classical music in the background. Other ideas floating around include photographing families in their living spaces and interviewing the women from the project. As for other upcoming projects, Graves recently did a location photoshoot of places where Black people were shot for Vanity Fair. He is going to Iceland (he's been there 3 times already!) in a couple weeks to walk around as a shadow by dressing in all black clothing. Graves would also like to photograph the Maldives islands before they go underwater.
The State of Photography:
Graves constantly thinks about how not to just make photographs so he can become more relevant in the art world. Sadly, the art hierarchy of medium exists, and photography is less respected than painting. Graves thinks this is a result of the digital age where it is much easier now for anyone to take good photographs. Paintings will always sell for more at art shows and galleries. Contemporary photography is struggling to find relevance in a society where galleries are closing and people are not buying photographs. With photographs being relatively easy to duplicate, Graves often thinks about whether he should create "one of a kind things" or "multiple of each" to reach more people. With "multiple of each," more people could  have access to the art, and it would be more worth it to the world. Graves strives to make work that everyone can access, not just his communities and people.
Testament Project is on view in Canaday Library until December 18, 2016. Free & Open to the public.
The college has collected 6 pieces and the video interviews from Testament Project for Bryn Mawr's permanent collection.