The Theater Program of Bryn Mawr and Haverford College's Fall production of Eurydice by Sarah Ruhl opened this weekend. The story is a modern adaptation of the classic Greek myth of Orpheus and Eurydice told from Eurydice's perspective. Students are involved in every aspect of bringing the production to life, from the acting, to assisting in lighting and set design, to collaborating with the theater faculty directors. I had the chance to watch the play on opening night, and I highly recommend going to see it for yourself during one of the remaining shows November 17-19.
Sarah Ruhl's Eurydice tells the story of two lovers Orpheus and Eurydice. The storyline and characters were slightly modified, with Eurydice's father being changed to Eurydice's mother and 3 talking Stones becoming 6 talking Stones. On their marriage day, Eurydice takes a break from her own party to get a drink from a water cooler. There she encounters two assistants to the Lord of the Underworld who trick her into following them to their apartment where they claim they have a letter from Eurydice's deceased mother. Eurydice attempts to reach for the letter but falls down the stairs to her death and the Underworld. In the end, Eurydice is forced to choose between staying with her mother in the Underworld or returning to life to be with Orpheus. I don't want to give too much of the plot away, but I found the themes of love, mother-daughter relationships, and regret versus decisiveness very powerful in this story. While serious in nature, certain characters will manage to make you experience a whole range of emotions from laughter, happiness, and sadness.
What also makes the Bi-Co Theater's production of Eurydice unique are the creative set design and costume and prop choices. When you enter Hepburn Teaching Theater, the first thing you see is a towering backdrop of stacked water cooler bottles. Themes of water, stone, string, and light are central to the plot, so it was interesting to see how these were expressed in the physical design aspects and special effects of the show. The set also features half a car, which is a strange thing to find, but they somehow managed to get their hands on one.
I actually played a background role in the promotion of Eurydice. Since this semester, I have been running the social media accounts for the Bi-Co Theater Program, including their Facebook, Instagram, and Twitter. I had not been previously involved in theater, so it was nice to get exposure to another form of the performing arts. My role was mostly performed remotely, so I wasn't too close to the cast and crew. We did meet a few times, and hopefully I'll get a chance to know everyone a little better next semester as my job continues. Leading up to the play, I featured cast highlights on the social media accounts. I also had the honor of designing the poster for the play, which was actually a pretty long process back a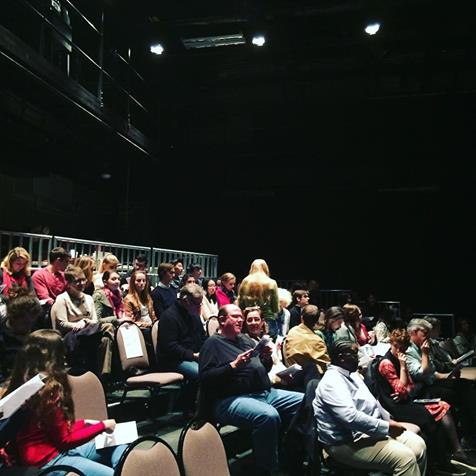 nd forth with the director.
If you haven't seen Eurydice yet, you have 3 MORE CHANCES:
Thursday November 17
Friday November 18
Saturday November 19
All at 7:30PM in the Hepburn Teaching Theater in Goodhart. FREE & PUBLIC
Reservations are not required, but recommended: brynmawr.wufoo.com/forms/theater-reservations/

Please follow Bi-Co Theater on social media!
Instagram: @bicotheater
Facebook: /bicotheaterbrynmawr
Twitter: @BrynMawrArts