My favorite tradition! My last tradition! All the feelings! Thankful to have spent the day with friends, family (yes, my parents and grandmother came!), alums, and the Bryn Mawr community. (Also thankful it was warm and did not rain.)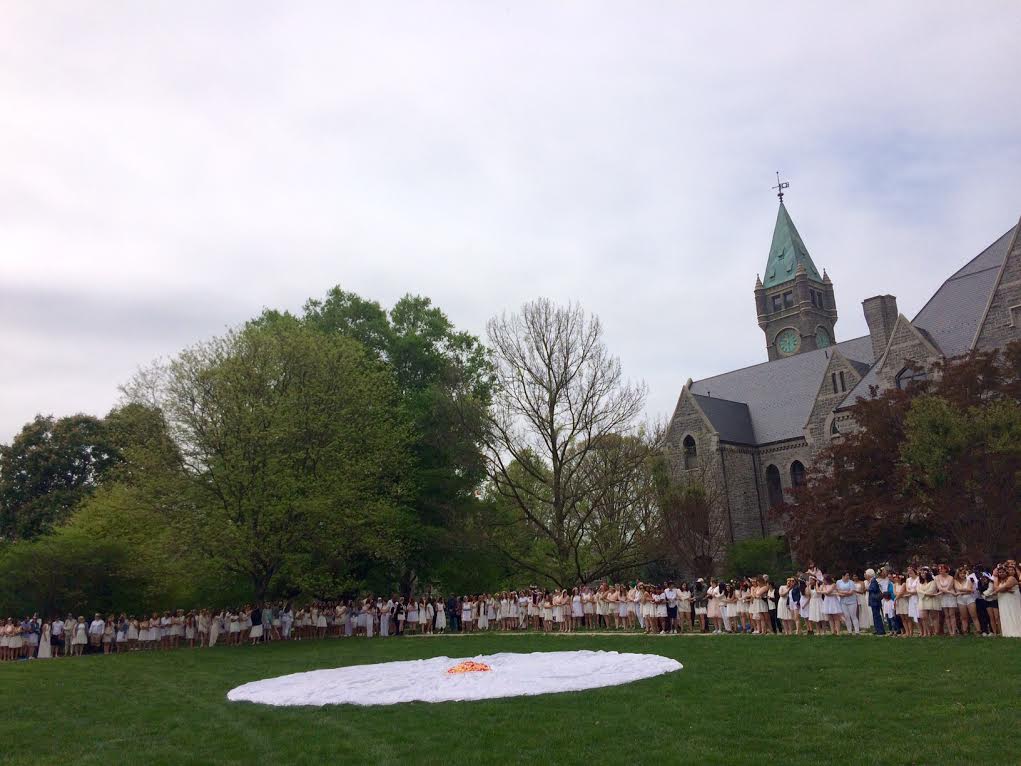 Technically, May Day gifting happens in the wee early hours of May Day (see end of previous post for details), but this post about what happens starting at 7AM. On May Day, we wear white and flowers in our hair.
A Seniors Only Start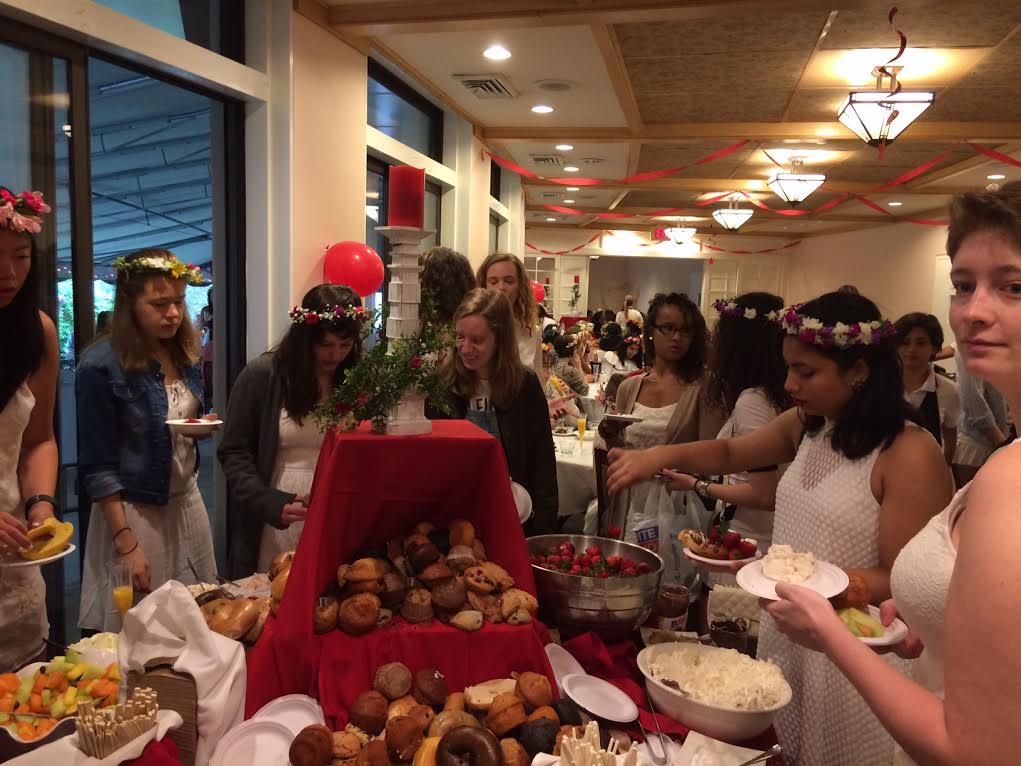 Seniors are supposed to meet at Rock Arch at 7AM to walk to Pen Y Groes to wake up KCass. My roommates and I really wanted to do this, but we didn't wake up until 7:45AM. We even slept through the 7AM wake up Taylor Hall bell ringing. Senior get to eat breakfast in Wyndham. We still managed to wake up early enough to attend that part. Breakfast for the seniors consist of the traditional strawberries and cream and pastries, but also REAL mimosas (been drinking those mock ones for the past 3 years in Erdman), donuts, nutella, and a chocolate fountain. It's all about the senior class upgrades.
Parade and Festivities Kick Off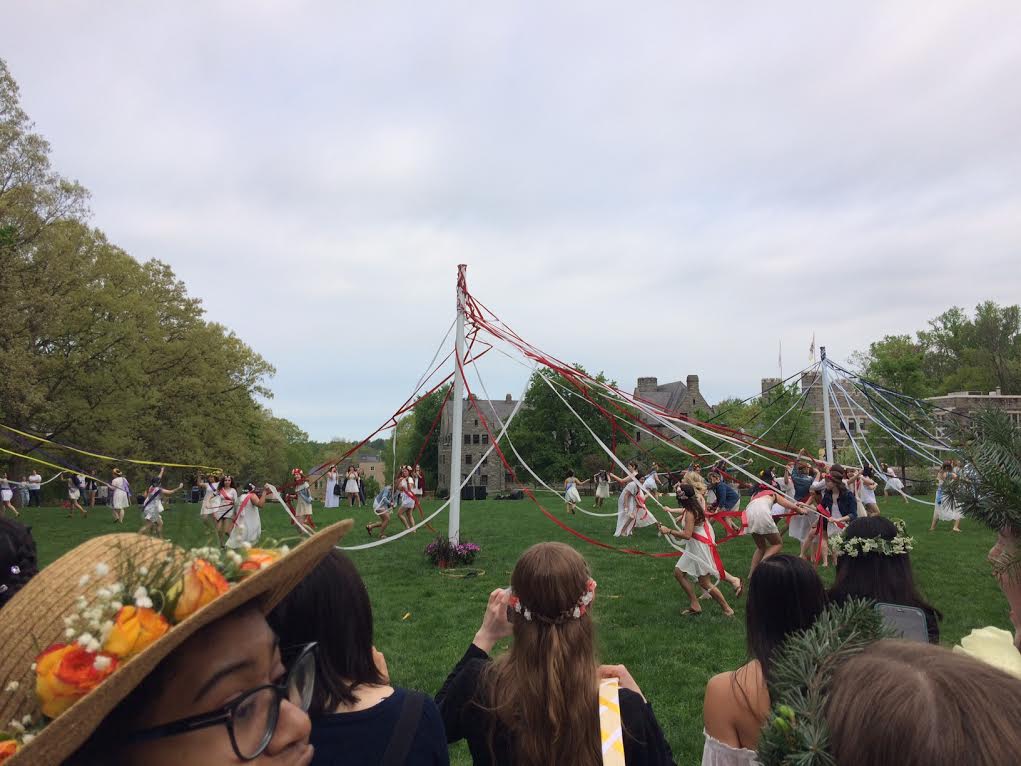 The parade started around 9:20AM with KCass entering in a horse drawn carriage, Scottish dancers and musicians, and representatives of each class color marching to their May pole dancing places. The May pole race began with KCass's "ready, set, go." The first class to wrap the ribbon the farthest down the pole wins. This all doesn't really matter because the seniors automatically win (yeah, not rigged at all). KCass then gave a speech about finishing up the school year, saying good bye to the seniors, and commending us for our hard work all year. Then, the senior class presidents gave speeches with words of advice to each class year.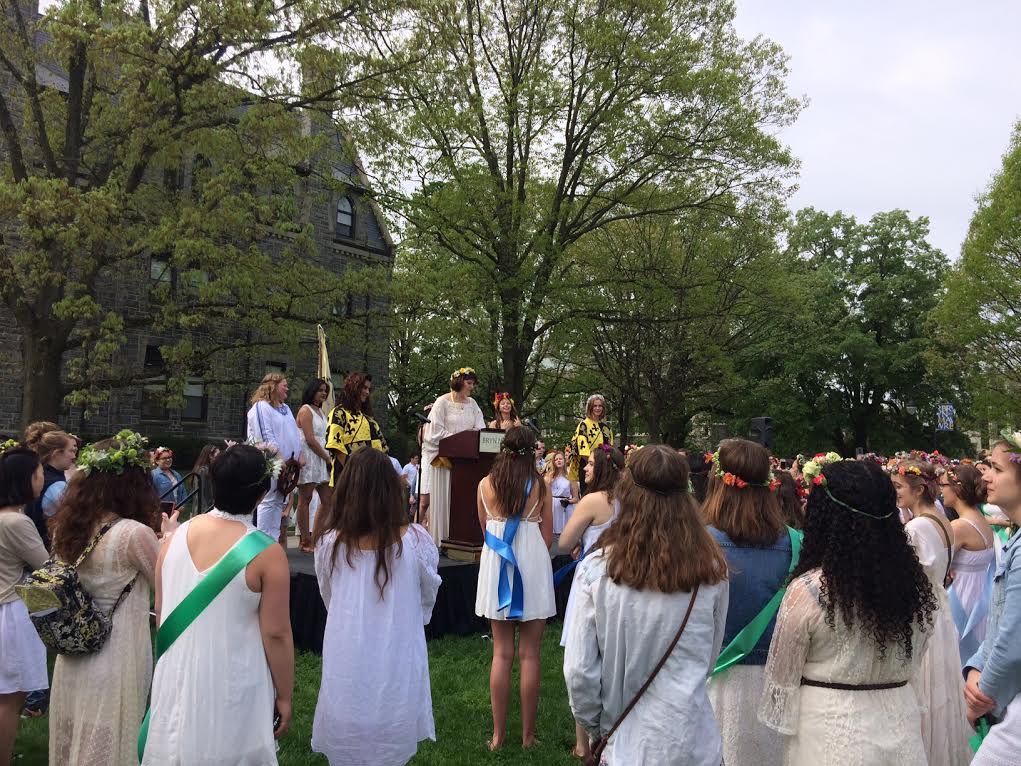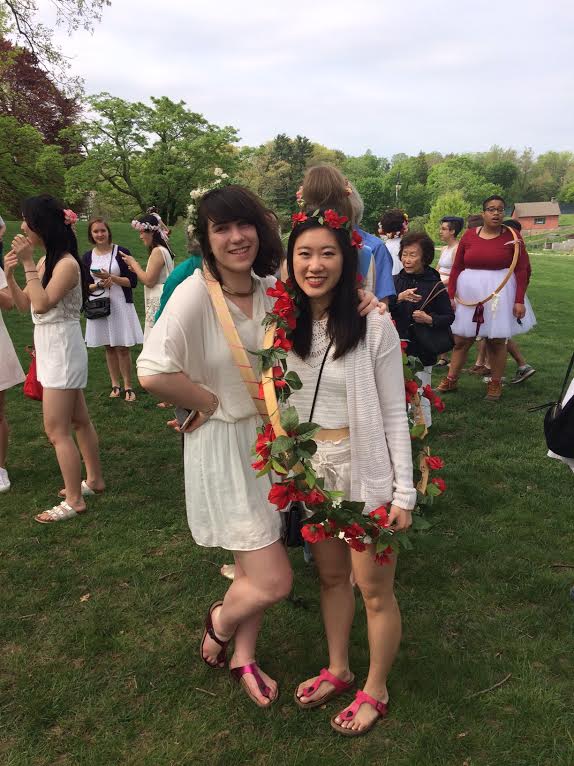 Hoop racing down senior row promptly started right after speeches. I took my time walking down senior row since I shared my hoop with my two other roommates. We squeezed three people into a hoop. Mawrters like to take photos at the end near the moon bench. Hoop racing down senior row is the first time Mawrters can walk the entirety of senior row straight down the two rows of trees without worrying about superstition. We have a superstition that you won't graduate if you walk straight down senior row before the hoop race.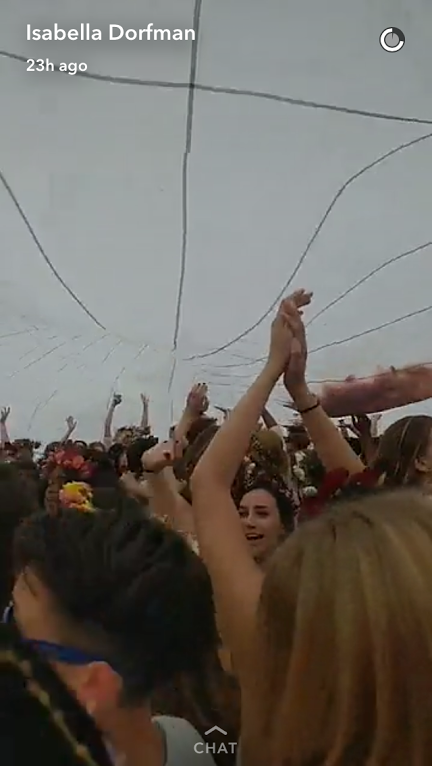 Rushing the May Hole happened at 11AM. This is actually my favorite May Day activity. Mawrters gather on Denbigh green around a parachute with flower petals. We hold hands and jump up and down shouting "Hey hey ho ho, the patriarchy has got to go." Then the traditions mistresses lead the charge into the center where we lift the parachute and toss up the petals. Dar William's "I will not be afraid of women" plays on loop in the background, and Mawrters take more photos together tossing up petals into the air.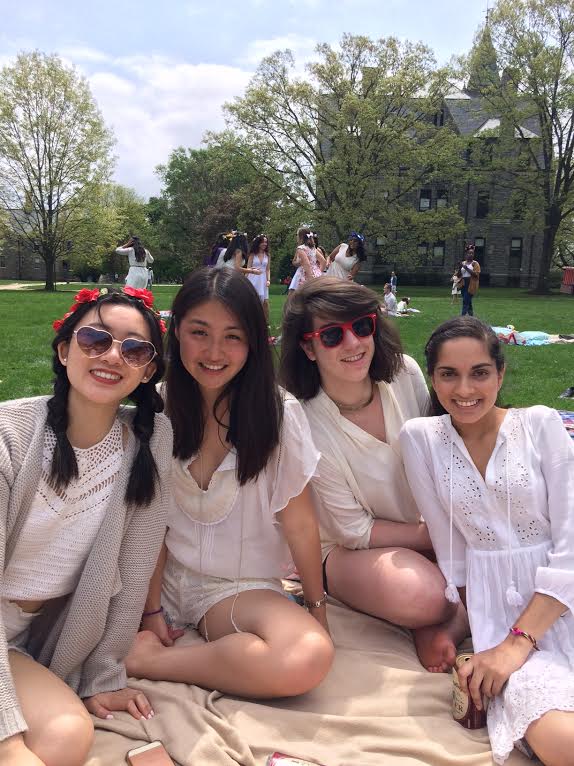 The rest of the day is filled with lounging on blankets on Merion Green listening to music and snacking (and drinking). There are booths in front of Canaday where you can get face painted, take photos, get funnel cake or cotton candy, and get personalized cards written and drawn by artists and designers. Lunch is served on Erdman Green. Lunch was fish and chips, chips, salad, and burgers. May Day food is the best.
Music Festival
Student DJs and some student bands play throughout the day leading up to the headline concert. Our headliner Khalid played at around 4pm on Merion Green. Although he's only 19 years old, his career is sky rocketing right now with hits such as "Location" and "Young Dumb & Broke." By this time of day, it is blatantly obvious that flocks of Haverford students (and some Swarthmore students, maybe even some Villanova) crash (well, not really crash since it's an open campus) May Day for the concert. I really appreciate that May Day is free and inclusive. Penn's Spring Fling concert costs $50 for Penn students and even more for non-Penn students (Bryn Mawr students with a Penn card can still get the discount FYI).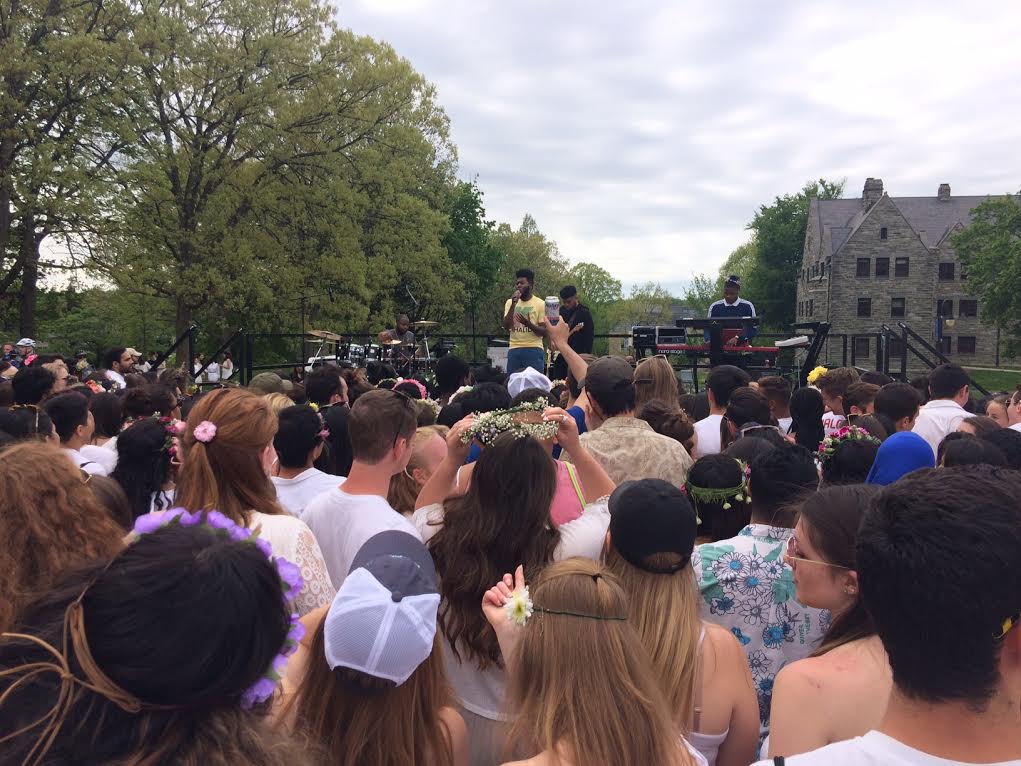 After the concert, students clean up and head to dinner. Dinner was delicious. Steak, salmon, rice pilaf, finger potatoes, salad, brussel sprouts, corn on the cob, spinach dip and chips. Strawberry shortcake, orange ricotta tart, cookies, and fruit.
Step Sing
May Day finishes off with Step Sing and Goodnights. It's the last step sing of the year, so of course we all get pretty emotional (especially the seniors). I even cried while hugging my underclassmen goodnight. At the very end, the junior class rushes the senior steps to claim them as the new seniors. Seniors shout to them: "You'll always be freshmen to us!"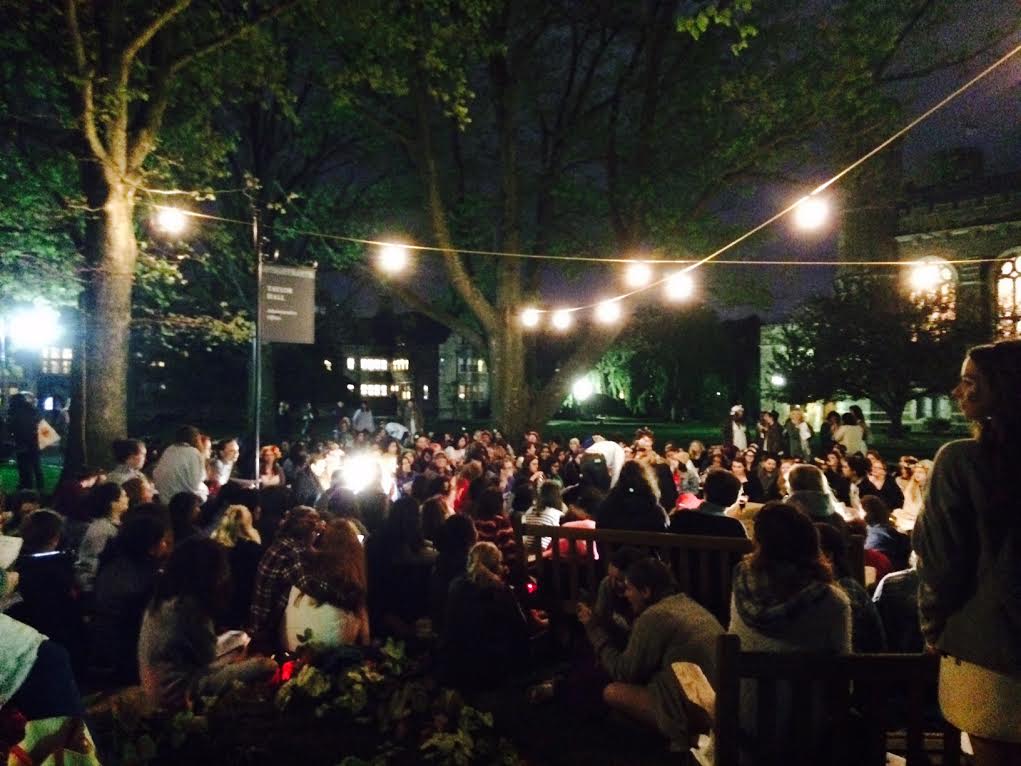 The end of May Day marks the start of finals. Time for me to complete 2 exams this week… I'm already looking forward to Senior Week!