On Saturday March 18, Haverford's Center for Peace and Global Citizenship hosted their annual Public Policy Forum. The day-long event is a space for students to interact with Bi-Co alum working in various public policy fields ranging from education, law, foreign policy, to health and environment. I attended last year's forum and was happy to return again this year.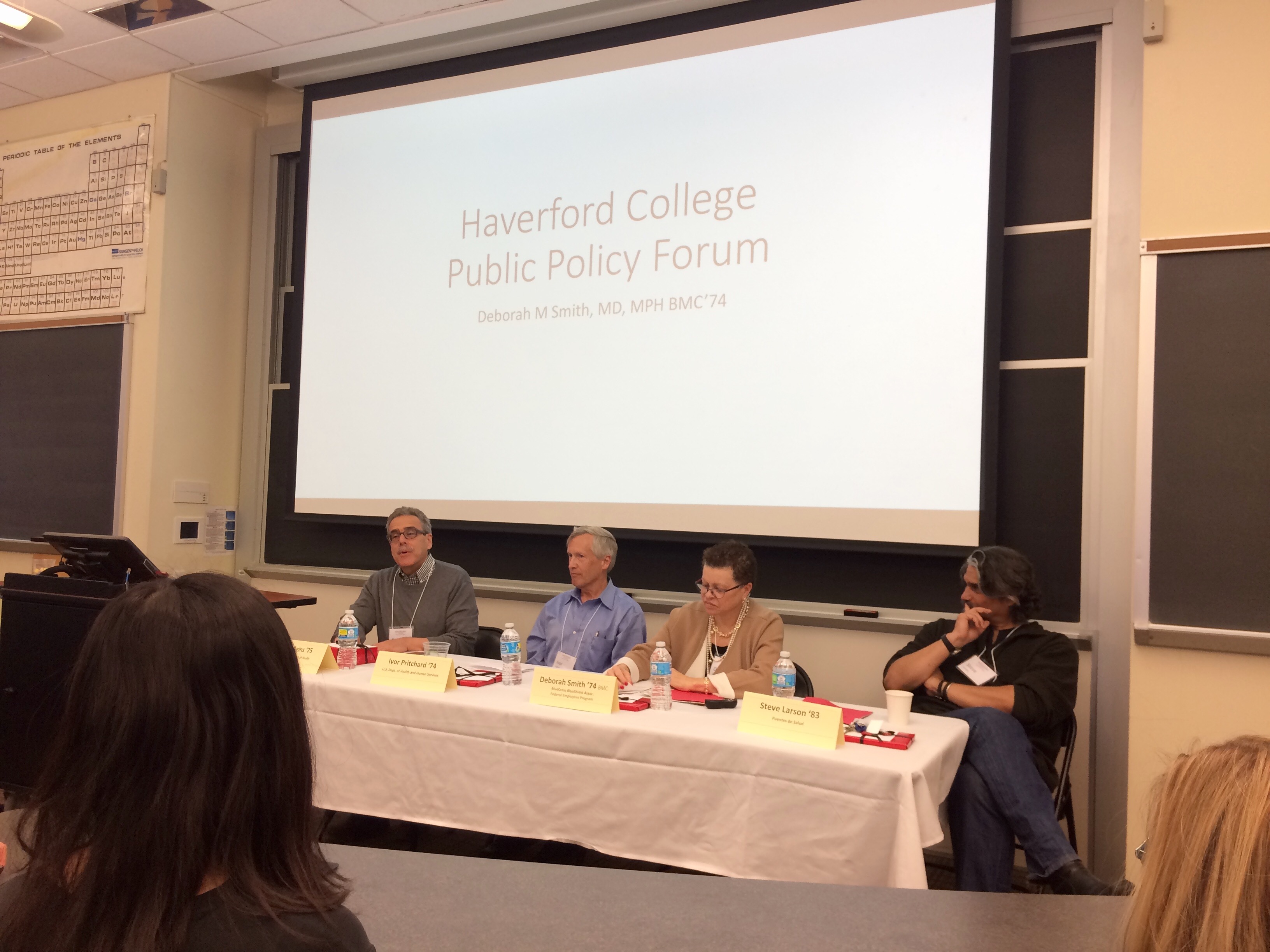 I had a dance rehearsal for the Choom Boom Showcase earlier in the day, so I could only attend the afternoon session and the closing keynote address. I chose to attend the Health Policy session because I plan on pursuing nursing after Bryn Mawr.
Moderator: Bruce Agins '75, Medical Director, NY State Dept. of Health AIDS Institute; Director HEALTHQUAL, International and Clinical Professor, Department of Epidemiology & Biostatistics; Global Health Sciences

Panelists:
Steve Larson '83 Co-founder and Executive Director of Puentes de Salud
Ivor Pritchard '74 Senior Advisor to the Director in the Office for Human Research Protections (OHRP) in the U.S. Department of Health and Human Services
Deborah Smith '74 (BMC) Managing Director for Medical Policy, at the BlueCross BlueShield Association (BCBSA) Federal Employees Program (FEP)
Each of them outlined their career paths from directly after college to their current work. Dr. Smith trained as an obstetrician and gynecologist in the age of Roe v. Wade. She found her way into healthcare consulting by chance opportunity and is proud to work at a health insurance company that covers about 1/3 of the entire USA population. Pritchard entered medical ethics by chance when he was a Ph.D. student who was accidentally assigned a medical ethics class to TA. His formal background is in philosophy, and he initially thought he would be an author (or an equestrian teacher as a backup!). His wife is a Bryn Mawr alum who is a lawyer, and the two of them have managed to build their careers together. Pritchard now works for the government overseeing the ethics of major human research proposals. Dr. Larson was actually a fine arts major at Haverford while taking his pre-med requirements. He credits his artistic background for his understanding of continuous processes and multitudes of expression and ideas. Larson started Puentes de Salud, a community center, after wanting to do something to for the growing lower income Latino community in Philadelphia. While Larson spends most days in the operating room, he still keeps an art studio and remains active at Puentes de Salud.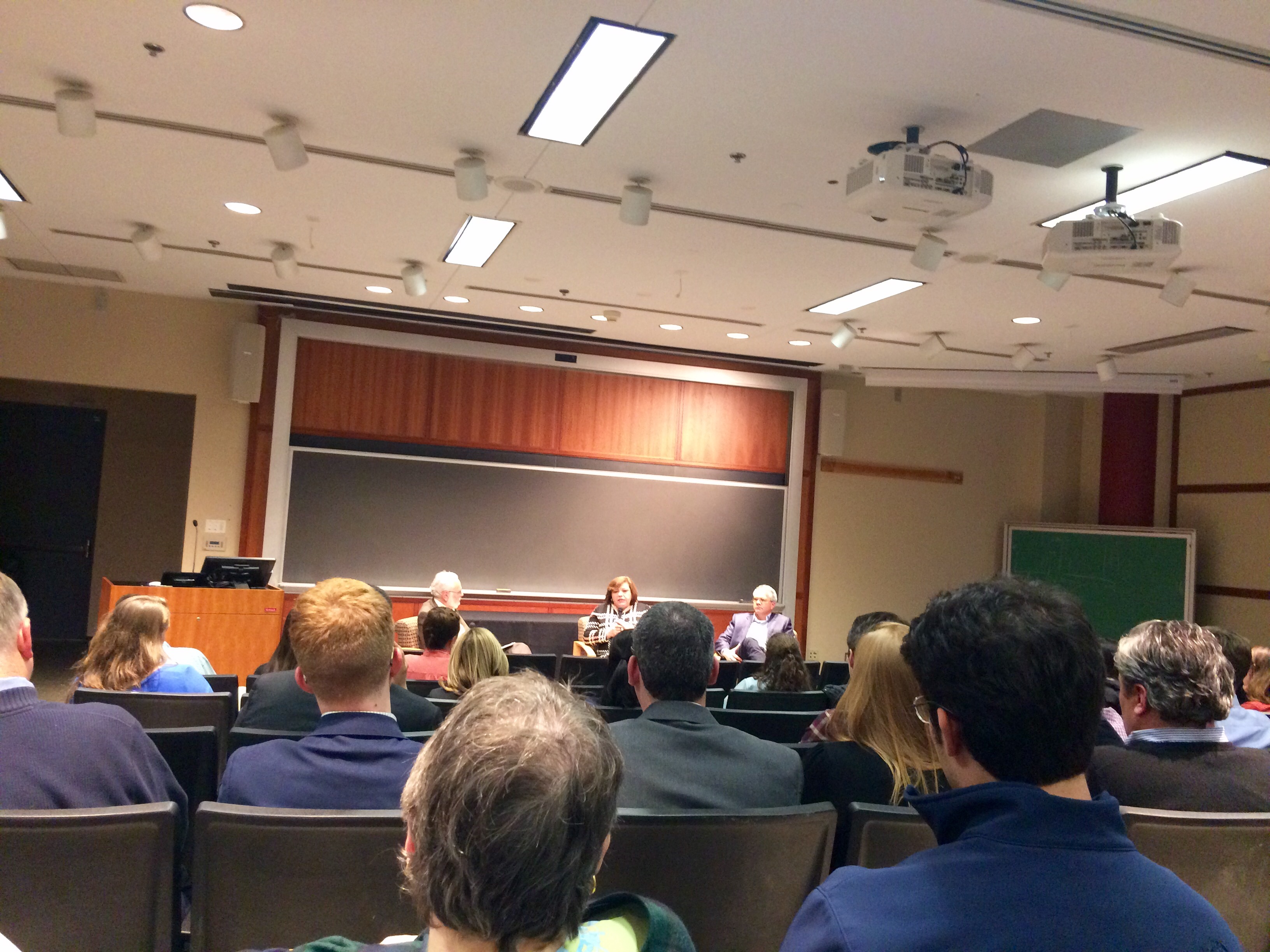 Keynote address—Sharpless Auditorium

Moderator: David Wessel'75, Director, Hutchins Center on Fiscal & Monetary Policy, Brookings Institution; Pulitzer Prize-winning journalist with 30 years of experience at The Wall Street Journal

Keynote speakers:
Bruce Andrews '90 Former Deputy Secretary of Commerce
Lisa Schiffren '81 (BMC), Senior Fellow, Independent Women's Forum
After the Health panel, I briefly said hi to my former Bi-Co externship sponsor Dr. Agins. Then I headed to the closing keynote address. I sat next to a Bryn Mawr friend. We were in for a jaw dropping keynote after realizing that the Bryn Mawr alum was a conservative and the Haverford alum was a liberal. Both respected each other's views, but it was apparent when they disagreed on certain political topics. From foreign aid, to China's Xi Jinping, Merkel, Trump, the future of the DNC, Bernie, Hillary, national arts funding, and jobs for the economy, it almost felt like election debate season all over again.
The forum ended with a wine and cheese networking event outside of Sharpless auditorium. My friends and I spent that time debriefing what we just witnessed and talking to other students on their opinions. Sadly, I was carded for the wine while my friend was not. As always, I am glad I was exposed to opinions that may have differed from my own. If only more Bryn Mawr and Haverford students (many of whom profess their beliefs on social media) were also present to engage with these alums and the other students… I highly encourage you to attend next year's conference, even if you've already attended in previous years (even alums who are not presenting attend).