Bi-Co students were gifted our second snow day of the school year today. The announcement from Public Safety came in yesterday around 5pm that the school would be closed until 1pm. A later email announced that all classes were canceled for the entire day. Students were encouraged to stock up on fruit and takeout from the dining halls just in case.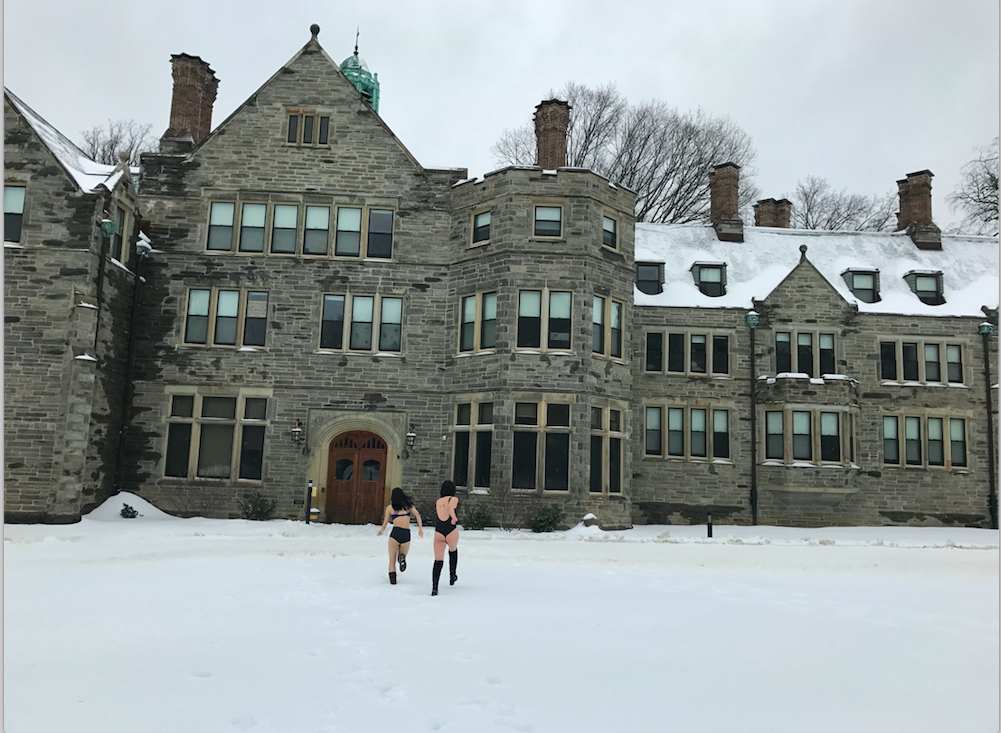 My roommates and I realized that this could be our last snow day of our undergraduate careers. This meant doing something wild — a snow photoshoot in our swimsuits. A couple other Mawrters have done this type of photoshoot before. My friends and I have always thought they were crazy for facing the cold, but secretly we also thought it was a good idea. My roommate Friend and I dressed up for our photoshoot and our other roommate May took our photos. She was the designated photographer because she had the nicest smartphone. We took pictures on Denbigh green in small batches, running back inside in between shoots.
After our photoshoot, we returned back to our dorm room to cook ourselves food and continue on with our day. Snow days are just another excuse for sleeping in and maybe procrastinating, but there is still no escaping the homework and assignments piling up for the upcoming midterm season #2.
The snow stopped around 4pm, short of the expected 6-12 inches projected. The snow quality was not that great either. It was more on the icy, sleety side than fluffy and powdery. Regardless, all Philadelphia public schools were closed today, as well as New York City schools. It does not look like we will have another snow day tomorrow, but the forecast still says there's a possibility of more snow. It has been a strange winter season so far. Some days it's been 60 degrees, others have been below 20 degrees.