On Wednesday February 22, two Senior Vice Presidents of The Estée Lauder Companies came to Bryn Mawr to speak to students about branding ourselves for our careers and life. The event was well attended by close to 45 students eager to learn about networking and women in business.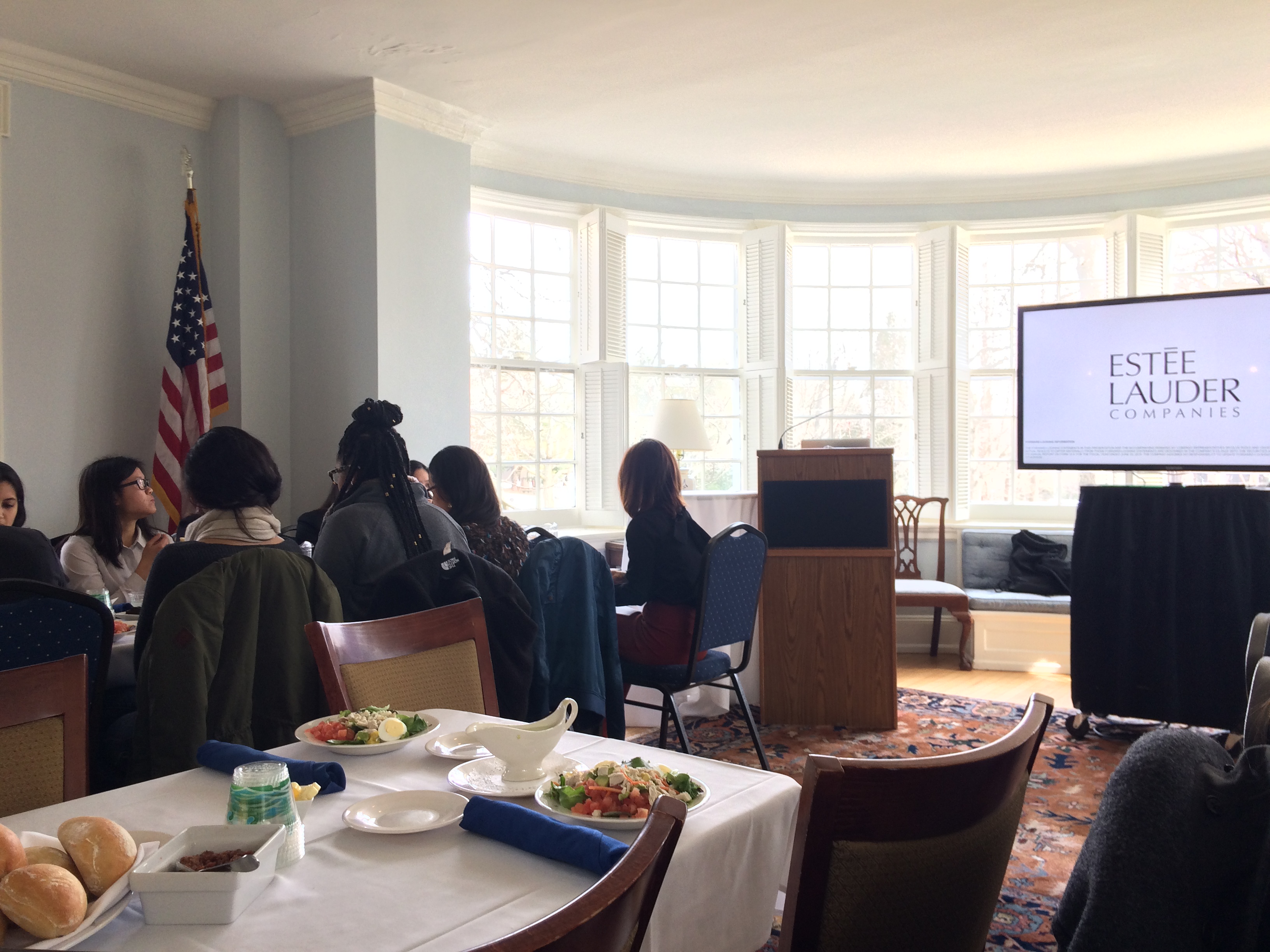 Estée Lauder Companies takes great pride in their origins as a company founded by an entrepreneurial woman, Estée Lauder herself, who never took "No" for an answer. Estée Lauder Companies now sells products globally. They also run research and design hubs and innovations centers in Europe and Asia.
Phebe Farrow Port (SVP, Global Management Strategies and Chief of Staff to the President & CEO) and Lisa Napolione (SVP, Global Research & Development) spoke to students about their own career paths and how we could market ourselves for any career. They started with a general presentation of 9 essential tips::
You are the CEO of your own brand! The 9 things you should have at your fingertips and spend your life refining:

What is your value proposition?
Who is your customer?
What differentiates you?
You can't control people, or often the circumstances you find yourself in, BUT you CAN control/monitor/filter your reaction to them/it.
Leadership is both an individual and team sport!
EVERYTHING has YOUR name on it!
Your reputation is in the details.
Adaptability defines your career (more than an MBA or prestige university).
Appoint a personal Board of Directors.
Many of the students who attended were dressed in business clothes (and makeup) to make a good first impression. Perhaps they assumed since the guests were from a beauty company, presentation expectations were raised. Ms. Port and Ms. Napolione were actually very approachable, and they admitted that they too were makeup consumers of their own company.
Ms. Port described her career path as nonlinear since she discovered her passion for the business side of beauty unexpectedly. When she was a college student studying voice performance, she had to work to pay for school. She ended up working at a cosmetic department giving women makeovers and learning how to make women feel better about themselves. She decided to follow her passion which eventually led to Estée Lauder.
Ms. Napolione's background was more traditional in the sense that her degree in biochemical engineering with a focus on skin and drug delivery prepared her for overseeing the company's research and design. After all, makeup and skincare contain actives that must be regulated and clinically tested before hitting the shelves. Ns. Napolione credits her professors and mentors for persistently guiding her and building and maintaining her network.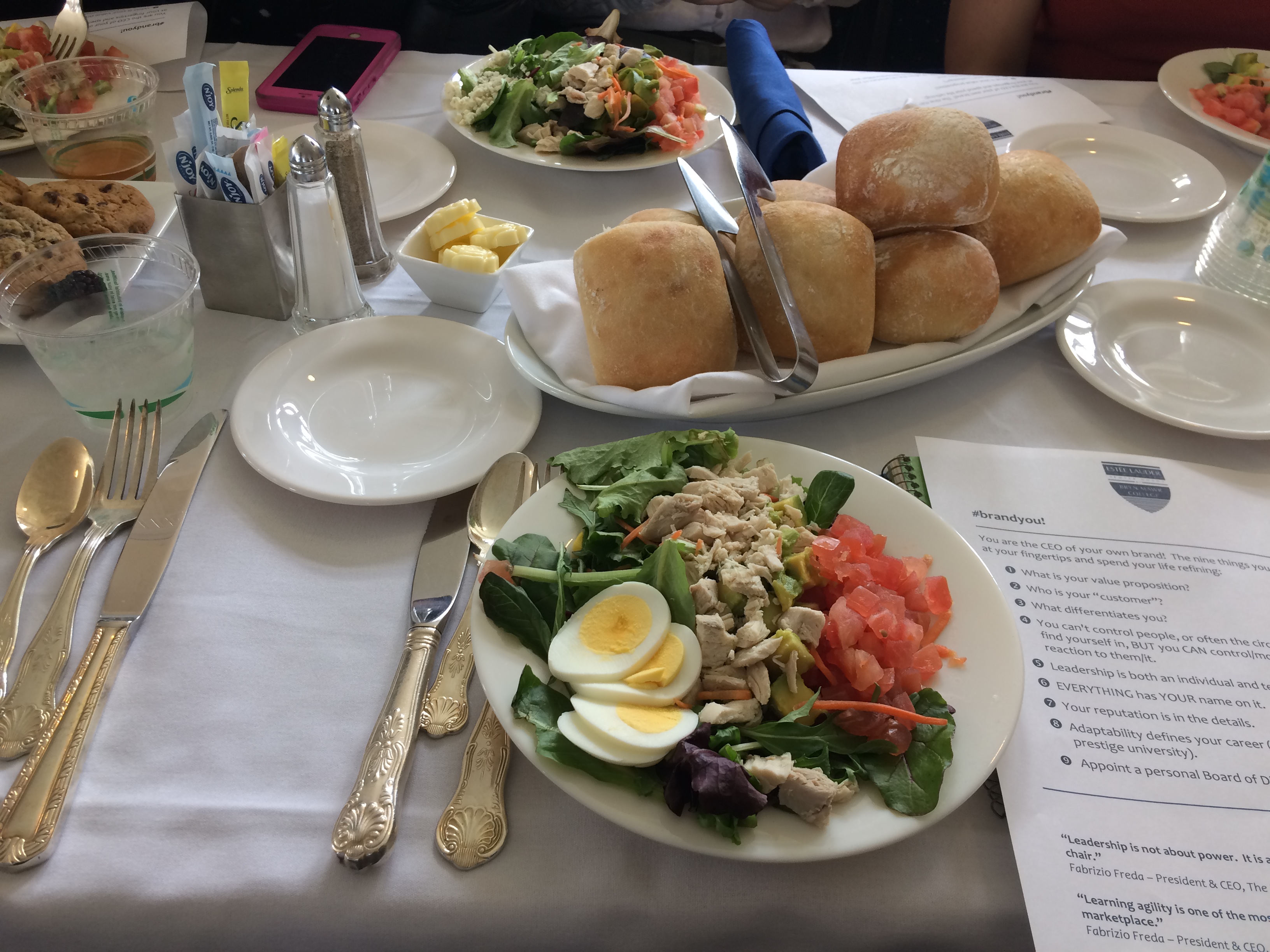 After the general lunch session, I joined a smaller group of 5 students for a separate lunch with the Estée Lauder representatives. We had the opportunity to ask more specific questions about the makeup industry, and they asked us questions about Bryn Mawr. Estée Lauder hosts a company retreat every summer at Bryn Mawr, so they already know how gorgeous our campus is, but they did not know much about Bryn Mawr students. The conversation focused primarily on STEM at Bryn Mawr and why we chose Bryn Mawr. All of us cited Bryn Mawr's unique academic environment as a small liberal arts women's college where students are close to faculty and benefit from a diverse selection of small classes. We spoke to Bryn Mawr's strengths as much as possible because we knew that Estée Lauder always looks to recruit smart women, especially those in STEM. Bryn Mawr graduates are more than capable for the job. Here's to a future pipeline of Mawrters working at Estée Lauder…