The Class of 2017 came together last night for a third senior cocktail party in Erdman common room. Our awesome class presidents Priyanka Dutta and Hannah Henderson-Charnow once again hosted a successful party with themed decorations, drinks, snacks, and music.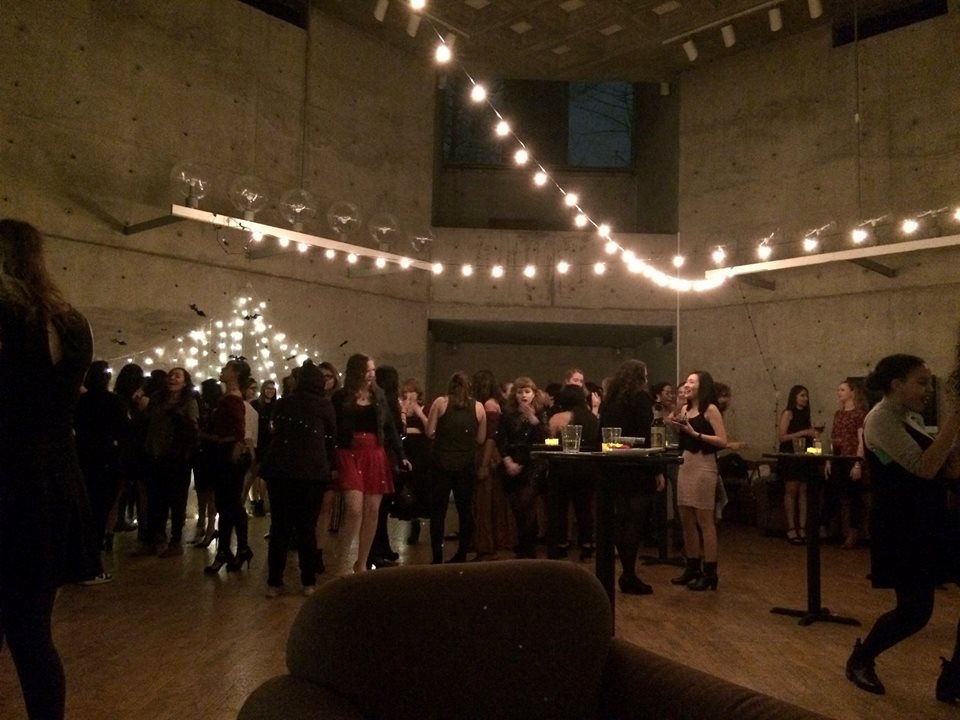 This time the theme is Rock Bottom cause we've definitely hit it. However, if you want you can consider the theme as any of the following — Cave / bat-cave / fire-cave / allegory of the cave / or….on-the-rocks!!
My friends and I take senior cocktails as a photo and dress up opportunity because most days at the Mawr we wear sweatpants (in women's college fashion). I tried to dress up in metallics like cave minerals, one of my roommates was a "high fashion cave woman," and my other roommate was also an amethyst.
Where Bryn Mawr lacks in "classical college party culture," we make up for it in organized traditions and special events. Our graduating class isn't even that big, so it's not intimidating to go to senior cocktails and make small talk with classmates. There are comfy couches in Erdman common room to sit on and talk. Underclass students serve as bouncers and servers. I ran into my Anatomy and Physiology lab partner Martely who was party bouncing.
After senior cocktails ended at around midnight, word spread that there was a 90s themed party going on in the Rockefeller dorm. In all my time at Bryn Mawr, I had never actually gone party hopping on campus. My friends and I jumped at this chance. To our surprise, the 90s party in Rock was actually a lot of fun. The music selection was spot on — playing the few 90s hits that I actually knew and could sing along to. And, gasp, there were boys at the party too (of course, outnumbered by girls). Our night ended at around 1am (party went on later, but we left early), but I was reminded that weekends at Bryn Mawr are fun and not to be missed. I had previously spent the past 4 weekends since this semester started (which is every weekend since the semester started) in Philly, but it looks like I'll be spending more time in the Bi-Co on the weekends. I look forward to it.