The Bryn Mawr College Computer Science and Physics Departments sponsored tickets to see the film Hidden Figures at the Bryn Mawr Film Institute on Wednesday, February 8. The film stars Taraji P. Henson, Octavia Spencer, and Janelle Monáe as real life NASA mathematicians Katherine G. Johnson, Dorothy Vaughan, and Mary Jackson who were involved in calculating the US's first trajectories into space in the 1960s.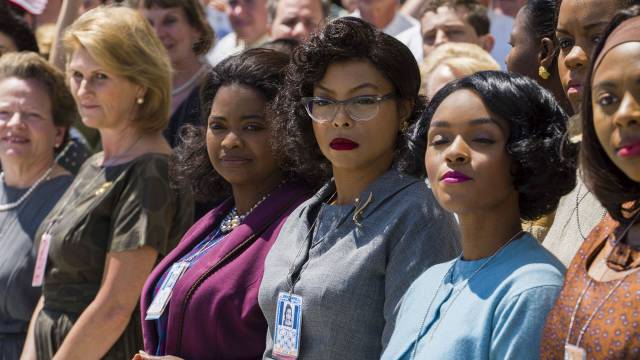 Central to the film's storyline were the daily segregation struggles the three African American women faced both at work and outside of work. We watched Henson's character Katherine run back and forth between her office in one NASA campus to the only colored bathroom located in a different NASA campus almost a mile away. Spencer's character Dorothy was working as a supervisor for her computing department without the position and pay of one. And Monáe's character Mary fought for her right to become an engineer when there was no precedence of other African American female engineers. Outside of work, the women and their friends and families tried to live a peaceful life attending church or going to the library, but they still encountered prejudice and racial discrimination as the Civil Rights Movement was gaining traction. But with the help of their tight-knit friendship and communities, the women enjoyed happy moments, including love.
Historical accuracy in this film is often disputed. While it was great to see three strong Black women in a film that is doing great at the box office, the message of their strength and perseverance could have been strengthened if a few plot lines were changed. For example, the film made it a point to show that Katharine's White boss Al Harrison knocked down the colored bathroom sign and actively spoke in support of Katharine's work. In reality, these women succeeded without such fictional White savior work conditions. It has also been discussed that some characters and plot lines were combinations of multiple people's lives and traits.
One of my favorite lines from the film was when Kristin Dunst's character, a White female computer, tells Spencer's character Dorothy in the bathroom that despite what Dorothy may think, she had nothing against her. Dorothy's witty response was that she knew that that's what Dunst's character would like to believe. Sadly, racism still exists today and complications with White allyship and microaggression still happen, especially against Black women. Hidden Figures is able to captivate an audience with a historically related story that is relevant to today's culture. I hope more people learn to acknowledge the impact that these women and many other less recognized minorities have had in advancing science. And I hope many more women, especially women of color, are inspired to go into and succeed in STEM fields.
Another high point of the film is the catchy soundtrack co-produced by Pharrell. Above is my favorite song from the film.