This weekend October 21-22 is Family Weekend at Bryn Mawr! Parents, family members, siblings, and friends unite to sit in on lectures, attend faculty talks, observe campus life, and participate in special activities like s'mores and acapella, movie night, and arts and crafts. My parents drove in from Ridgewood, NJ to do ALL of those. They claim that because it's my last year at Bryn Mawr, it's their last chance to experience Family Weekend (they've attended every year except my 2nd year).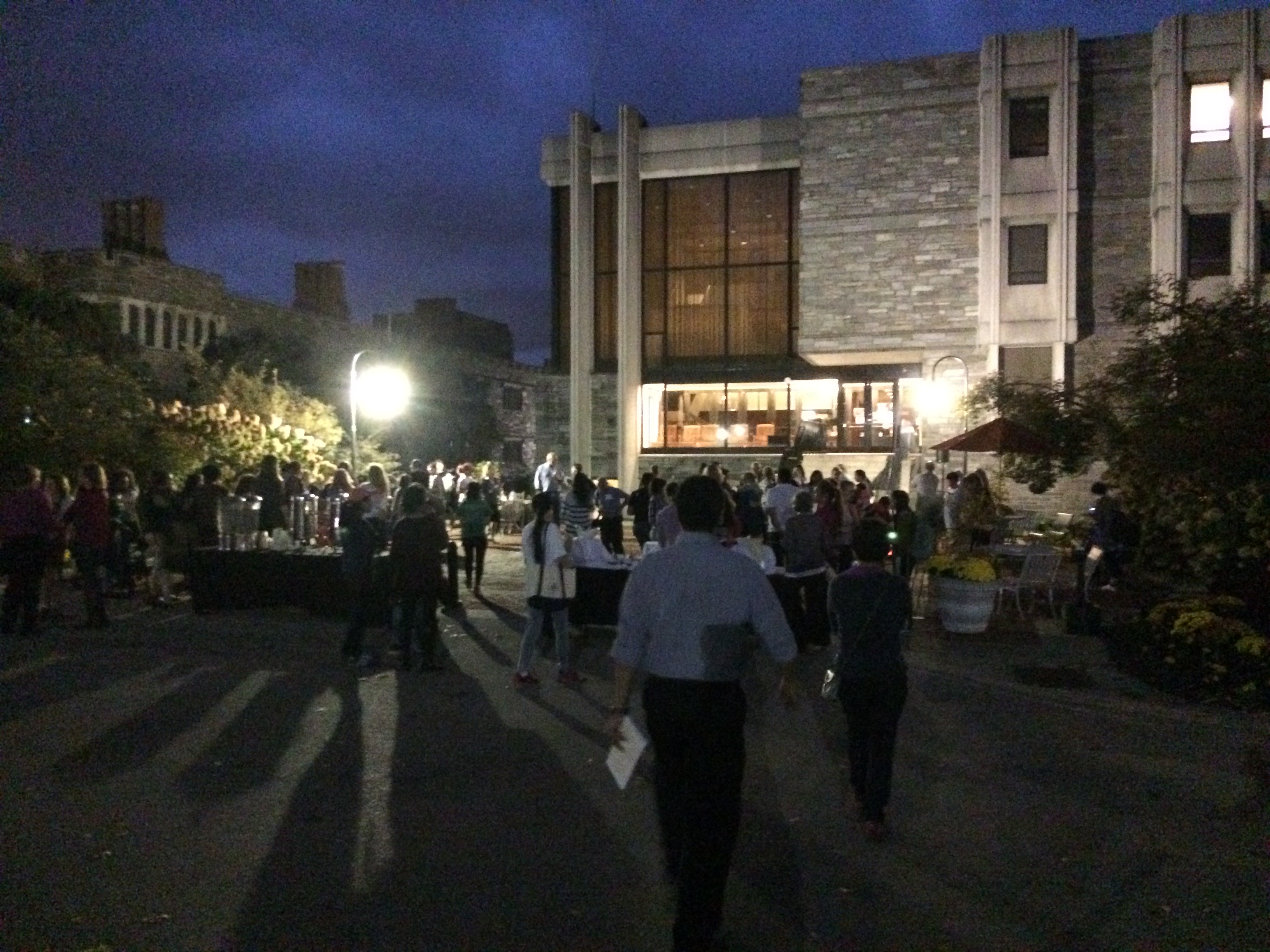 My parents arrived around 10:45am (it's a 2 hour drive from my home). They jumped right to it, dropping in on an 11am AND 12pm class. My mom and dad both attended the Modern Physics class (PHYS 121). I took that class as a first year when it was taught by Professor Beckman. Now, it's taught by Professor Daniel, who also teaches my Thermodynamics/Statistical Mechanics class (PHYS 303). At the end of the class, my parents asked her if she knew me, which, awkwardly, was a no… Maybe it's because she's new… But I've had perfect attendance and hand in my homework on time and contribute to discussion…
For the 12pm class block, my mom attended an Intermediate Spanish class, and my dad attended Math Methods for Physics Majors (PHYS 306). My mom said she was impressed with everyone's Spanish in the class, especially since she is currently learning the language. My dad also enjoyed the physics class he sat in on (Professor Schulz was substituting for Professor Noel, but he said he remembered me!). Too bad Family Weekend starts on a Friday because many of the humanities classes don't meet Fridays. I would have liked my parents to experience those as well. After class, they grabbed a late lunch at UnCommon, which they enjoyed.
Another thing my parents were looking forward to were the TED-style faculty talks. This year's faculty talks featured Professor Donnay on math and sustainability and Professor Mozder on coastal wetlands and climate change. I wasn't able to be with my parents during the day because I had classes of my own to attend. I met up with them around 4:30pm, and they praised my school for the millionth time. The other reason why my parents wanted to drive down to see me was because my mom thinks I don't know how to dress well for job interviews. My loving mother brought me two suitcases worth of her old suits, dress shirts, dresses and some new clothes. One of the suits didn't fit me, and my roommate ended up buying it from me. (My mom kept on saying "You can never get such a good deal on suits these days.") I now feel ready those interviews… *insert: someone hire me please.*
After trying on clothes, I took my parents to Erdman dining hall. They served my Erdman favorites: Argentinian beef and chocolate bread pudding! My parents also like the food at Bryn Mawr. When we finished eating, we checked out the s'mores and acapella event in front of Canaday library. Then, I took them to Choom Boom K-Pop Dance Club weekly meeting! The dance of the week was Russian Roulette by Red Velvet. My mom joined in on learning the dance. I've been into K-pop since high school, much to the dismay of my parents. Hopefully this Choom Boom meeting opened up their minds a little to how fun it is to dance K-pop. (Check out a short video of rehearsal HERE). My parents then promptly left at 7:50pm because they didn't want to miss the screening of Star Trek: Beyond (how fitting with Bryn Mawr & Beyond hahaha). My parents are huge Star Trek fans. I remember watching the TV show with them as a kid. I had to leave the movie just before it ended because I had another Choom Boom dance rehearsal, but I knew I'd be seeing them tomorrow for Day 2 of Family Weekend.
I am thankful to my parents for sending me to Bryn Mawr and for being able to visit me on Family Weekend. I think the next time they will visit will be for the Fall Student Dance Concert (FSDC) on Saturday November 19th where I will perform with Choom Boom (mark those calendars!).