Last Friday September 23, Philadanco Dance Company graced the Bryn Mawr College Goodhart stage with four distinct pieces by four different choreographers. Performing for a full house audience of Tri-Co faculty/staff/students and community members, Philadanco danced Labess, Hand Singing Song, Between The Lines, and Enemy Behind the Gates. The event was presented by the Bryn Mawr College Performing Arts Series as the opener to their 2016-2017 season as well as a participating event in the Fringe Festival 2016.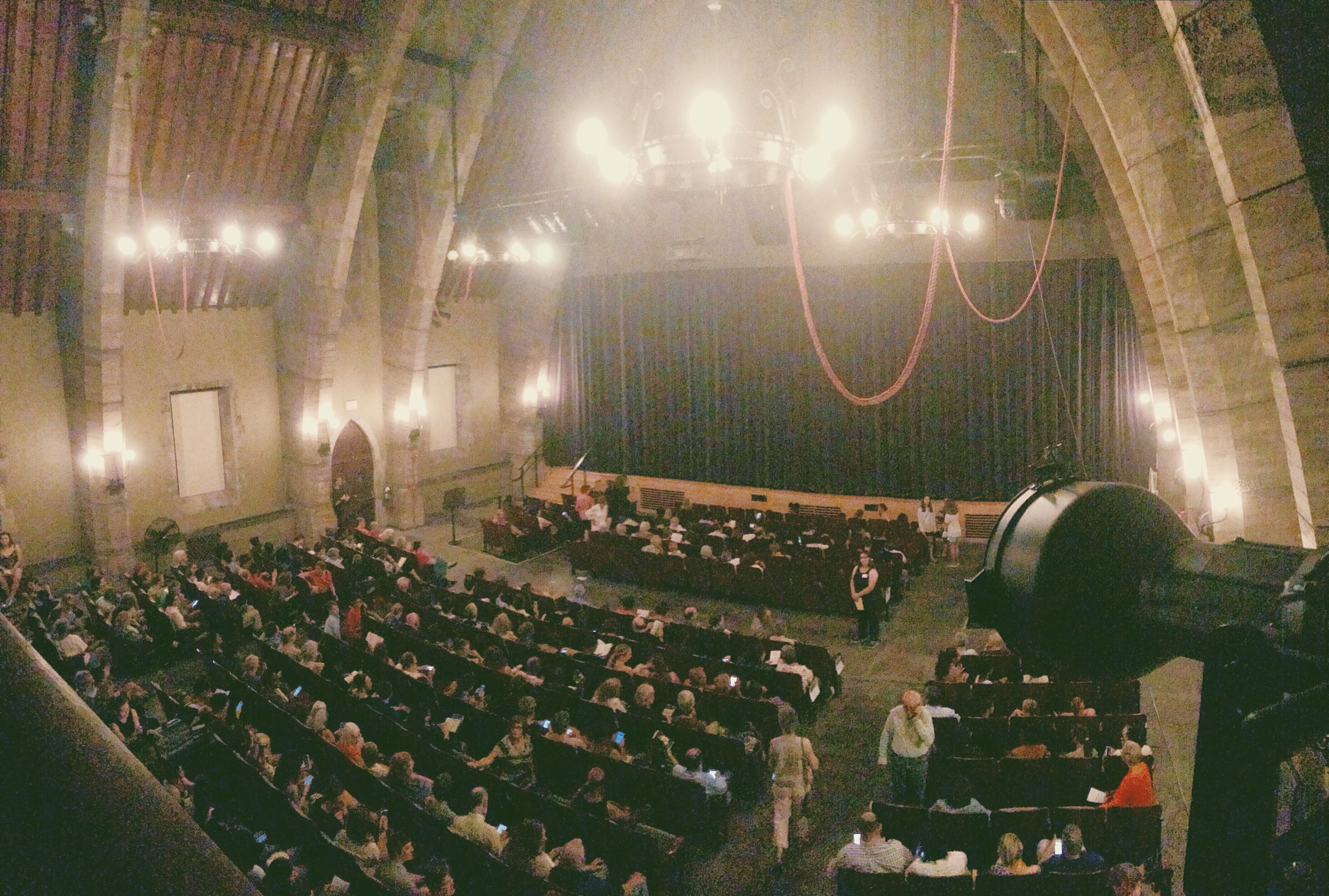 LABESS
Choroegrapher: David Brown
Music: Zap Mama
Lighting Design: William H. Grant, III
Costume Execution: Natasha Guruleva

Philadanco opened their program with this modern piece set to a capella music by Zap Mama. "Labess" is a Tunisian expression meaning "it's all right… I'm okay," and the dance centers around the theme of self-acceptance. The first sight the audience experienced when the curtains opened was a group of dancers on stage carrying one dancer up in the air as if she were floating. She was then lowered, and the dancers engaged in contact movement and a style of fluidity that complemented the harmonizing a capella. There were also may lifts and weaving in and out of the stage throughout the piece. The dancers were bathed in a combination of purple and orange lighting during the entire piece.
HAND SINGING SONG
Choreographer: Jawole Willa Jo Zollar
Music: Michael Wimberly
Lighting Design: William H. Grant, III
Costume Design: Jackson Lowell
Costume Execution: Natasha Guruleva
For the second piece on the program, Philadanco changed up their style to more jazz and spunk. Four female dancers started on stage with no music, making individual sounds and gestures with their bodies and hands. At some points, the dancers even sung excerpts of the "Hokey Pokey" and spoke to the audience. As the piece progressed, they were joined by more male and female dancers. Simple phrases, such as "Hand Singing Song" and "Black Hands," were projected onto the stage backdrop that went along with the style and lighting transitions within the piece. Some parts were more comedic and featured social dance scenes, while others were more serious and incorporated Black Panther style hats and marching in solidarity. The amount of content in this longer piece connected Black culture with the the Black Power & Black Lives Matter movements and showed how a simple gesture of a handshake or power fist can be both social and political.
BETWEEN THE LINES
Choreographer: Francisco Gella
Music: Philip Glass & Gidon Kremer
Lighting Design: Nick Kolin
Costume Design/Execution: Natasha Guruleva

This third piece incorporated use of the smoke machine and dramatic music into more ballet-heavy choreography. Lines were physically created by white strips of lighting across the stage and dancers arranged in rows dancing in and out of the stage. The dance even started in two parallel lines of female and male dancers facing each other. The costuming was simply black so as to not detract from the more angular movements and well defined white (and sometimes blue, red, or yellow) lighting. (This piece is available to watch online at vimeo.)
ENEMY BEHIND THE GATES
Choreographer: Christopher Huggins
Music: Steve Reich
Lighting Design: William H. Grant, III
Costume Design: Christopher Huggins
Costume Execution: Natasha Guruleva

A sense of urgency was created by the combination of frantic, fast paced dance movements and jumps and smoke with red strips of lighting that matched the black and red costumes. The red could symbolize danger as well as possibly bloodshed. Dancers danced in between plumes of smoke as if the smoke were gates. One could also interpret a military feel from this piece, which seemed to be the inspiration for the full sleeved costumes with two vertical rows of buttons and a flash of red in the underskirts of the female costumes. According to the program notes, the piece was inspired by the idea of enemies living within our midst undetected. The speed and energy this piece contains made this a nice closer to the program.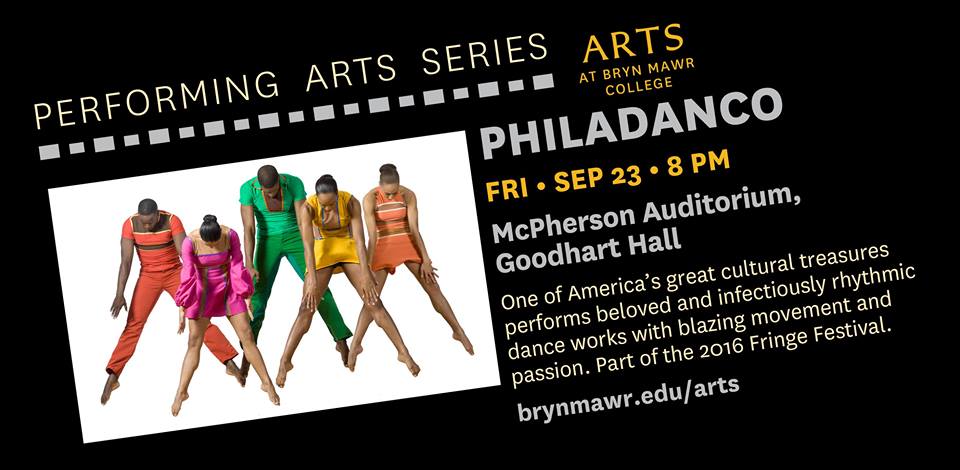 Performances by Company Dancers: Rosita Adamo, Janine Beckles, Elyse Browning, William E. Burden, Clarricia Golden, Joe Gonzalez, Victor Lewis Jr, Adryan Moorefield, Dana Nichols (HC'14), Courney Robinson, Jah'meek D. Williams
Founder/Executive Artistic Director: Joan Myers Brown
Philadanco was founded in 1970 in Philadelphia as a platform to train and showcase the innovation, creativity and preservation of predominantly African-American traditions in dance.
---
I had been looking forward to this performance for weeks, both equally from the perspective of a student dancer and an Arts Office Communications Associate. I attended the master class last Thursday and built hype around the event through student outreach efforts on social media. Maybe my outreach efforts worked because I saw many Bryn Mawr and Haverford faces at the event, the most I had seen in my years attending Performing Arts Series events.
As part of my Arts Office job, I also helped set up the dancers' backstage dressing room with a water cooler, tea, and refreshments on the morning of the show. That night, I arrived at 6:45pm before the 8pm show to help my two bosses, Performing Arts Series Director Lisa Kraus and the Arts Office Administrator Angela Dowdy, set up with whatever they needed me to do. I was not needed for working during the performance, so I got to sit in the audience and enjoy the show. I sat next to my dancer friend Joy Chan, BMC'17, and we would gush together over how great the dancers were and how great Dana danced (we both have danced with her when she was a Haverford student participating in the Bryn Mawr Dance Program). I also ran into my friend Caleb Eckert, HC'17 from Haverford College who was sent there to take photos of Haverford alum / now Philadanco dancer Dana Nichols, HC'14. It was interesting to experience an event like this from the administrative side because in previous years I was just an audience member with a love for the arts.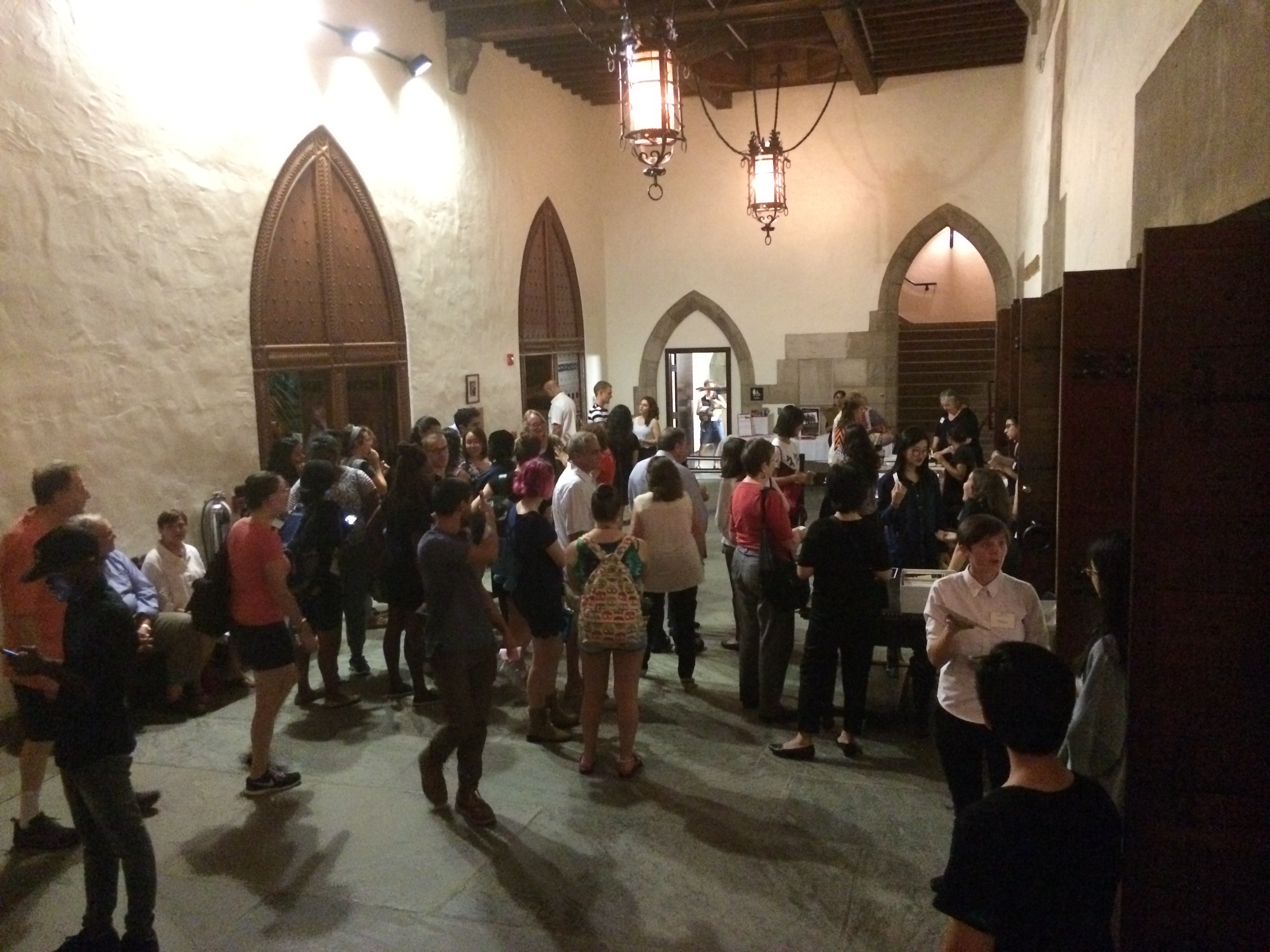 Below are some reactions I have collected from those who attended the event:
Over the last few years I've seen an astonishing amount of photos and videos of black and brown bodies that have been brutalized by state sponsored violence both domestic and international. Tonight's dance performance by Philadanco was a refreshing display of free brown and black bodies transferring powerful messages and vibes through their movements and I'm so thankful I got to witness it ✌🏾️✌🏾️   – Praxedes Quintana, HC'18

I was totally amazed at what the body can do. – P. Brodfuehrer, BMC Biology Professor
This is my first time going to a Bryn Mawr College Performing Arts Series event, and I can say this is the best "first" experienced! I also dig the smoke machines. – May Cai, BMC'17

3 words: glistening back muscles. – Friend Chaiprasit, BMC'17