My winter break readings of choice are Wendy Wasserstein's plays Uncommon Women and Others, Isn't It Romantic?, and The Heidi Chronicles. I had heard of the plays through an alum who had posted a quote about Bryn Mawr from Uncommon Women and Others on the Facebook group You Know You Went To Bryn Mawr College When….
Wendy W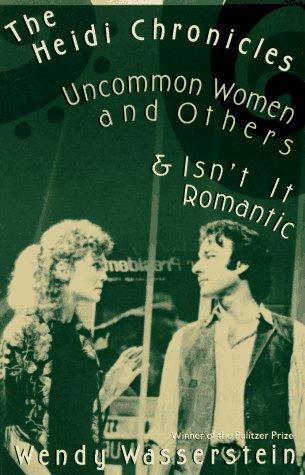 asserstein received her B.A. in history from Mount Holyoke College in 1971, an M.A. in creative writing from City College of New York in 1973, and an M.F.A. in fine arts from the Yale School of Drama in 1976. Uncommon Women and Others was her graduate thesis at Yale. She won the Tony Award, the Susan Smith Blackburn Prize, and the Pulitzer Prize for Drama for her play The Heidi Chronicles in 1989. Her plays typically focus on feminism, family relations, and pop culture.
I finished reading Uncommon Women and Others and Isn't It Romantic? and am starting The Heidi Chronicles. Uncommon Women and Others is about a close group of friends who attended Mount Holyoke. The play alternates between their time in college setting personal and professional goals for themselves to achieve in 5 and 10 years and their time out of college reflecting on what they've achieved since college and where life has taken them. Isn't It Romantic? is about two highly educated and career climbing friends in their late 20s, Harriet and Jane, and their relationships with their mothers, their boyfriends, and each other. Was it possible to "have it all" — a career, a husband, a child, love, money, beauty, health, etc.? Harriet and Jane concluded that it wasn't possible. Jane learned to live by herself, and Harriet got swept up in romance without thinking or planning.
I also agree that women cannot "have it all." Maybe during retirement, if they have made enough money and have established the people connections to retire comfortably and happily. I thought a lot of my mom when reading the plays because like the educated characters, my mom went to Yale and works full time as an insurance underwriter for a Swiss company. She's married and has two daughters. Since her children have grown up, she takes Spanish lessons and karate classes almost every day. Yet, she does not "have it all." Her husband has been unemployed for over 4 years and she constantly worries about her daughter being unable to prioritize. The daily commute to New York City (about 1 hour each way) tires her out and she usually gets home at 9pm (when she has classes/lessons after work) to poorly cooked food and a dirty house. She does not "have it all," but she is "happy [enough]."
As a current student at a Seven Sisters women's college, I found all the characters very relatable. Throughout the plays, I thought "that could be me in a couple year," or "that is me right now." Themes of marriage, independence, and loneliness mentioned by the characters in Wasserstein's plays echo the opinions captured in the 1971 feminist essay collection by Elizabeth M. Schneider (who happens to be a BMC alumnae) "Our Failures Only Marry: Bryn Mawr College and the Failure of Feminism " (<– another must-read). My friends at Bryn Mawr and I had many laughs out of reading and discussing the essay collective because we have definitely been in similar situations pondering the social life at a women's college, "good housewife material" skills, and love.
There were so many times I would be quietly reading on the couch and then suddenly burst out in laughter because the scene was just too funny or relatable (my sister was very annoyed). When I finish reading The Heidi Chronicles, I want my mom and my friends to read all three plays too. Wasserstein's witty sense of humor and genuine understanding of women make these plays a MUST-READ.