Today, my history professor Anita Kurimay brought visiting guest speaker, and Assistant Professor of Sociology at Masaryk University in the Czech Republic, Katerina Liskova to our class to sit in on our discussion on how communist leaders, intellectuals, and everyday people responded to the suppression of reform movements in East Central Europe.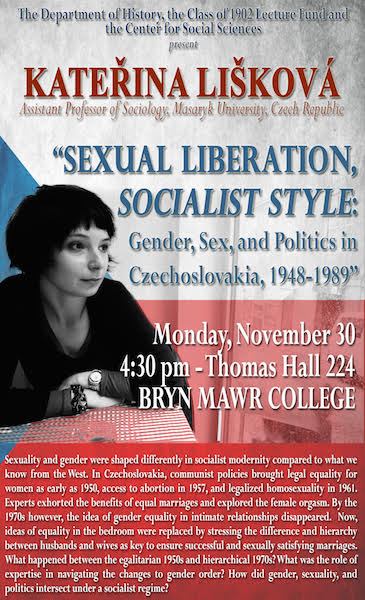 We focused on anti-politics and ethics as a means for people to stop participating in public life away from Communist party scrutiny. People had stopped believing in "socialism with a human face" and instead turned to private life, religion, culture, moral issues, ethics, and anti-politics.
Katerina Liskova's area of interest is in sexology, which involves aspects of both private and public life. Her opinion on anti-politics in East Central Europe was that it was sometimes difficult to separate private and public life when the Communist party was heavily invested in the reproductive health of their people as a reflection of the growth and strength of socialism.
Liskova explained the two separate time periods of reforms in Czechoslovakia: the 1950s and the 1970s onwards. In the 1950s, the party emphasized the equality of women in the workforce and heterosexual social environments. It was the party's utopian effort to collectivize and close the gender inequality. The party established services such as day care and of course, free healthcare under socialism to make it possible for women to work. In the 1970s, the family was privatized again and normalized. The party increased paid maternity leave to incentivize people to have more kids. Those who did not conform to the traditional family roles (i.e. husband gets job, wife stays home to take care of the household) were labeled as sexual deviants and sent to institutions for treatment.
Similar to what you may have seen on the popular TV show Masters of Sex, doctors at the Communist party funded Sexology Institute in Prague researched methods to treat these sexual deviants, who were mainly cisgendered heterosexual men and women who had problems getting pregnant. Among their groundbreaking research, they installed special soundproof rooms in Czechoslovak hospitals for couples to practice sex as prescribed by the doctors, they scientifically proved that you cannot change a person's sexual orientation, and they scientifically proved the effectiveness of foreplay.
While the Communist party played a significant role in supporting cutting edge research on family planning and reproductive health, their findings touched some of the most private aspects of people's lives.
Read more about Katerina Liskova's sexology research here: http://sexocom.fss.muni.cz/