On Saturday March 25, I went out to South Philly to help clean up Mifflin Square Park with SEAMAAC. The park is located on the corner of 6th and Ritner in a diverse neighborhood home to many immigrants of Southeast Asian and Latino descent. SEAMAAC has plans to work with the neighborhood to build community ownership of the park through public events and infrastructure enhancements.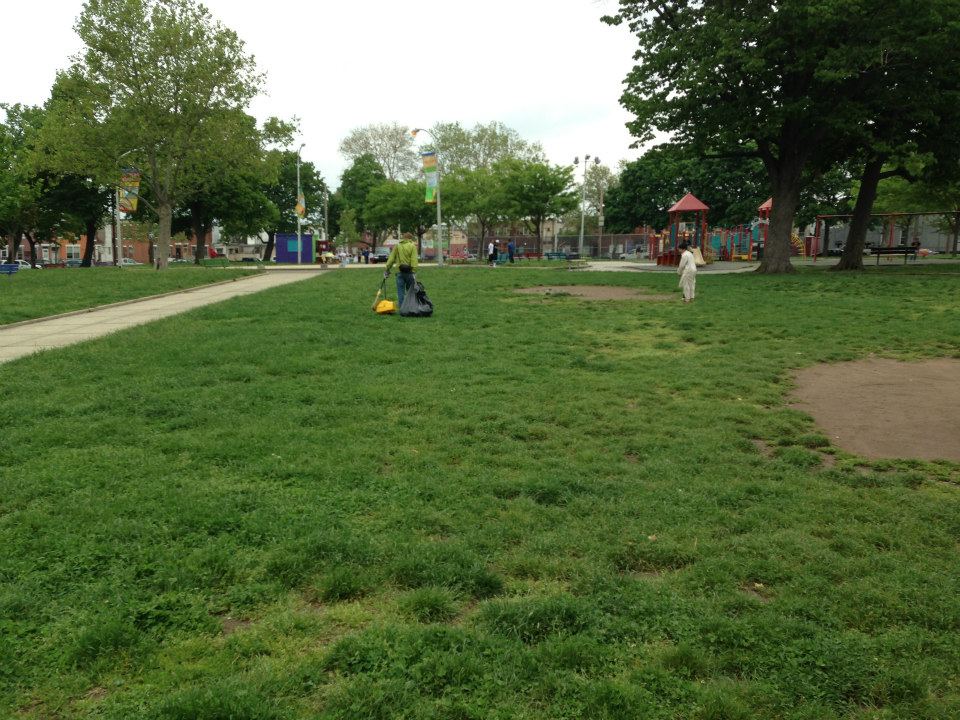 From SEAMAAC's Andy Toy: "The Mifflin Square Park (MSP) & Neighborhood Planning and Organizing Project is a collaborative effort, building local capacity and community ownership of the Park and the surrounding area. SEAMAAC, with funding from the William Penn Foundation, along with partners from diverse community stakeholders and groups, and planning & design firm Hector Design LLC, is leading this 18 month effort at the epicenter of one of Philadelphia's most diverse communities in south Philadelphia. The aim is to serve the interests of park users, residents, businesses and stakeholders in the planning area bounded by Mifflin street on the north; Oregon on the south, 10th street on the east; and 4th street on the west." – Philadelphia Free Press
Volunteers at the clean up event helped rake leaves, paint benches and trash can covers, plant plants, and pick up litter. My friend and I helped dig holes to plant shrubs and helped pick up litter. We spent a significant amount of time picking up beer bottle caps embedded into the soil. If I had to estimate how many we picked up together, it would be around 250! The park has a volleyball pit where many spectators like to drink beer on the sidelines while watching a game.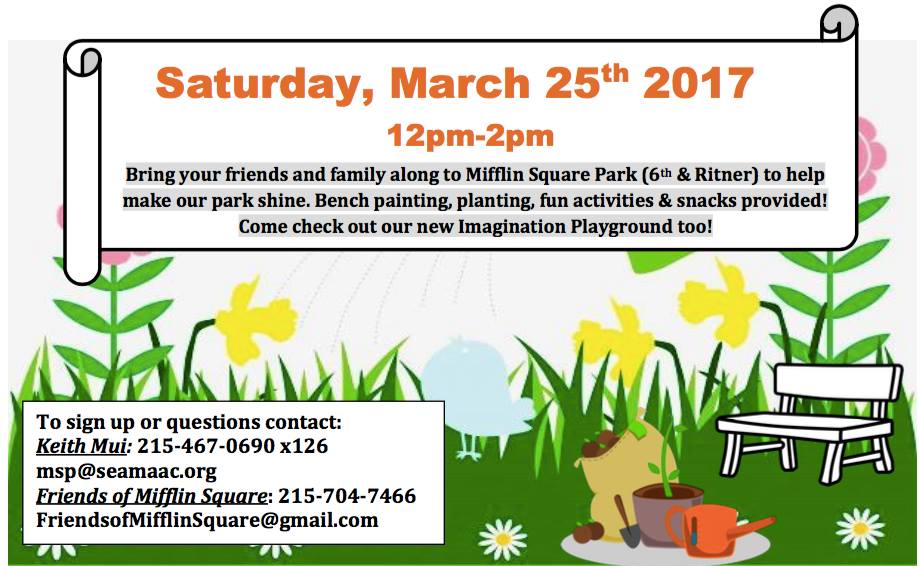 My friend Linda joked that to speed the process of picking up bottle caps, one should invite potential date suitors to the clean up. Whoever picks up the most bottle caps wins a second date! Another idea was to have little kids pick up bottle caps like an Easter egg hunt — the incentive being $0.10 per cap.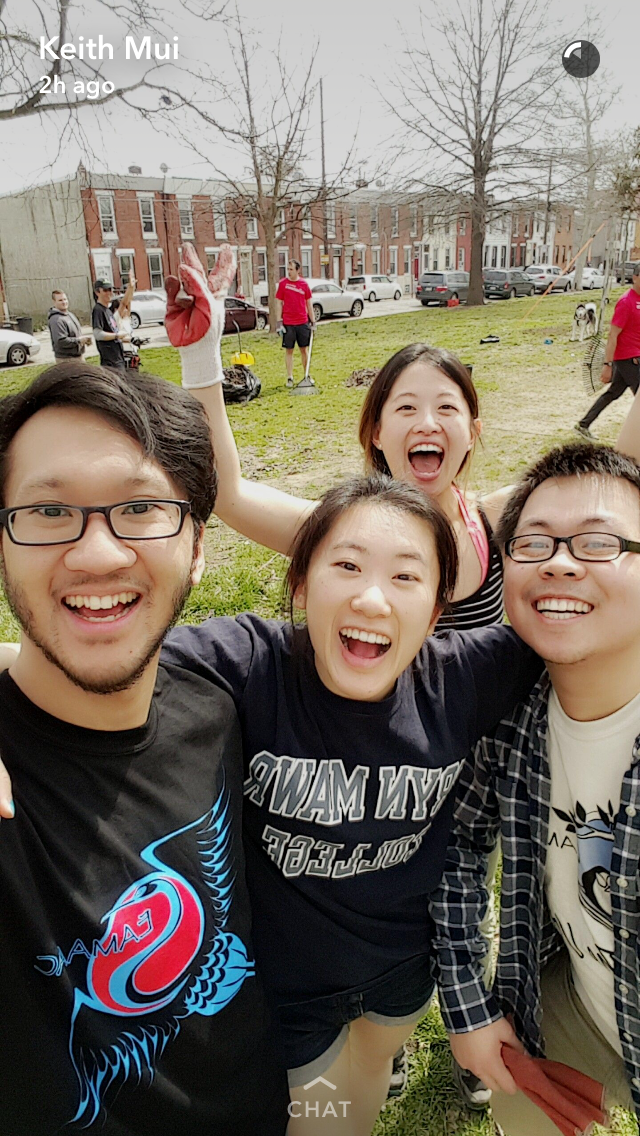 My friend Keith actually works for SEAMAAC as the Community Outreach Coordinator, and he brought in people from Wells Fargo to volunteer as well as personal friends like myself, my friend Linda, and another friend Yuan (who goes to Penn takes an Asian American class with my friend Amy). Linda also brought her husky Rocky who attracted a lot of attention and affection.
Thankfully, the weather was nice that day, so it was perfect for gardening outside. Some community members who saw the clean up effort also joined in and asked questions about the future plans of the park. I hope Mifflin Square Park becomes an even more popular place where neighborhood people of all ages can come play and get together. If I'm in Philly next year (still no postgrad job offers yet, sigh), I would like to check out what summer programming will take place at Mifflin Square Park.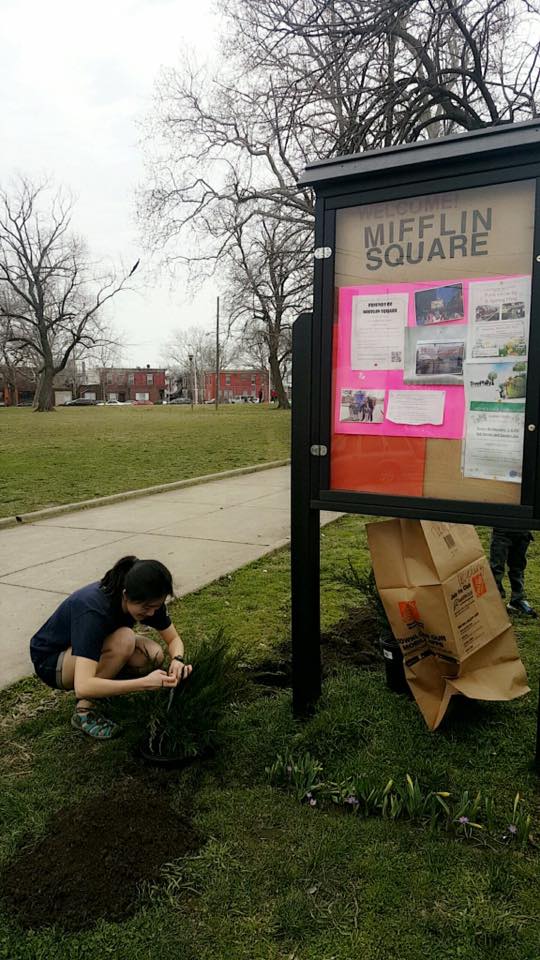 After the clean up effort, SEAMAAC gifted potted flowers for volunteers. I do not really have a use for flowers while living in a college dorm, so I gave mine to my friend Linda. A small group of us headed over to Los Gallos on 10th and Wolf for a late lunch. I love that this part of South Philly is so diverse that you can get great Mexican food right around the corner from great Cambodian food. Read my short Yelp review here.