The Philadelphia Chapter for the American Association of Individual Investors (AAII) hosted a lecture by economist Dr. William Dunkelberg on "How will this Election impact Policy Financial Markets and Growth?" at Bryn Mawr College on Tuesday November 29. The event was not affiliated with the college, so I had not known that the event was happening. A friend of mine has an aunt who organizes AAII events and invited me to come along. Economics is not really my specialty, but I was interested in the subject and thought it would be worthwhile to learn more about finances.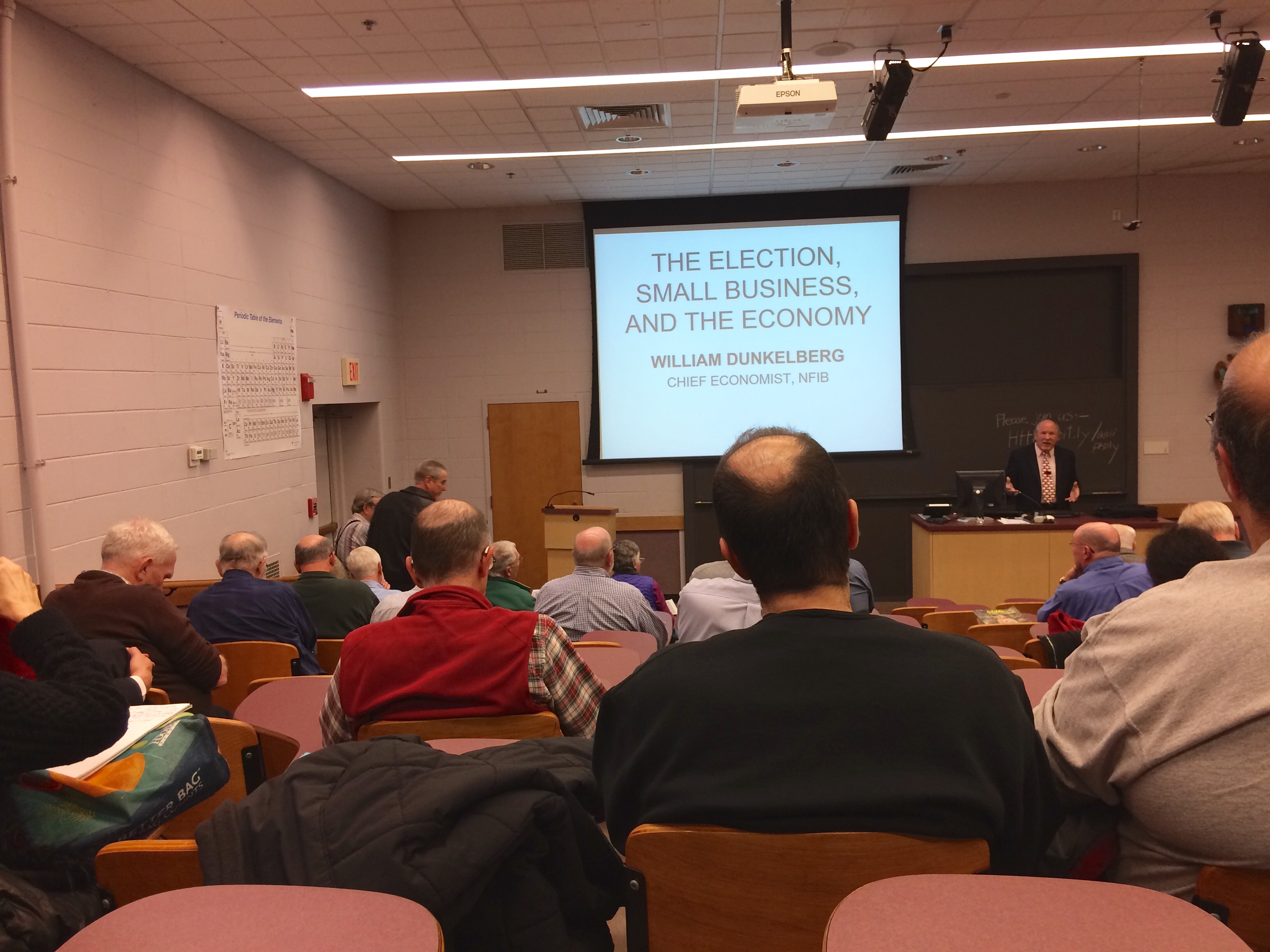 Dr. Dunkelberg is the chief economist for National Federation of Independent Business, emeritus professor of economics at Temple University and economic strategist for Boenning and Scattergood. He served as Dean of Temple's Business School from 1987 through 1994 and as director of the Center for the Advancement and Study of Entrepreneurship.
The lecture focused primarily on the results of surveys conducted by the National Federation of Independent Business (NFIB), the University of Michigan, American Enterprise Institute, and other think tanks. Dunkelberg analyzed graphs of data on opinions ranging from debt, small business expansion, expected retail sales, employment, opportunistic outlook, etc. Trends could be traced back from current times all the way to the 1970s.
Some highlighted findings:
Since 2003, there has been a negative rating of government policy. This points to the uprise in anti-establishment sentiment among many Americans.
5 out of the top 10 most important problems small businesses face are tax related. This shows how flawed and confusing our tax system is.
There is a high index of uncertainty surrounding the economy. This suggests it is a bad time for small businesses to expand.
There is a high rate of unfilled job opening. Reasons may include unqualified applicants, appearance, and attitude mismatch. There is also high workforce dropout. Approximately 9 million men between the ages of 18-54 have dropped out of the workforce.
Dunkelberg also made speculations and policy recommendations about the future outlook of the economy given the current political climate:
Capital equipment investment is critical to promoting productivity. Companies are not investing wisely enough in advanced inventory.
Nothing is free. We will pay long and dearly for the Fed-created asset bubble regulating interest rates.
Although optimism index ratings among small business owners (800 firms sampled by NFIB) had decreased slighting before the election, they rose after the election.This optimism may formulate into more retail spending in Q1 and Q2, but it is unlikely for growth to pick up a lot.
Business owners may be happier, but that may change after they find out what Trump really had planned. However, Trump cannot do much to make political and economic changes quickly.
Oil prices will stay low especially in an economy that is remaining mostly static.
Infrastructure should be funded on the state and local government level, not federal. Infrastructure projects are not a good long-term job generator and is often overplayed in importance.
Social security is not an income generator. It is really a regressive income tax with a negative cash flow.
Confusion slows down growth as everyone tries to figure out who all the new players are and what their policies are. Changes in presidency and Brexit are examples of resources spent on transitioning power instead of other issues.
I agreed with Dunkelberg's analysis of the political economy. I admittedly do not pay enough attention to stocks and bonds and the market, so here was my wakeup call to do so. This is especially relevant as I look to soon join the workforce after graduation.