Since starting my break with the Japanese Breakfast concert, I've been on blog hiatus enjoying time with friends and family in Philly, Ridgewood, NYC, and Toronto. Looking back at what I've done and where I've been, it seems like I gravitate toward visiting a lot of arts, culture, and food-centered places. Here are some highlights from my fall break: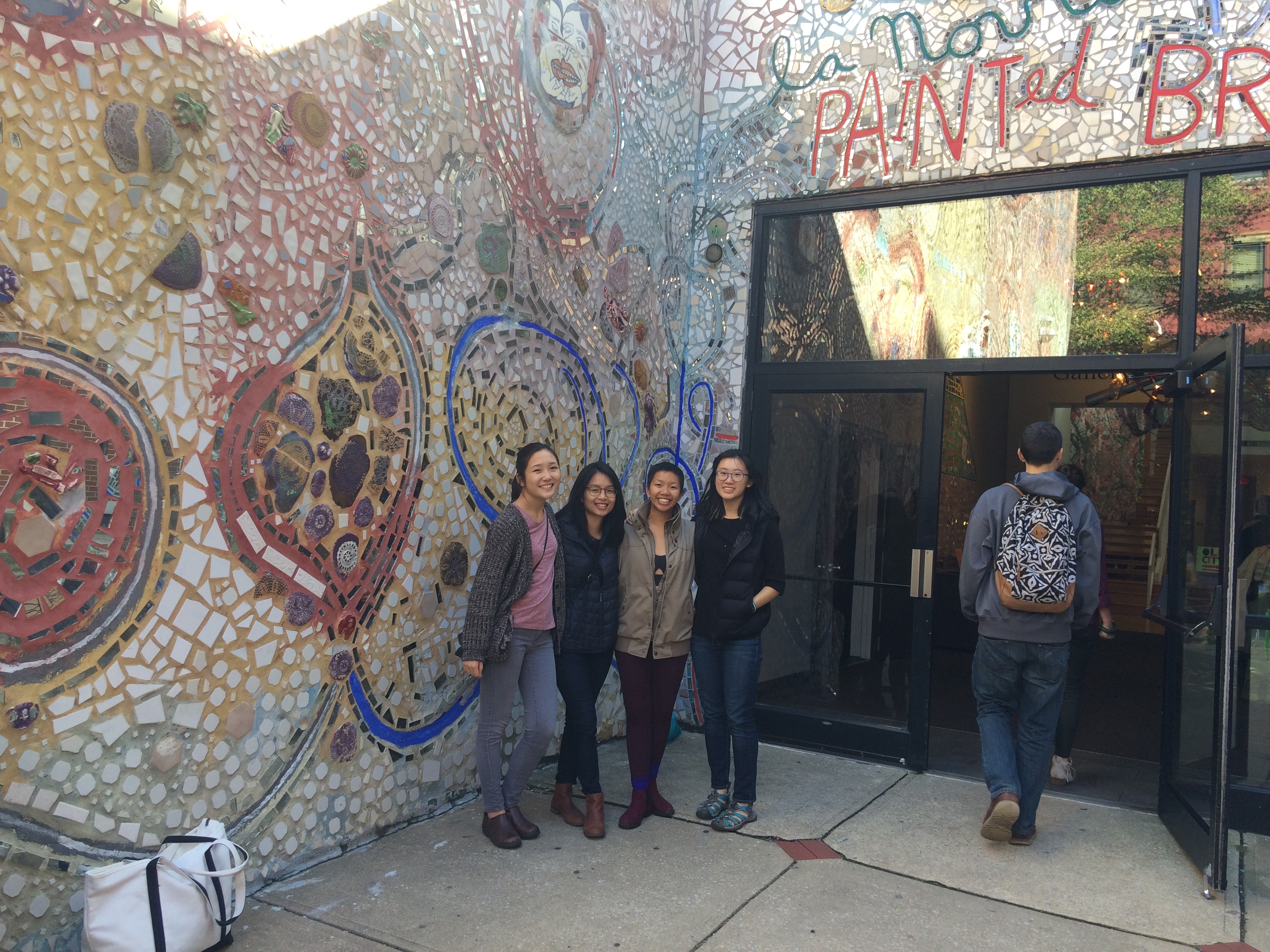 ---
PHILADELPHIA:
Saturday
My roommate May Cai and I went to Philly with intentions to go to Design Philly events, but it was raining so we ended up just walking around, window shopping, and, of course, eating. That same day, Bernie Sanders was rallying in Philly for Hillary Clinton. We wanted to go, but we arrived late and had no chance of getting in. Instead, we went to Buffalo Exchange to go thrift shopping. I bought a black blouse and May bought a nice wool dress. Since we were in the area, we also stopped by Everybody's Racquet where my cousin Didi who goes to Temple works stringing tennis racquets (insert necessary advertisement: if you ever need a tennis racquet strung, call up my cousin Didi Ong!). For dinner, we met up with my friend Isabella Dorfman and ate dinner at the new Yamitsuki ramen restaurant. I thought it was okay food, but I don't think I would go there again. My friends and I usually default to eating at Nanzhou Noodle House, so now we are trying to eat at different places. I haven't been to Terakawa Ramen or Bubblefish yet. After dinner, we walked to South Street to go thrift shopping at Greene Street and Philly AIDS Thrift. I found a white skirt for $3 at Greene Street. We then walked around Old City, but it started raining again so we headed back to Bryn Mawr for the night.
Sunday
Compared to Saturday, our Sunday plans were pretty set in stone. May and I went into the city to meet up with our friend Sam Saludades, BMC'15, for lunch before checking out Old City Fest and attending a dance concert by my former jazz teacher Lauren P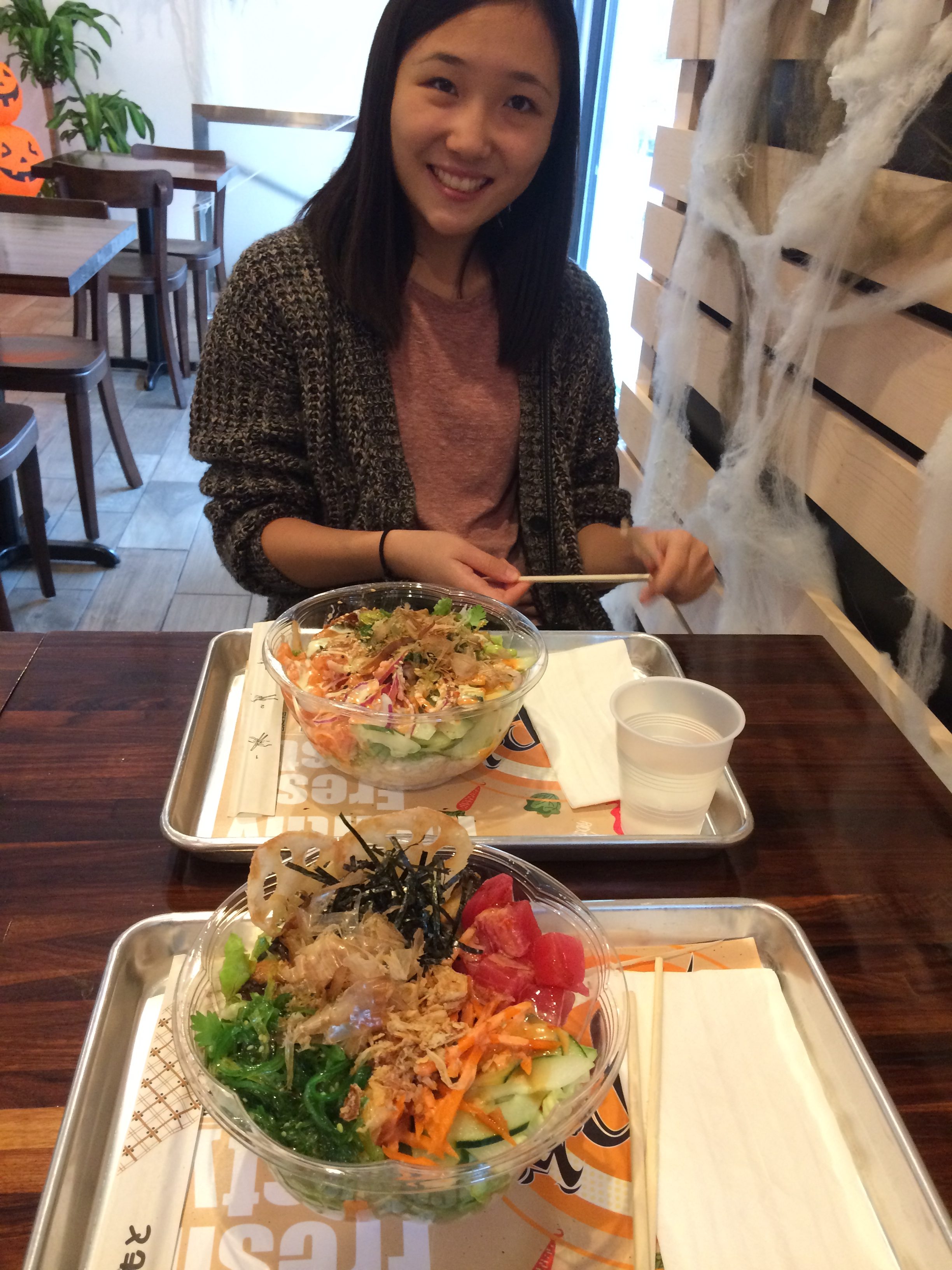 utty White. For lunch, we ate at the new Oishii Poke place where they serve sushi burritos, poke bowls, and salads. Poke is a type of Hawaiian-Japanese fusion food often involving raw fish and fresh vegetables. The poke there was okay, but the portion are kinda small.
After lunch, we walked toward the Painted Bride Theater for the dance concert. Old City Fest was on the way, so we walked around. There were some pretty good deals like $10 hats and scarves and artisan jewelry, but I didn't buy anything. They close off the streets for the festival, so we could take our time window shopping the different artsy vendor tents. I hadn't really been to that area of Philly before, but I could tell it was the "classy hipster" area from the different handcraft furniture and clothing stores that lined the streets. We also happened to stumble across the Design Philly showcase New Inside World: Light and Form, which was held in a Quaker meeting house in the neighborhood. There were some interesting sculptures, furniture, and light displays on view. I've only been to Design Philly once befor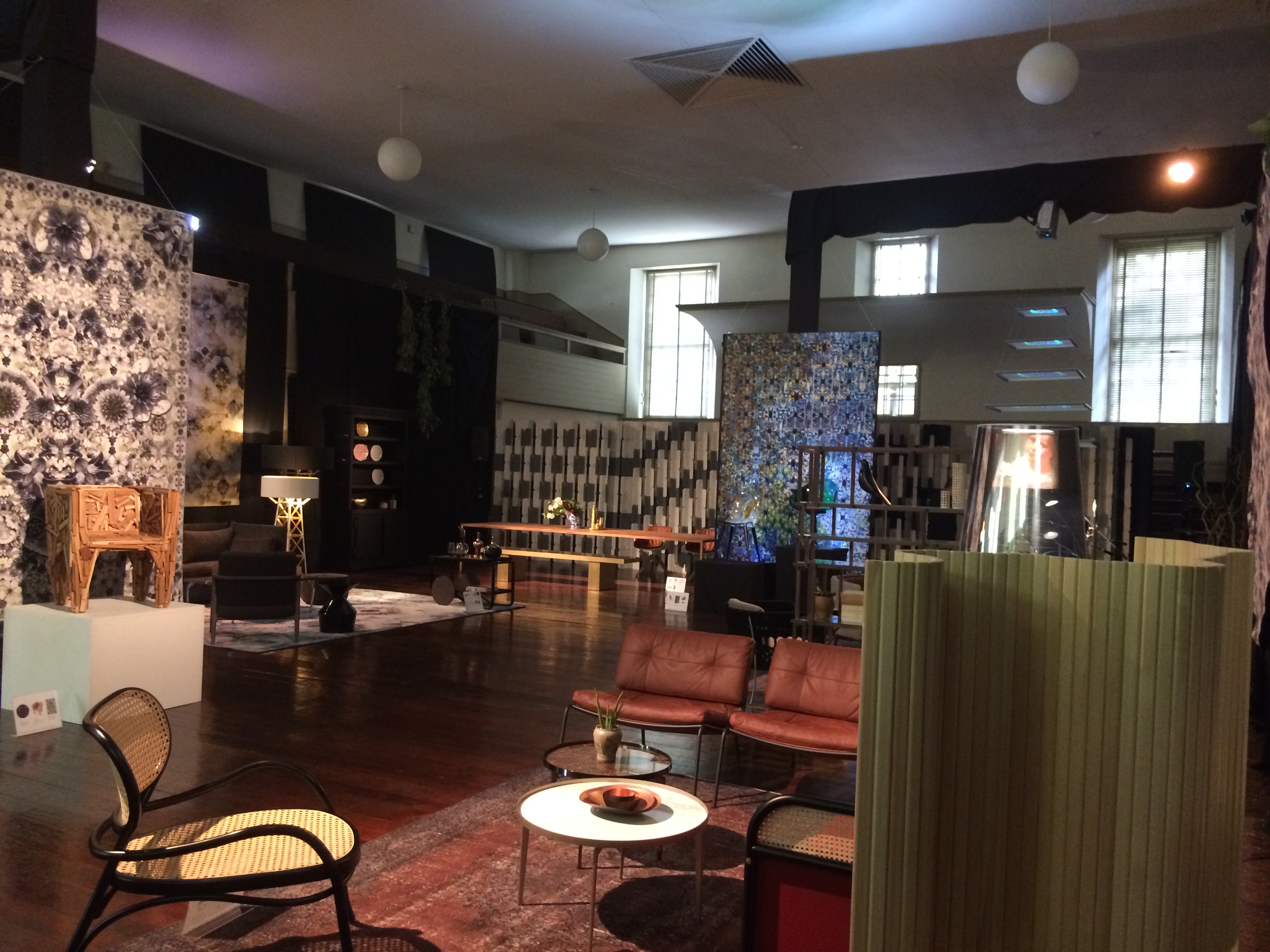 e. It always falls on our fall break, and I usually just go home. I'm glad I got to stay in Philly for the beginning weekend of break. If I were in Philly for the entire break, I would probably explore more of their events and programs.
It was then time to go to the Painted Bride to watch my former jazz teacher's Putty Dance Project production iStand: Stories of an American Civil Struggle. Lauren Putty White choreographed for the jazz dance ensemble last spring through Bryn Mawr College's Dance Program. (She also previously danced with Philadanco which just recently performed at Bryn Mawr!) I loved working with Lauren and was even more excited to see her dance again in her project. I had previously watched shortened excerpts from iStand at the Faculty Dance Concert (which I blogged about), so I knew it was going to be great. Something seemed off when I browsed through the program handout and couldn't find Lauren's name credited as a dancer. Right before the show started, Lauren came out to welcome and introduce the project, and I instantly knew why she wouldn't be dancing that day… she was pregnant! This was a nice surprise since the last time I saw her back in May.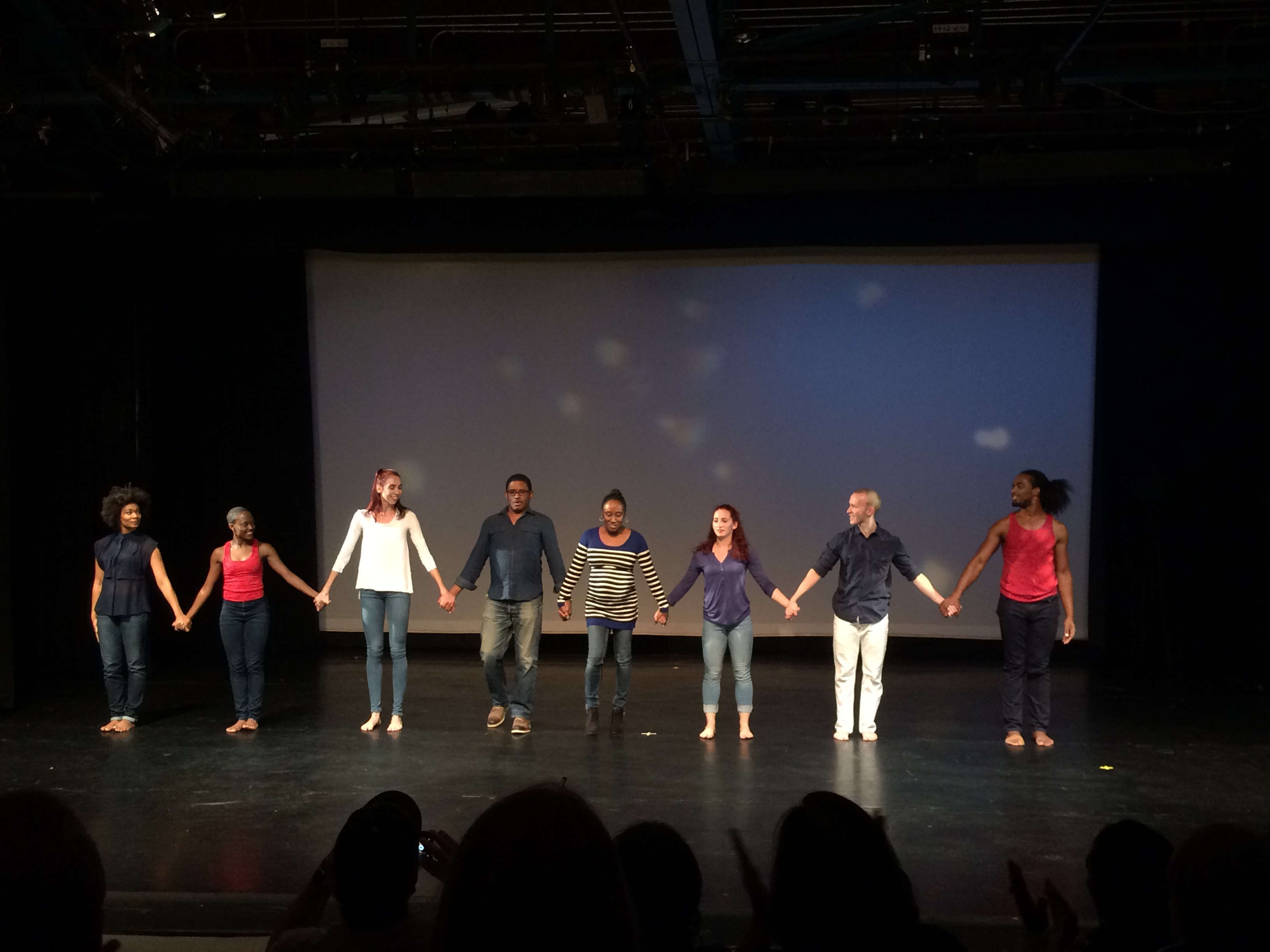 iStand was as much a political statement as it was a beautifully choreographed and performed masterpiece. The 7-section project (iPledge, iFear, iFall, iFight, iStand, iPray, and iPledge) was interlaced with video interview responses on the topics corresponding to each section. I think each piece succeeded in capturing the emotion and feelings embodied in movements, lifts, jumps, and expression. After the show, there was a post-performance Q&A discussion (and a short announcement encouraging us to exercise our right to vote!) where audience members were welcome to comment and ask about inspirations and execution of the piece. It was difficult to put to words how impactful iStand was right after watching it. I hope more people get the chance to see iStand, not just in Philly, but around the nation. Issues of civil rights and struggles are always relevant, and social change through the arts is a great way to get involved in the conversation.
BTW: through Bryn Mawr College Dance Program's Dance FLIP program, students can receive $10 ticket reimbursements to see dance shows in Philly!
After the concert, May and I headed to New Jersey on the NJTransit. I had invited May to stay at my house for the first half of fall break to show her around my hometown Ridgewood, NJ and New York City.
---
NEW YORK CITY:
Tuesday
The agenda of the day was to hit up two museums: Museum of Art & Design and Museum of Chinese in America. This, interspersed with good food and window shopping.
First up, the Museum of Art & Design. I really like this museum because it's not too big, not too small, and not too crowded. Exhibits turn over fairly quickly too, so there is always something new to see. May and I saw 3 exhibits: Tell It By Heart by Coille Hooven, Forbidden Fruit by Chris Antemann, and Crochet Coral Reef: TOXIC SEAS by Margaret and Christine Wertheim and the Institute For Figuring. Tell It By Heart had feminist undertones through porcelain sculptures shaped to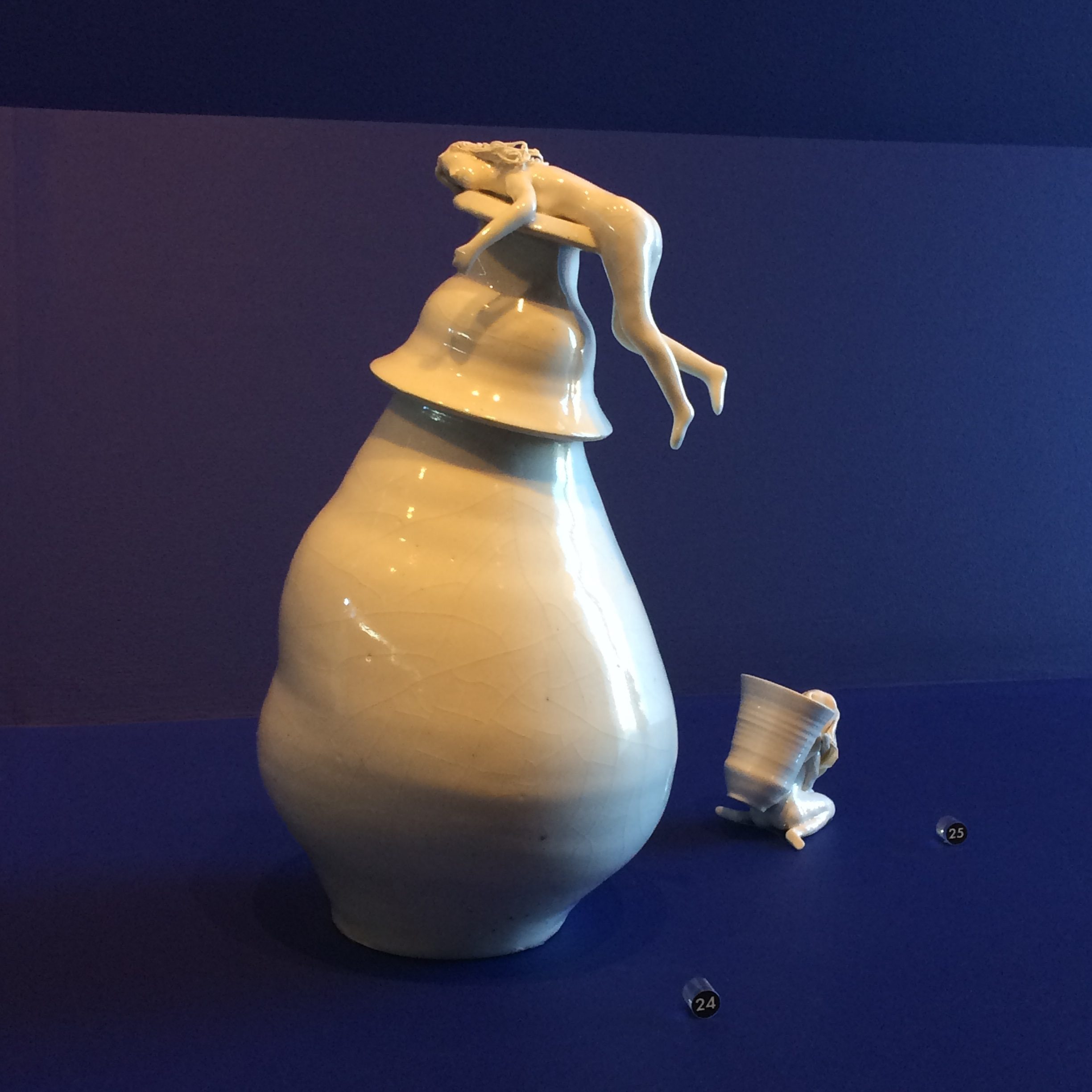 express and challenge the roles of women in society. One image that stayed with me was a porcelain jar with a woman figure face planting on the top. Forbidden Fruit was also a porcelain based art exhibit that explored female roles in society, mostly from the relationship viewpoint to men and groups of people. The style of porcelain was similar to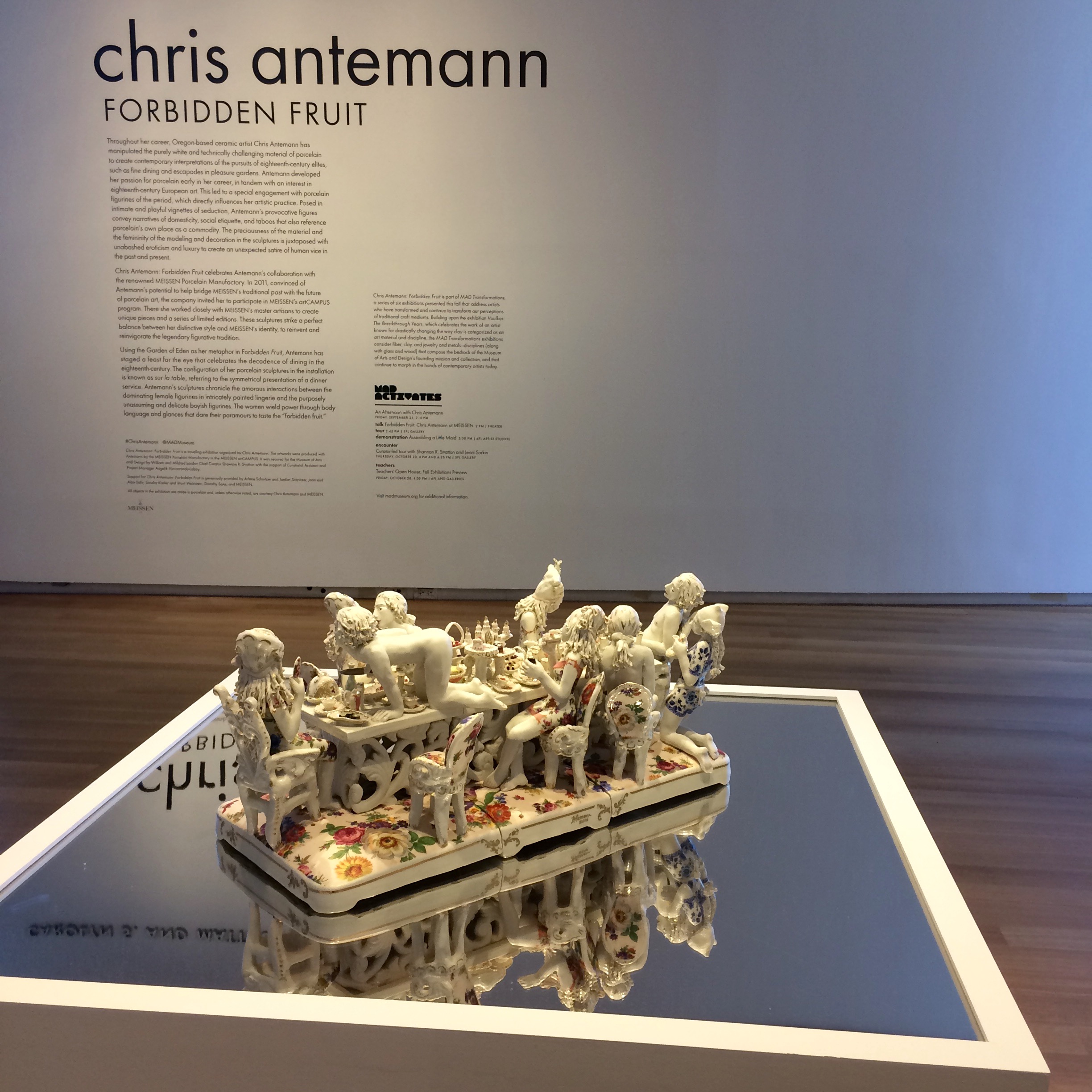 traditional antique French porcelain figurines, except Antemann's porcelain characters had sass and attitude. In the Crochet Coral Reefs exhibit, intricate, eye-catching structures replicating coral reefs were knitted out of reclaimed materials, fabrics, and plastics. The artists Margaret and Christine Wertheim are actually twins, with one having degrees in math and physics, and the other in philosophy. Using hyperbolic geometry modeling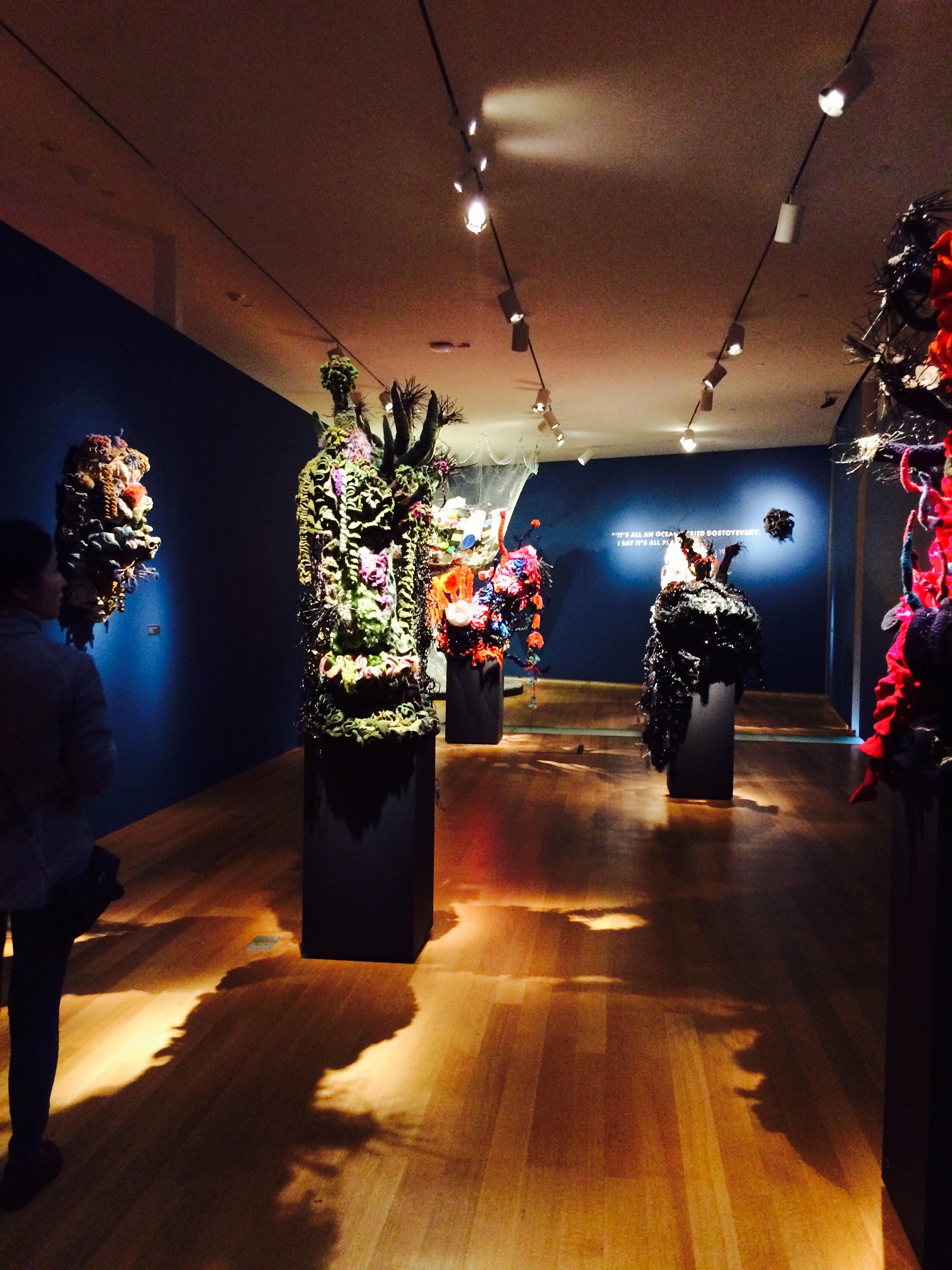 methods discovered by a female mathematician at Cornell University, the twins founded the Institute of Figuring where they lead large scale projects collecting and assembling these complex knitting structures. Their mission isactually to raise awareness of the endangered coral reefs and global warming. In addition to the knitted structures, there was also a display on the abbreviated history of coral reefs on Earth and their chemical makeup. I was reminded of the blending of STEM and the Arts through this exhibit. (Bryn Mawr College LILAC/CPD actually offers an intensive focused on that called STEM & The Arts!)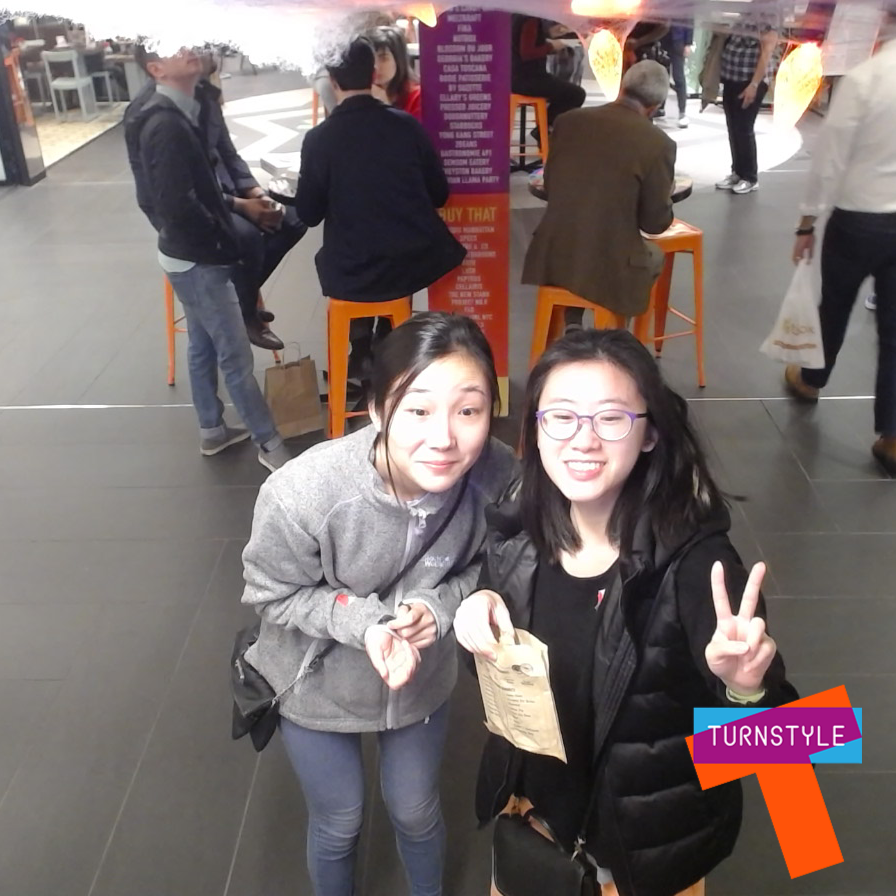 After MAD, May and I ventured down to the new underground mall at the Columbus Circle subway station. There a few small bakeries, coffee shops, and boutique stores down there. We tried the mini donuts, which were very good! (6 for $6). The newness and cleanliness reminded me of the subway stations in China. We then ventured uptown to Beard Papa because May was craving a chocolate cream puff, I got matcha green tea. I would usually recommend the cream puffs from this Japanese chain, but I wasn't that satisfied with my cream puff, which tasted over baked and stale. Apparently their location downtown gets more business, so their cream puffs might be fresher there.
Next stop, Museum of Chinese in America (MOCA) in Chinatown! Again, another smaller museum with a focus on Chinese immigration and the Chinese experience in America. This museum is special to me because I am Chinese American. My childhood best friend's (Naomi Ko) mom Jessica Chao, Barnard '75, served as former Interim Director. I also visited MOCA often during my summer 2014 internship with Asian Cinevision where a couple Asian American International Film Festival (AAIFF) events were held.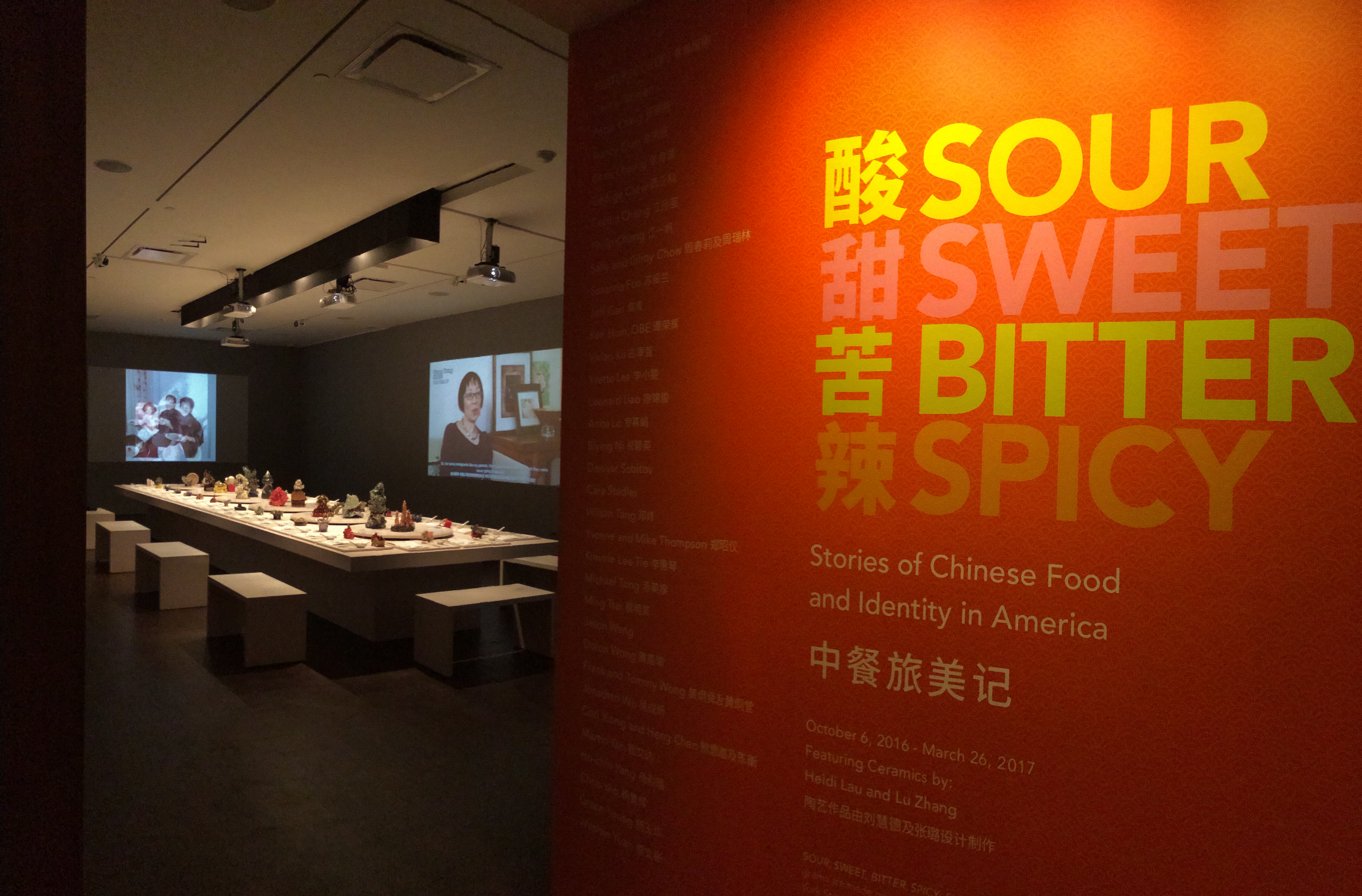 The current main exhibit at MOCA is Sour, Sweet, Bitter, Spicy: Stories of Chinese Food and Identity in America. Two things I love: FOOD + IDENTITY. The exhibit was laid out as if you were invited to a dinner table. Each place setting featured a little blurb on a Chinese chef in America, a soup spoon and chopsticks, and a porcelain sculpture representing the chef's favorite food. There was also a map pinpointing and connecting where the chef gathered his or her cooking influences. At the center of the table were multiple lazy susans with larger porcelain sculptures related to a certain region in China or type of food and a corresponding info blurb. The exhibit was in both English and Chinese. On the three walls, video interviews with the chefs featured in the exhibit were displayed. The chefs responded to questions centered around Sour, Sweet, Bitter, and Spicy moments in their career and lives. There were also pictures of their signature dishes, which made me hungry! May and I sat there for a good 25 minutes or so just captivated with all the stories each chef had to share. The exhibit reminded me of the #BMC360 Food in Translation. I was pretty jealous that they got to go to Barcelona, but at least I am able to find alternative ways to teach myself.
After MOCA, May and I grabbed a quick bite at Joe's Shanghai for soup dumplings and an early dinner, then walked uptown to the East Village/NYU town. We had a nice drink at Gong Cha bubble tea (I recommend paying extra for the milk cap!) on 14th street, then took the bus home to New Jersey.
Wednesday
After our long day in the city on Tuesday, May and I were pretty tired. We got a ride into the city with my uncle (my uncle usually takes the bus, occasionally drives). To carpool with my uncle, we had to wake up early. We took a nap at my aunt's apartment for longer than expected, then went uptown to El Museo del Barrio ("New York City's only Latino museum dedicated to Puerto Rican, Caribbean, and Latin American art"). This is also another smaller museum I love to visit often. There was an interesting exhibit on the works of fashion illustrator ANTONIO LOPEZ: Future Funk Fashion, a Puerto Rican American from NYC (Nuyerican) active in the 70s and 80s. He had published works for big names like The New York Times, Vogue, Harper's Bazaar, Elle, and more. The exhibit highlighted some works he did for masterclasses at Fashion Institute of Technology (FIT), a project he did after visiting Puerto Rico, break dance groups and celebrities he drew, and works leading up to his death from AIDS in 1987.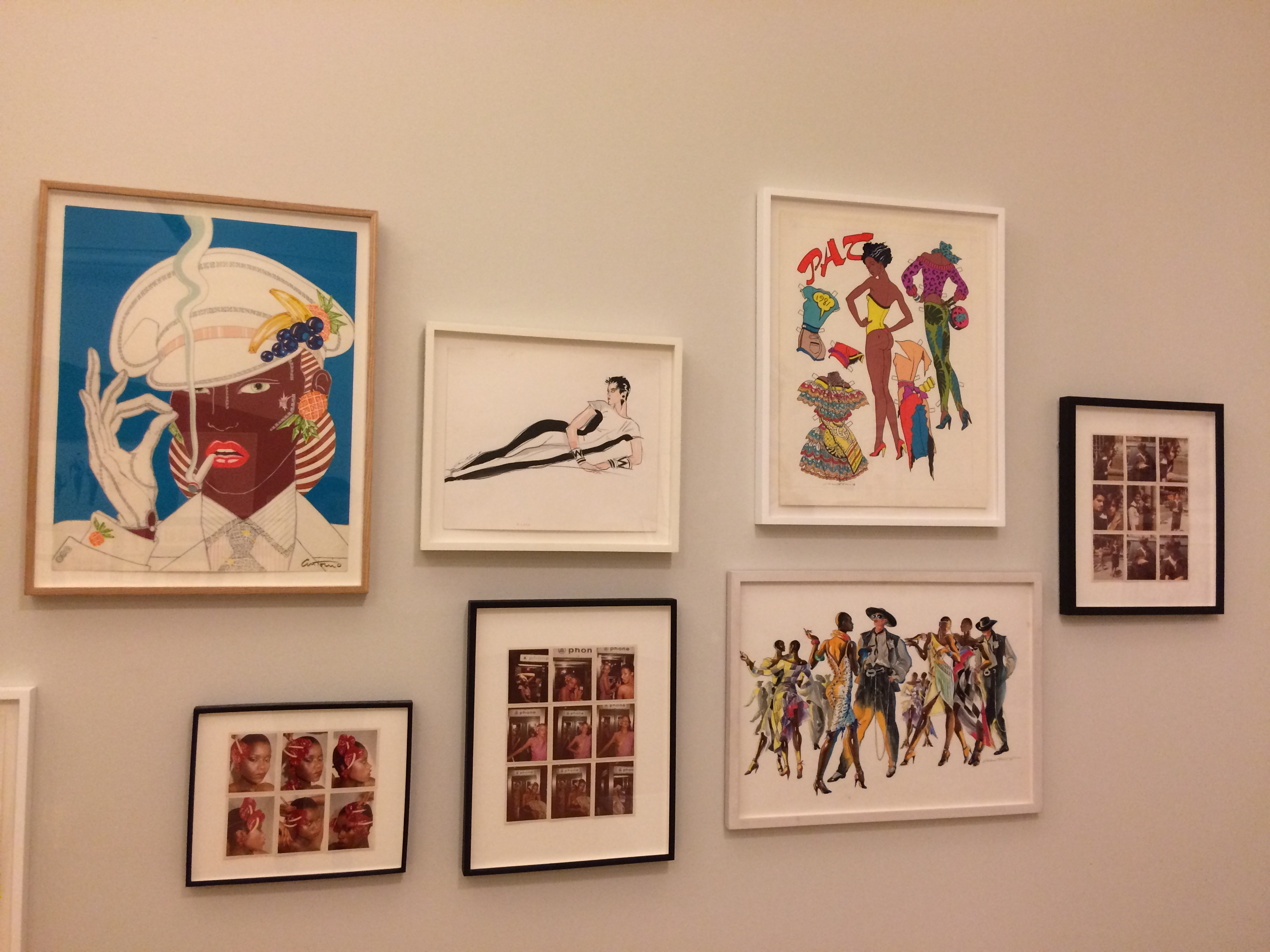 After El Museo, a quick lunch at my favorite Xian Famous Foods (whose founder Jason Wang was also featured in the MOCA exhibit!), and then my friend May took the Megabus back to Philly. I wandered the city alone for a little, then took the bus back with my mom. My parents and I then went to Wednesday night yoga at YMCA, and I packed for the Toronto trip the next day.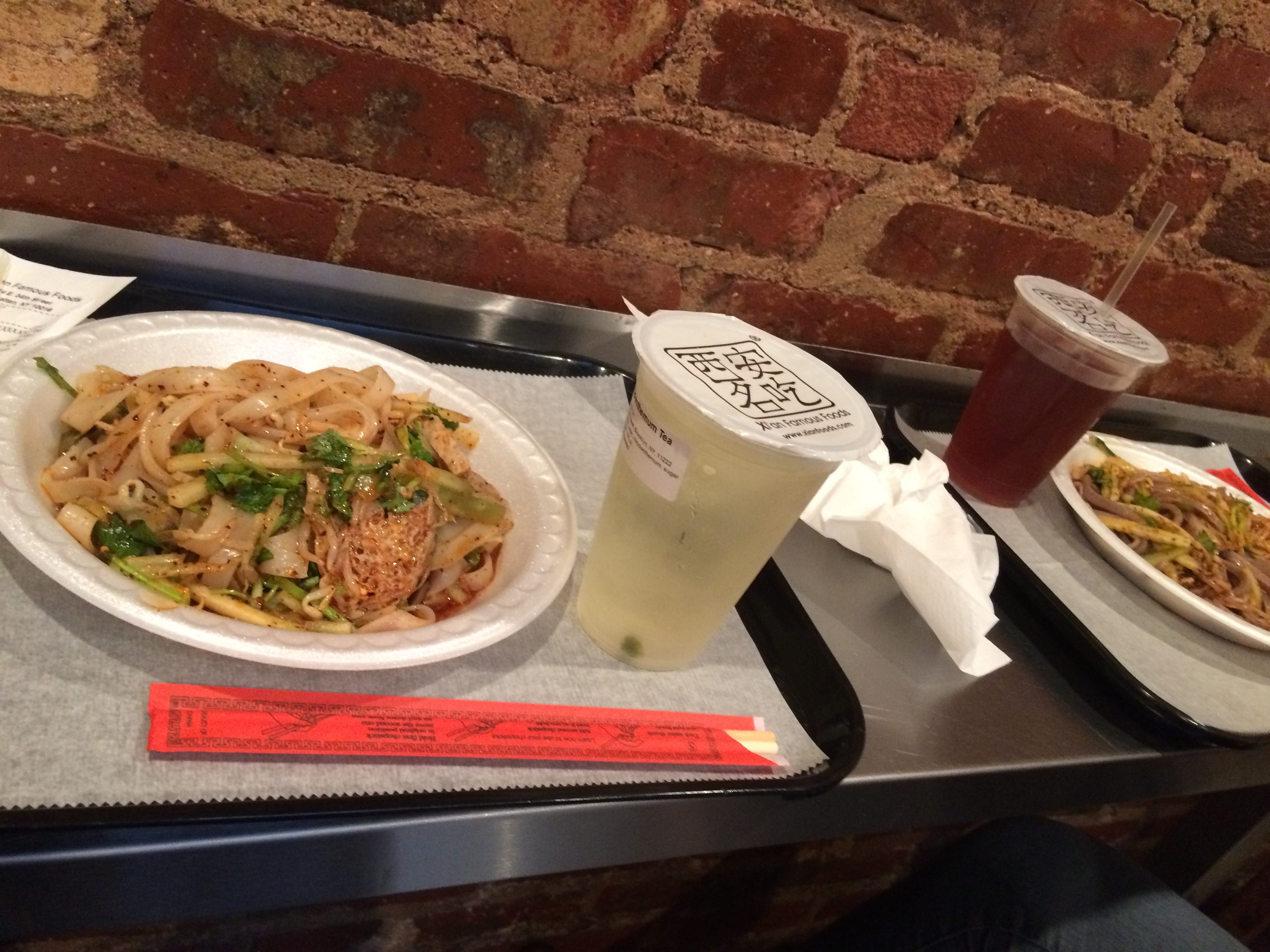 ---
TORONTO:
Thursday, Friday, Saturday, Sunday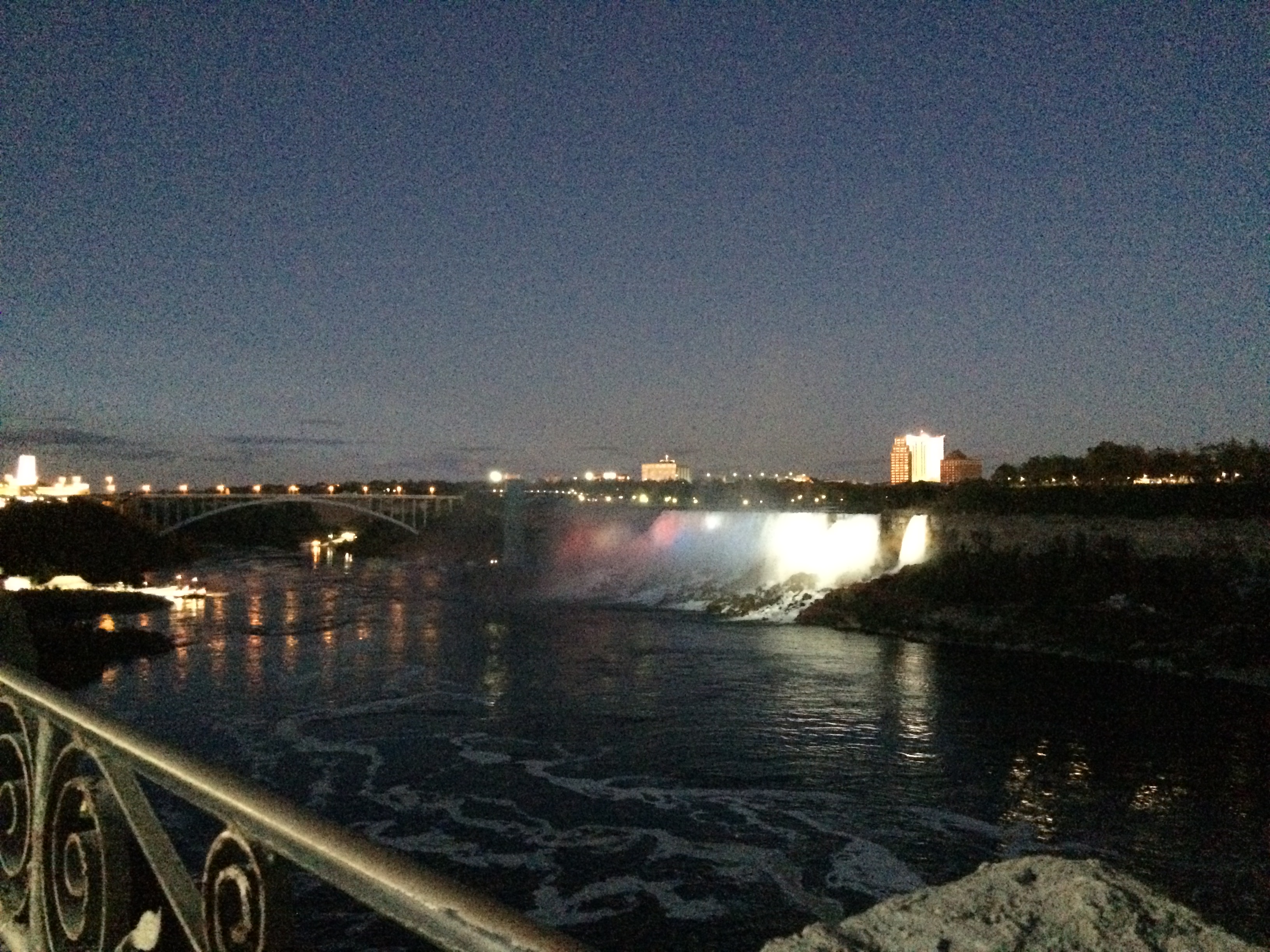 If you've read up to here in this long winded post, kudos to you. To keep it short and simple, my parents and I drove up to Canada on Thursday, stopping at Ithaca bakery for
lunch and Lively Run goat farm. We spent the night at Niagara Falls (my first time there), and drove the extra 2 hours to Toronto the next morning for dim sum with my extended family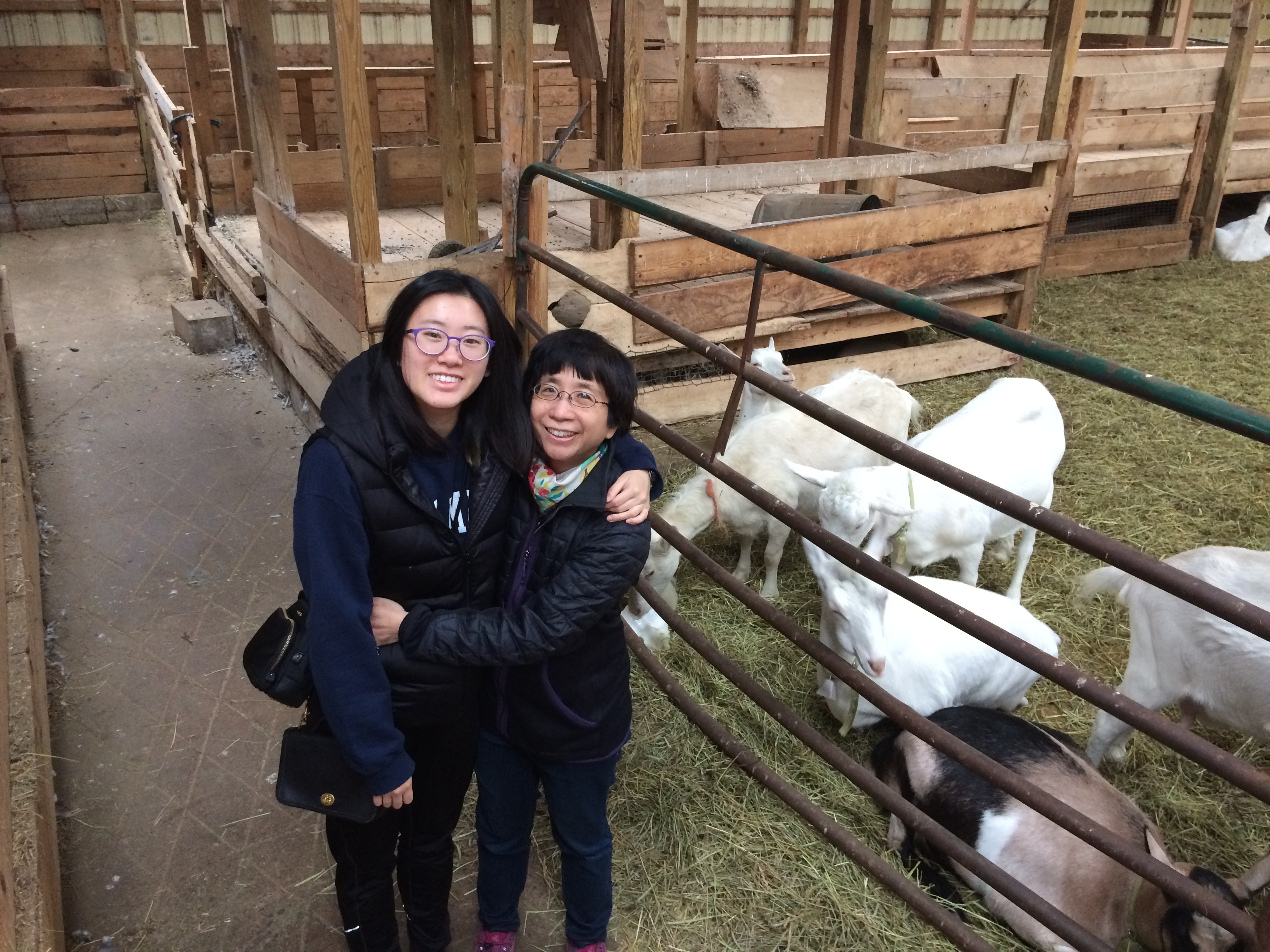 . We then toured downtown Toronto, such as Kensington market, with my maternal grandmother's cousin acting as our tour guide. I managed to take a picture of CN Tower in downtown Toronto, yes, the one featured on Drake's latest album Views.
Toronto has a LOT of Asians (mostly Chinese). In addition to the authentic Chinese food, it actually almost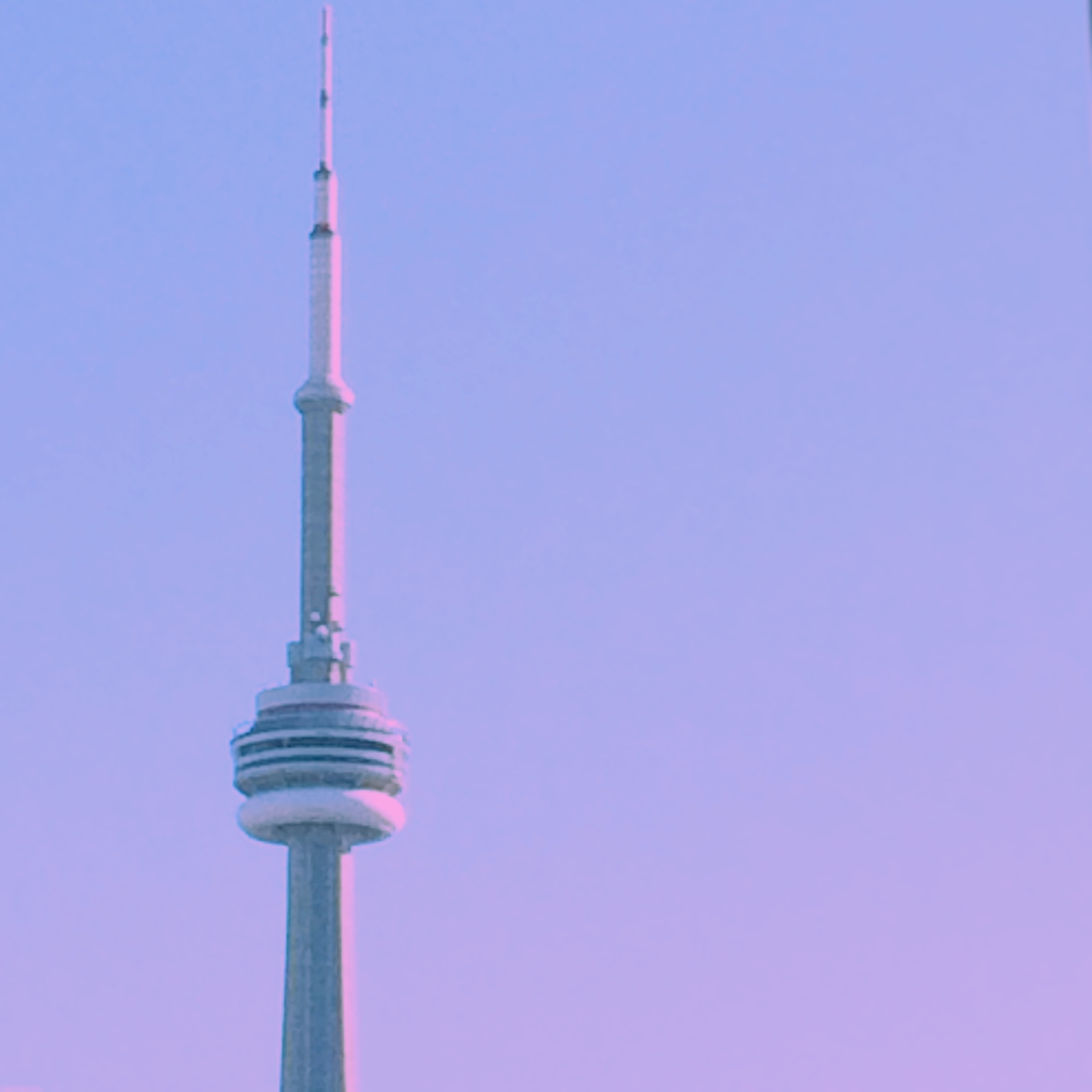 reminded me of China. It's interesting to see how Asian Canadians behave compared to Asian Americans. It must be nice to grow up in Toronto where there are more people who look like you. This was my first time in Toronto and my first time meeting my family there. I have some aunts and uncles who are around my age! (Big family result in big age gaps.) I learned more about the family tree and their immigration stories from Hong Kong to America. The family lost everything in WWII and moved to America to start over. Apparently I also have family in Peru and Mexico! My maternal grandmother actually married right before the rest of the family immigrated to Canada.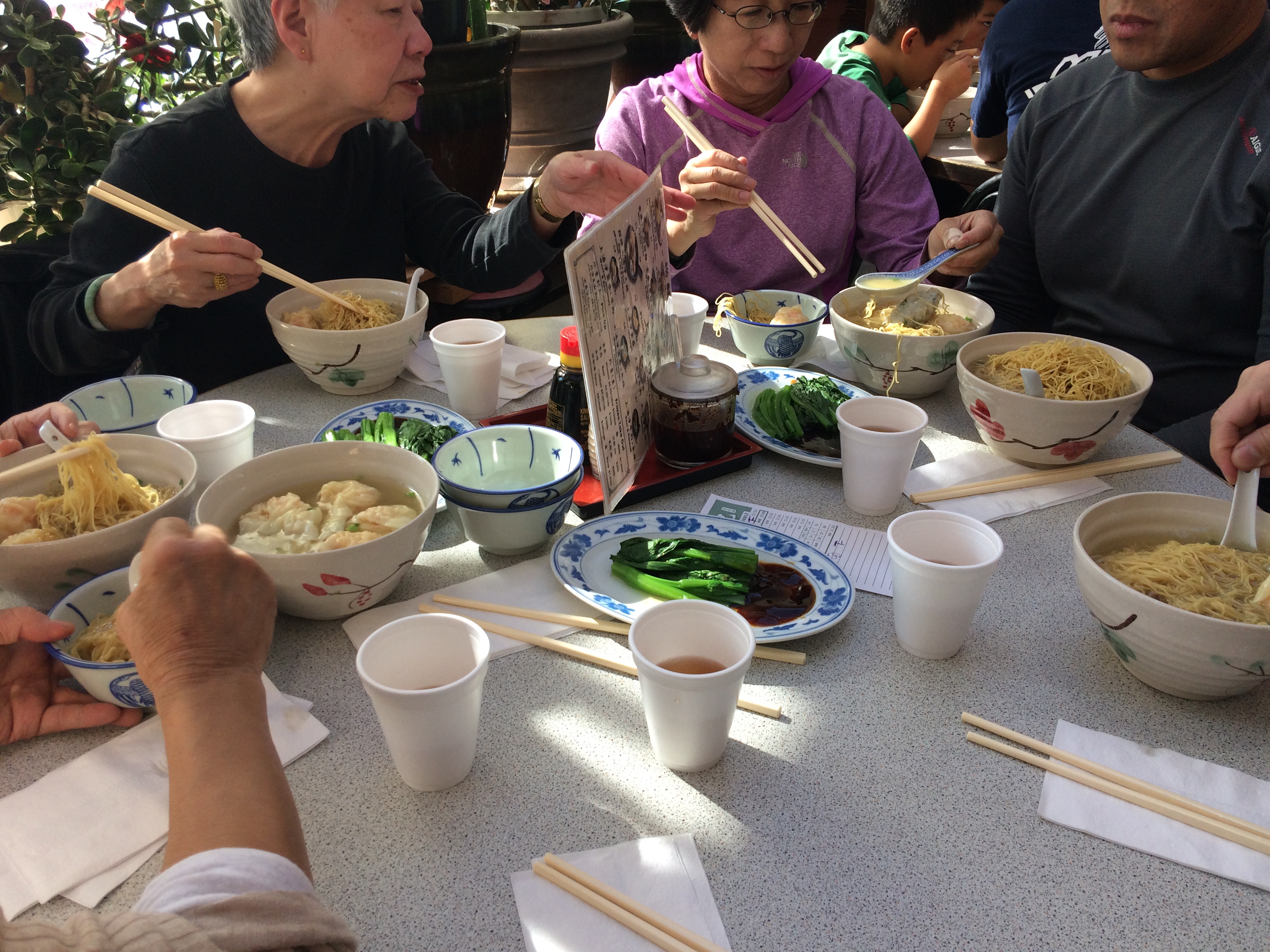 The main reason why we visited Toronto was to see one of my uncles get married. The wedding had a delicious 10 course Chinese dinner and an open bar, but the dancing didn't start until 10:45pm, which was the time my parents wanted to leave. We had a long 8 hour drive back to Bryn Mawr the next day, so I understood.
---
… And that was my fall break! Didn't get as much studying and job applications, or even rest, as I would have liked, but I had FUN!