This past Saturday October 1, the Bryn Mawr College Asian Students Association hosted their culture show in Goodhart Hall for a mostly full house audience.
"A Work in Translation" aims to explore issues such as language translation, identity translation, and empowerment in translation. Performers include Afreen, Choom Boom, Hometown Hero, Mayuri, Rhea Manglani, and Tai-One, as well as comedian Subhah Agarwal, spoken word artist Rachel Rostad, and taiko drumming group Kyo Daiko. Free food will be served in the Goodhart Music Room after the show.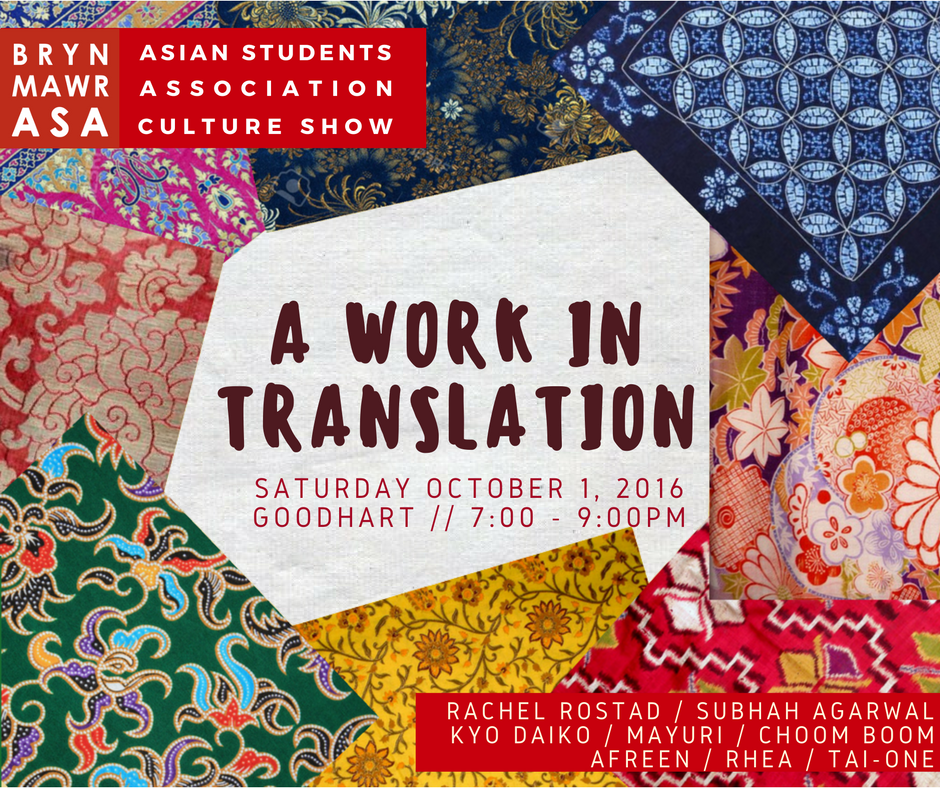 Kyo Daiko opened the show with three different taiko pieces. Kyo Daiko is a community based taiko group from Philadelphia formed by the Settlement Music School and Shofuso Japanese House. It was nice to see Philadelphians of different races and ages come together in appreciation of traditional Japanese taiko drumming.
Next was Afreen, Bryn Mawr's Bollywood/Contemporary dance group. Unfortunately, I missed their performance because I had be backstage, but their gold tops and pink long skirts looked very pretty! After Afreen, Rhea Manglani '17 performed a couple spoken word pieces. Her pieces were, at times, dark, but they spoke to her own true experiences being raised by immigrant parents, being a student, and pressure to succeed — themes that many of us in the audience could relate to.
I performed in the fourth act with Tai-One, a new Bryn Mawr group created by my roommate Friend Chaiprasit to celebrate Thai and Taiwanese cultures. (They merged the two cultures because there are not enough students from each culture to make an affinity group.) Through talking to each other and sharing our cultures, we found that many of our cultures had a dance incorporating bamboo sticks. (I've written about this shared heritage dance before in my tumblr post Cross Cultural Similarities between China, The Philippines, and Thailand = MINDBLOWN.) We decided to perform a bamboo dance medley based on the different styles from Taiwan, Thailand, and the Philippines. I am 1/4 Filipina, so I taught the Filipino part of the dance (tinikling). My roommate from Thailand taught the Thai portion (Lao Kratop Mai), and we learned the Taiwanese Ami version from YouTube. We could not get our hands on proper bamboo sticks, so we used PVC pipes, which are an okay substitute, but flimsier and heavier. The most difficult part about dancing different styles of the bamboo dance was adjusting to the differences in timing and rhythm. My friend Friend danced the male part and even drew a fake mustache to look the part.
Tai-One's performance was followed by a stand up comedy act by Subhah Agarwal. She made jokes and ironic social commentary on some very serious issues like body image, racism, cultural appropriation, and her experiences trying to make it as a South Asian comedian in an industry with few minorities.
After a brief intermission, Mayuri, the Tri-Co's South Asian dance team, took the stage. They looked beautiful as always, with synchronized moves and even enthusiastic lip syncing. After Mayuri performed, Choom Boom, the Bi-Co's K-Pop dance group, performed SNSD's Genie with striking charisma and charm. Although I did not perform, I am a proud member of Choom Boom as well. Choom Boom's executive board performed Genie so well that all I could do was cheer for them and fangirl during their dance.
Rachel Rostad, a writer and spoken word artist who went to Macalester College, closed the show with a couple of her pieces. She first introduced herself to the crowd. Apparently, she had overheard some students who looked at the ASA culture show poster wonder out loud why a White person was performing at the culture show judging by her name. Rostad then explained how she is adopted and how this has played an important part in finding her identity as a Korean American adoptee. Rostad is most known for her spoken word piece "To JK Rowling, from Cho Chang" (CUPSI 2013 Finals) on how illogical it was to write in an Asian character with two last names just for diversity. Unfortunately, I could not stay for the entire performance because I had to be backstage preparing for the fashion show.
A fashion show highlighting traditional Asian clothing has always ended the ASA culture show. This year, outfits representing China, Korea, India, Thailand, and Vietnam were worn.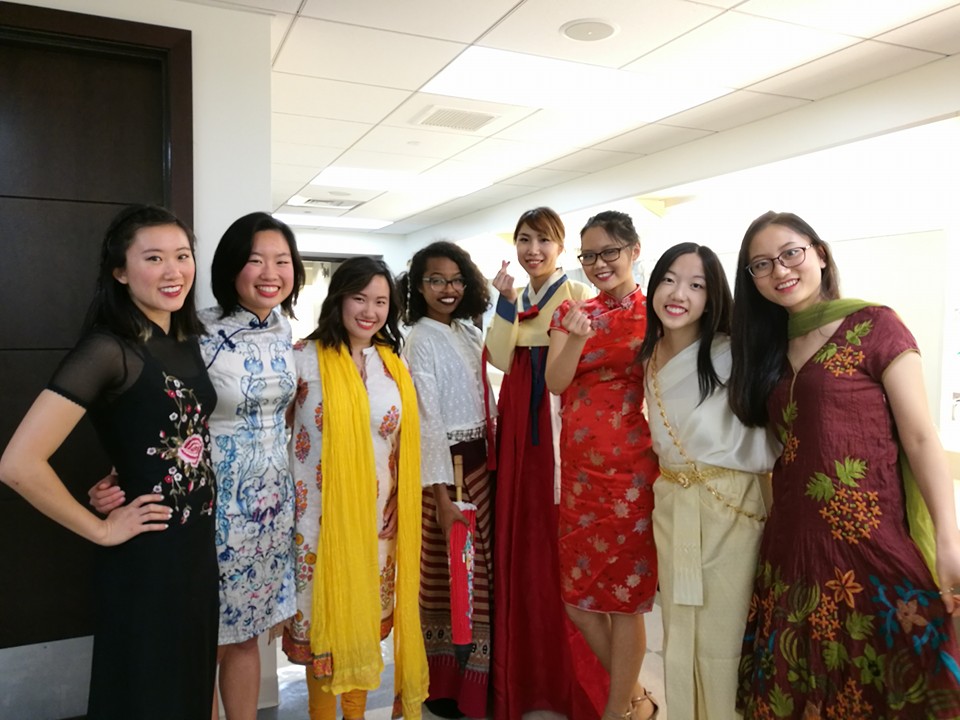 I would like to send a huge THANK YOU to the ASA Board, Culture Show committee, and Goodhart tech people who organized and ran such a successful culture show — especially Co-Presidents Amy Xu'17 and Malini Sharma'18! It's important to have performance spaces open for Asians and Asian Americans. I have been an active member of ASA since freshmen year and previously served two terms on the executive board as publicity chair and president. I have also designed the culture show poster and promotional graphics for the last three years (including this year). Culture show has been a major part of my Bryn Mawr career, and I am happy that my last culture show was pretty much perfect!
Related: I wrote briefly about the importance and challenges of Asian and Asian American culture shows on the East Coast Asian American Students Union (ECAASU) blog. Come to the Culture Show: A Made-Up Guide of How to Share and Preserve Our Traditions (If only it were that easy!)