LILAC /CPD hosts an international Skype series where students have the opportunity to talk to alums who work all over the world. This past Monday, the Skype series featured Antonia Kerle (Sociology '11), Management Consultant at Deloitte.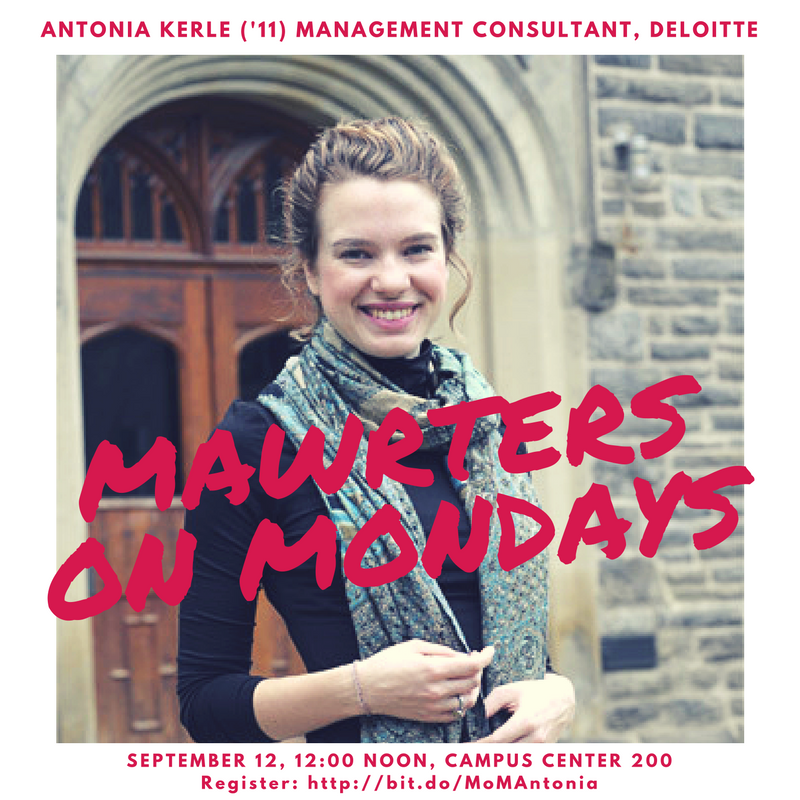 Antonia was born in Hong Kong, then lived in Sydney, Singapore, New York, and London. At Bryn Mawr, she majored in Sociology and wrote her thesis on Women's Work in Hindu Rituals in Bali, Indonesia based on her Haverford CPGC summer internship in Indonesia and semester off conducting independent research in Indonesia. Prior to joining Deloitte, Antonia worked as a Peace Corps Volunteer in Sichuan Province, China teaching English and developing women's leadership programs at a small, rural university in North East Sichuan. After two years with the Peace Corps, she went to Cornell to get a masters in Industrial and Labor Relations.
On her time in the Peace Corps:
When am I going to regret not doing more?
After graduating Bryn Mawr, Antonia faced two options: Peace Corps or consulting firm. In the end, she chose to join the Peace Corps because her gut feeling was that she could always do consulting later in life. In China, she became familiar with how to manage people and how to engage with people from cultures different from her own. After the Peace Corps, Antonia did an informational interview with a Bryn Mawr alum who recommended Cornell for grad school.
On consulting:
Antonia was recruited to Deloitte directly from Cornell. She chose the Human Capital department because of her interest in organizing culture and working with people. During her first week at Deloitte, she was handed a laptop and cell phone and was told to go find her own projects. This is where her experience finding independent projects and conducting her own research was useful. Deloitte is a very project based, collaborative work environment where there is pressure for constant achievement. People skills are absolutely crucial.
Tips for Mawrters:
Liberal arts teaches you how to think critically and communicate well in writing, but you don't have the same network and career resources as a larger university, so….
Make better first impressions
Use mock interviews as ways to network
Thank you emails
Personal connections are game changers
Do your research on the person/company you are interviewing with
Contact people who have similar background to you and ask about their career paths