As mentioned in my previous post, I spent this past summer volunteering with the Amity Foundation in China. I was accompanied by three other Bi-Co students: 2 from Bryn Mawr and 1 from Haverford. Our team got really close as friends over the course of our two-month internship volunteering at a senior community center, a child development center for autistic children, a vocational center for mentally disabled adults, and teaching English to middle school and high school students in North Western China.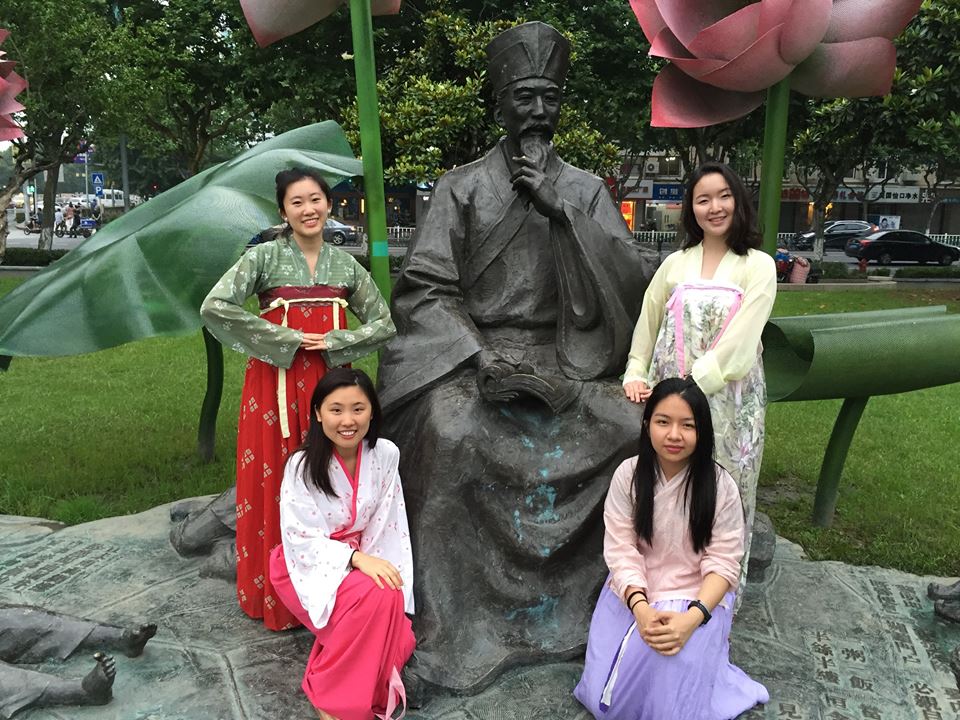 Our work was very service and people-to-people oriented, so it was essential that we were able to communicate in both Mandarin Chinese and English. (I actually had the most difficulty with this, but my Chinese definitely improved.) Another unique aspect of working in China was the cultural etiquette such as how to greet and respect elders, who gets to eat first at the dinner table, when to stand for a toast, how to accept gifts, etc. This was also something newer to me because as a third generation Asian American, I did not practice these gestures often. In this cross cultural exchange between Western and Chinese behavior and lifestyle, others taught me the Chinese way while I shared the American way of celebrating holidays, studying, working, and retiring with those who were curious about life in the USA. My fellow interns not from the USA shared their Thai and Vietnamese cultural practices. It was interesting to hear what kind of assumptions and stereotypical views some Chinese people had of people from different countries like the USA, Thailand, and Vietnam.
When the four of us interns were not working, we made sure we explored the surrounding area. Some of our favorite attractions included museums, monuments, and historical sites. I especially tried to make the most out of seeing different tourist attractions since this was my first time in China and in Asia.
After the internship concluded, my fellow interns returned home, except for me. I traveled alone in Shanghai for a week, then visited my friend and fellow intern in Chiang Mai, Thailand, and finally visited Hong Kong for a week to reconnect with my family there. I figured I might as well extend my stay in Asia since it was my first time there and the major plane ticket was paid for by Haverford. I had a lot of fun traveling, eating, and learning and am still recovering from the jet lag.