This past weekend was Haverford's Weekend of Musical Celebration honoring the Class of 1965, funded by the Kessinger Family Foundation. This year's theme was East Meets West – West Meets East, a blend of Asian and Western style music. There was a concert on Saturday night and a concert on Sunday afternoon, but I only attended the Saturday night concert featuring North Indian Classical Music by Kala Ramnath (violin), Ken Zuckerman (sarod), and Abhijit Banerjee (tabla).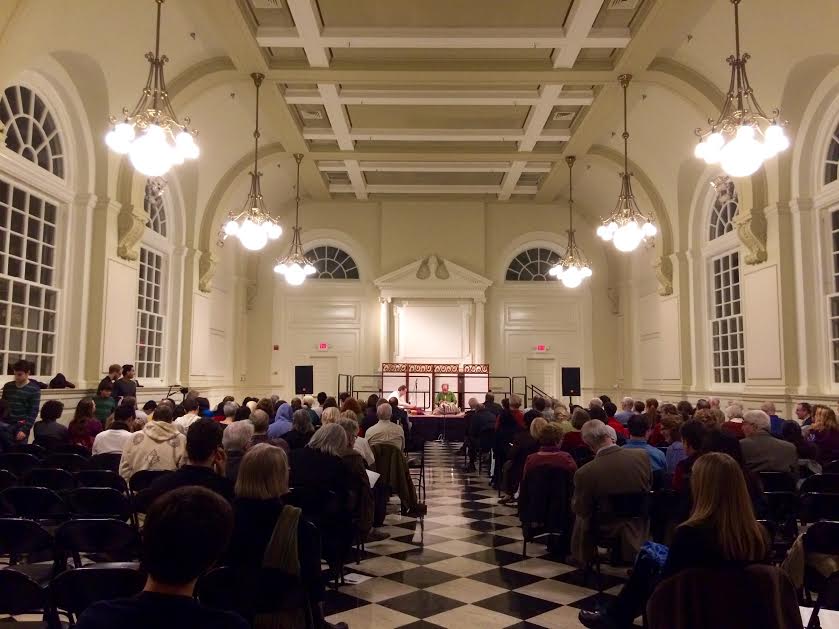 North Indian classical music is comprised of melodic patterns (ragas) and rhythmic patterns (talas). The music is purely improvised, choosing ragas based on the player's emotional state, season or weather, or atmosphere. The technique is only passed down from generation to generation by word of mouth.
The cross between East and West is evident in the reinterpretation of violin and the spread of the technique to music schools in the West. The Indian violin is played in a lower position and tuned differently than that of the Western violin.
I haven't been exposed to much Indian classical music before, but I thought the music was very relaxing. I noticed that most of the crowd were not Haverford students, but locals. Songs went on for about 40 minutes each. Instrumentation was simple with only 3 instruments, but the complexity of the ragas varied throughout time. It must take a lot of concentration to play that long and conjure up ragas sequences. I used to play clarinet in my high school jazz band. My least favorite part was improvising because I hadn't really mastered the jazz scales and I couldn't just mindlessly play notes.