Not too long ago, I visited the Cantor Fitzgerald Gallery at Haverford for their The Past is a Foreign Country exhibit. I was back today for their latest exhibit The Wall in Our Heads. The exhibition, curated by Haverford Postdoctoral Writing Fellow Paul Farber, features artworks by American artists reflecting on social political boundaries during the Cold War in Berlin and throughout American history leading up to today's issues. 2015 also marks the 25th anniversary of the fall of the Berlin Wall and the reunification of Germany.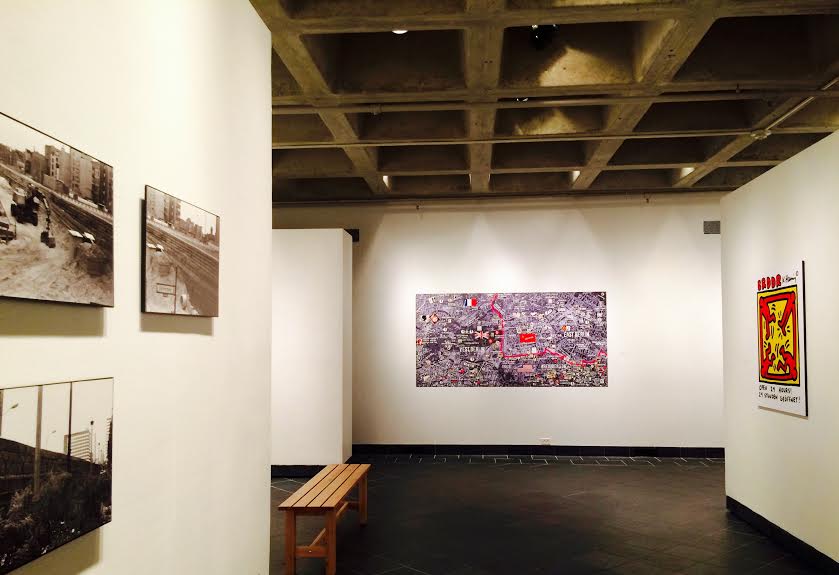 While the "our" in the title of the exhibition may elude to including everyone, the exhibit focuses on the American perspective. Many, if not all, of the photographs were taken from the American side of the wall. Some artists, likes Keith Haring and Jonathan Borofsky, used the Berlin Wall as a canvas for their murals, others, such as Stephanie Syjuco, experimented with the wall as a historical and capitalist symbol.
The Cold War and World War II had directly affected the artists' lives as well. Japanese-American-Dutch artist Shikichi Tajiri's family had been detained in an American internment camp during the 1940s. Tajiri later served in a Nisei unit in WWII to gain his freedom. After the war, Tajiri worked as a university professor in West Berlin near the wall. Another artist, Lindy Annis, used performance art on outdated continuously running elevators in East Germany as a means to show the structural differences between East Germany and modern West Germany.
The exhibit attempted to branch into modern history and current issues with walls between the USA and Mexico. One piece that stood out to me was Public Enemy rapper Chuck D's artwork By the Time I Got to Arizona and his politically charged rap song Tear Down This Wall. This was Chuck D's response to Arizona's new 2010 immigration laws that would make it easier to identify, prosecute, and deport undocumented immigrants. Again, the "our" in this case did not include Mexican American artists, so I felt that some voices were missing.
=========================
When I visited the gallery this time, my friend was managing the front desk. I noticed he had a clicker to count how many people visit the gallery. A German woman stopped by to ask our opinions as students on the exhibit. I had told her I was interested in the exhibit because I am taking a Topics in 20th century European history class. She wasn't as interested in our academic approach, but more our opinions as young people who weren't alive during the Cold War and only learned about it through history classes. I had to think longer about her question. I could understand how she felt like her perspective as a German-American was left out. As a young person myself with no personal connections to the Berlin Wall, I don't fell like I am part of the "our" in "our heads" either. If I were living in Germany at that time, I don't think I would feel comfortable with a foreigner writing on a wall in my backyard. The art doesn't make the wall any less serious, and it definitely does not make the wall disappear.
Even with the absence of a physical wall, there will always be a wall in "our" heads.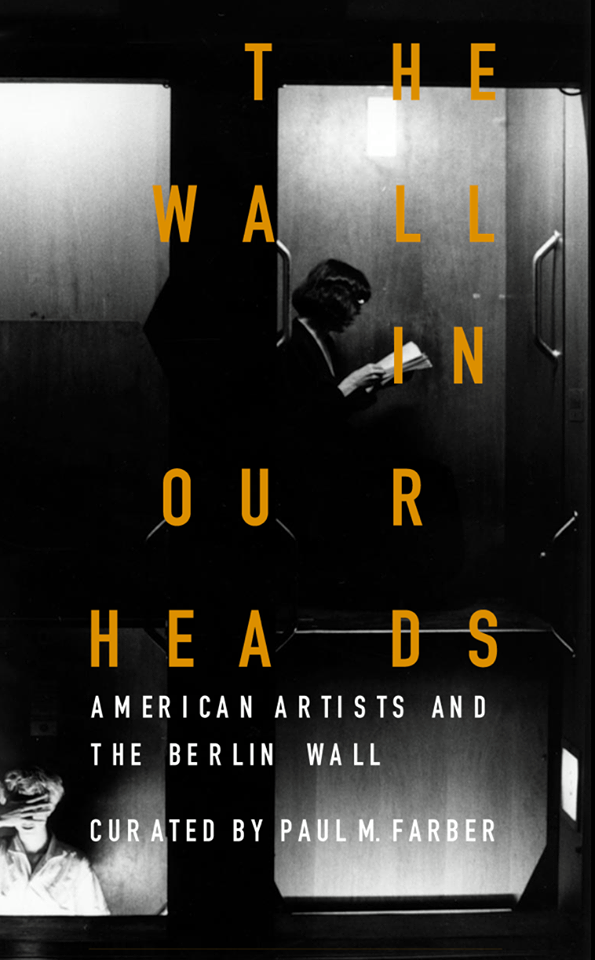 The Wall in Our Heads also features public lectures, speaker series, faculty talks, roundtable discussions with artists from Philadelphia, and a student exhibition. (Who knew Bryn Mawr College has a Center for Visual Culture Visual Colloquia?) Information on these upcoming events can be found here.
The Wall in our heads: american artists and the berlin wall in Haverford college Cantor Fitzgerald Gallery until December 13, 2015.