LILAC hosts an international Skype series where students have the opportunity to talk to alums who work abroad. Last Wednesday, the Skype series featured Kate Severance '12 English, Instructional Designer at Interactive Services Dublin, Ireland. I was interested in talking to Kate because this summer I interned with Bryn Mawr College's Mellon Digital Curriculum Initiative. I am also on the working group for the Tri-Co Re:Humanities Conference, which showcases undergraduate work in digital scholarship.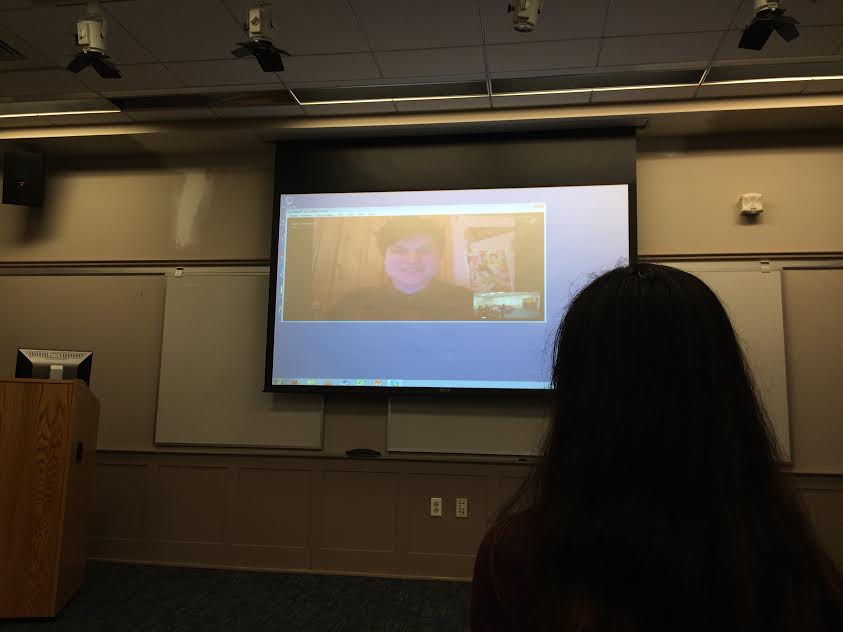 Kate started off the discussion talking about her post-Bryn Mawr life and how she eventually ended up in Dublin. Her first job out of college was at the Buffalo Exchange thrift store for 6th months, which she described as a "humbling experience killing cockroaches with fabric softener spray." She also did a lot of freelance and contract writing work in between. She then moved back home and worked at a motel for 2 years. For Kate, she needed to make money immediately to pay off student loans. She felt like everyone else was way ahead of her in graduate school or working in a big city. Kate finally decided to give Dublin a try because her partner is Irish. Kate made two trips to Dublin, each on a 3 month tourist visa to apply for jobs and scroll through all the online job listings. On her second visit, she found Interactive Services's job listing on LinkedIn. She also considered a job at Yelp.
So what does she do at Interactive Services? Kate is an instructional designer for e-learning and educational media. She and her team create training material for high level corporate clients. Training material can be made in the form of games, videos, and interactive courses to make the audio and visual effects more user friendly and accessible. Her team consists of 2-3 graphic designers (1 lead, 1-2 juniors), 1 lead programmer, 1-2 testers/troubleshooters (programmers), and 2 instructional designer writers. She is an instructional designer writer, and her job within the team is the creative writer who writes the script for the training. In order to write the script, she has to read a lot of technical articles, then put together a curriculum. In a typical day, she will write up to 40-60 pages of script.
Q    &    A
What's it like to live abroad in Dublin?
Severance: The Irish are very friendly, and they speak English. I also love the Irish work/life balance. I don't have to worry if I get sick because the Irish government gives paid days off and sick days off, including Irish government health care. I also get Interactive Services company perks: free movies on Wednesdays and sometimes free things from clients. I have a free iPad from Facebook. Living in Dublin also makes travel within Europe a lot easier. I never got to travel much before Ireland, so it's like I'm in Disneyland.
If you could go back to college, what would you have done differently?
Severance: Internships. I didn't do any summer internships during Bryn Mawr because I needed to work. Bryn Mawr actually has a lot of grant money to give away, you just have to find it. I used my Hannah Holborn Grey fellowship to buy archive subscriptions for thesising. If I had applied to more grants, I probably could have spent less time working, and more time doing other things.
What advice would you give others?
Severance: Apply to everything, don't worry if it's not something you want to do 5 years from now. In today's economy, it's not always going to click immediately. Leaving the Bryn Mawr bubble hits you hard. Bryn Mawr is this beautiful, incredible thing that doesn't last.
Where do you eventually see yourself in a couple years?
Severance: In a couple more years, I want to go back to creative writing to get an MFA. I don't think being an instructional designer will be my career, as my ultimate passion is creative writing. For the mean time, I am paying off my student loans.
"Kate Severance is originally from the Adirondacks in upstate New York. She currently lives in Dublin, Ireland, where she is an instructional designer with Interactive Services. Her main clients are mostly in the financial and tech industry – Visa, Morgan Stanley, Deloitte, and Facebook, JP Morgan, Coca cola, Hersheys, Walmart. She loves living in Europe because of its open access to cheese grown in caves. She especially loves living in Dublin because of its infectiously friendly and creative startup culture. If Kate can successfully live and work abroad, anyone can successfully live and work abroad."