I don't usually hit up Haverford for their parties, but when I'm there on a weekend at night, I'm probably there for a f u c s show.
The federation united concert series is a Haverford College student run concert series that brings in underground and up and coming bands to perform in Lunt Basement (and sometimes James House). Since they are at Haverford, their events spread by word of mouth on the Bryn Mawr campus, or by facebook.
Friday night, I went to see Guerilla Toss, Buck Gooter, and The Sediment Club perform in Lunt Basement. I hadn't heard of any of the bands before. When I got there around 10:30pm, The Sediment Club was playing some screamo metal music. It wasn't really my type of music, so my friends and I shared an Oreogasm milkshake from Lunt Cafe next door. Then Buck Gooter took the stage with some more screamo and slamming guitar riffs. The lead singer had cool hair and a cheetah print shirt. Some boys in the crowed started a moshpit, and I got shoved to the sidelines. Just as Guerilla Toss was about to perform, the fire alarm went off and everyone was forced to evacuate until Public Safety came. I'm pretty sure the fire alarm went off because of all the people smoking. It was about 12:30am by then, and my friends and I (along with a full bus load of other Bryn Mawr students there) decided to catch the 12:40am Blue Bus back to Bryn Mawr. I was kind of looking forward to hearing Guerilla Toss perform, but I'll be able to see them perform when I go to a concert over Fall Break where Guerilla Toss is opening for Javelin.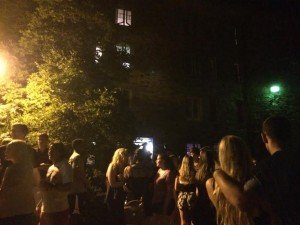 Pro-Tip from an Upper Class(wo)man #1: Do not arrive early to these things. They always start late. (#1.5: Also, don't overdress. It's hot, dark, and crowded in there anyway.)
Pro-Tip from an Upper Class(wo)man #2: The main header doesn't start playing until at least 2 hours after the listed concert start time.
GUERILLA TOSS:
Listen: https://guerillatoss.bandcamp.com/
Watch: https://www.youtube.com/watch?v=g3LKHEKIvlA
THE SEDIMENT CLUB:
Listen: https://sedimentclub.bandcamp.com/
Watch: https://vimeo.com/132347727

BUCK GOOTER:
Listen: https://buckgooter.bandcamp.com/
Watch: https://www.youtube.com/watch?v=uQLd5w8sj30