On Friday, the Society of Physics Students and the Engineers & Makers Club sponsored a trip to Boeing in Ridley Park. This past week was Engineers Week at Boeing, and Friday was dedicated to women in engineering. Women engineering students from Temple and the University of Delaware were also present. We attended a tour, a panel discussion on career paths from top executives in the company, and a lunch learning session on Morphing Aerostructures.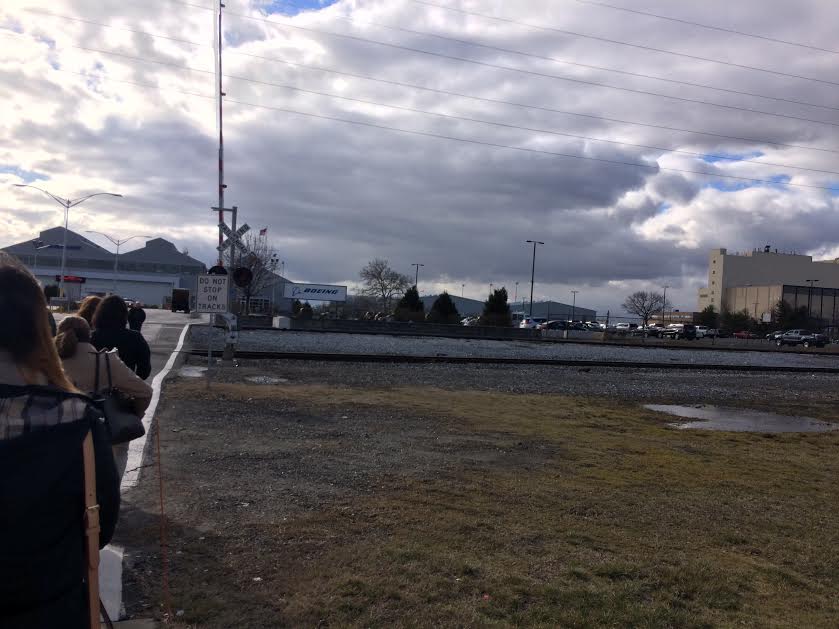 Unfortunately, we were not allowed to take pictures inside the factory assembly line. Boeing probably wants to keep their company success a secret from competitors and their commercial and government clients (international and domestic) protected. In order to tour the facilities, you had to be a U.S. citizen or permanent resident. I'll try my best to write down what I saw.
The Boeing Ridley Park location is 1 of 6 national Boeing locations. This location specializes in the assembly of the H-47 Chinook. The Chinook was first designed in 1961 and is classified as a vertical lift vehicle. According to Wikipedia, it costs $38.55 million in US dollars. The Chinook is Boeing's longest running company program and is an exemplary model of a good design that lasts many years, with advanced technological improvements added on. There are approximately 5,500+ employees on the Ridley Park site, with about 1/3 of them being engineers. In a good month, they can produce 6 Chinook helicopters. The entire process of building a Chinook from sale to contract and manufacturing to delivery takes about 36 months. Boeing's biggest client for the H-47 Chinook is the U.S. Army, but according to Boeing, they try to increase their international sales because the U.S. Department of Defense spending decreases each year. Boeing only sells to international clients who have friendly ties with the U.S. International sales usually require a certain portion of profits to be reinvested into the home country — this usually takes the form of sharing manufacturing labor on the vehicle.
We were given a tour of the assembly line in a massive warehouse. I noticed from the multiple flags hung up in the workspace that many of the workers are Eagles and Philly Flyers fans and very patriotic. Rock music also plays while they work. There are also flags celebrating the 1st delivery of Chinooks to other countries and flags reminding workers of proper safety techniques (FOD). In each step of the assembly line, a different section is installed: welding, wiring, fiberglass/tin/composite carpentry, etc. I was able to recognize some familiar power tools I used in my Fundamentals of Theater class like pneumatic and electric hand tools. Each step of the assembly line also had dates of completed tasks and statistics for productivity, safety, and quality improvement. The warehouse also has cubicles, locker rooms, and break rooms for engineers and workers along the assembly line.
Our next activity was the lunch roundtable discussion with 4 Boeing executives, 3 of them women. The panel started with a introduction to the company structure and products. Boeing is split into 4 different departments: Boeing Military Aircraft, Global Services & Support, Phantom Works (testing new technology), and Network & Space Systems. A 5th subsection is Boeing Military Development. Boeing's competitors include Lockheed Martin, Northrop Grumman, Honeywell, Rockwell, and Airbus and possibly the Chinese in the near future. Competitor brands are sometimes partners in some programs, which make interesting professional relationships. The panelists then introduced themselves, their degree backgrounds, and their careers at Boeing. 3 out of the 4 had undergraduate and graduate degrees in engineering (Mechanical, Civil, and Aerospace). 1 had an undergraduate degree in Math and a graduate degree in Systems Engineering.
5 Tips from the Panel:
Take advantage of your school's resources
Accept the line between work and family
Be brave enough to explore what you like, even if you don't feel qualified enough
Take every opportunity that comes your way or you find
Consider waiting between undergrad and advanced degrees to explore what you like. (~50% of your job is not what you learned in school. The other % is learned on the job.) Companies like Boeing may pay for your advanced degree. Don't wait too long because life and family happens.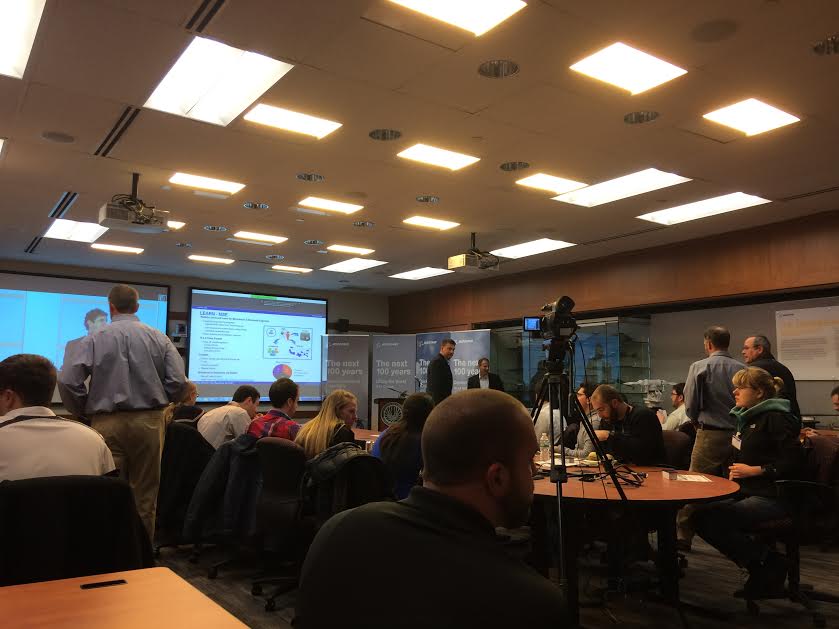 Our final activity was to attend the weekly Lunch & Learn session for Boeing Mechanical & Structural Engineers (Learn MSE). This was a webinar taught by a director in the St. Louis company location broadcasted to both the St. Louis engineers and the Ridley Park engineers. That day's topic was Morphing Aerostructures. We learned that morphing is a class of performance that meets different needs at different times. The future is NOW!
Morphing = Adaptability. Customization. Tailor-ability.
Humans have historically tried to build adaptive aerostructures built like how birds change position during flight, but we soon found out that this was not yet possible. Instead, we had to settle for a design that was good enough in each setting and best in the setting most used. Over time, some features have been converted to adaptive ones, like adaptive airfoils and sweep platforms. These are a combination of mechanical and kinematic transformations.
After the lecture came the "problem solving session." I was afraid this meant physics and math problems, but it was more creative than that. We were asked to think of products that could reconfigure, products that were static but we wished could morph, and some challenges to making objects adaptable.
Products that reconfigure:
Home: recliner, thermostat, table expander, rollerblade, transition lens, laptop/tablet, pocket knife
Transport: bike, scooter, flying cars, extending cranes, trains
Work: interchangeable tools, landing gear (tracting wheels), folding gunstocks, stem cells (<- I thought of that one)
Static:
car tires for weather
shipping boxes/containers
boats
cars with adjustable heights
backyard porch
camouflage
Why aren't they adaptive?
materials
multifunctionality
complexity
efficiency
cost
reliability
In order to make these innovations a reality, we must rethink the design process. Sometimes there are competing forces like quality and time, cruise vs. speed, politically correct vs. law, storage size, weight vs. range, cost, materials science, etc. I think an important takeaway is that ONE size does NOT fit ALL. Someday, there will be a different structure for each setting all in one morphing product.
————————————————————————–
This field trip was well worth the 7:30am departure time from Bryn Mawr. I only wish we got to walk through a Chinook (maybe take one for a test drive?) and visit their wind tunnel. Although I am pretty sure for now that I want to become a nurse, I still really enjoyed this field trip to Boeing. I like to think I'm keeping my options open. It's never too late to switch career paths… In high school I actually thought I was going to be a civil engineer and even applied to a couple engineering programs. I think Boeing refreshed my desire to create and invent. After all, my Lantern Night prophecy was that I would be the first on my hall to invent something!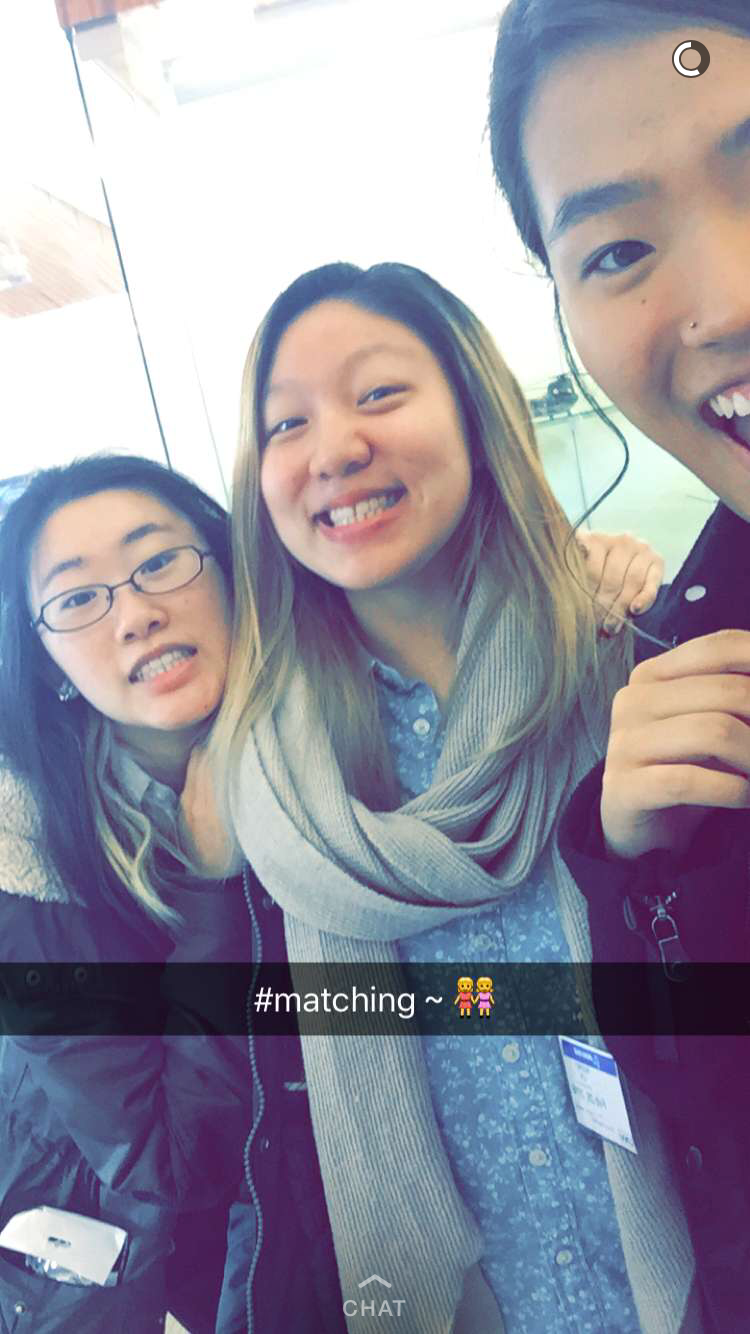 Proud (again) to be a Mawrter Physics major! Hung out with my cool Mawrter Computer Science majors Auderoy Lin '18 and Katherine Lee '18.