On Tuesday, Economist Alice M. Rivlin '52 gave a talk on "Is Inclusive Prosperity in the U.S. Possible?" in Thomas Great Hall.
Rivlin was the founding director of the Congressional Budget Office, Vice Chair of the Federal Reserve, and Director of the White House Office of Management and Budget under Clinton. Currently she is Director of the Health Policy Center at the Brookings Institution and Leonard D. Schaeffer Chair in Health Policy. She is also a senior fellow in the Economic Studies Program at the Brookings Institution and a visiting professor at the McCourt School of Public Policy at Georgetown University.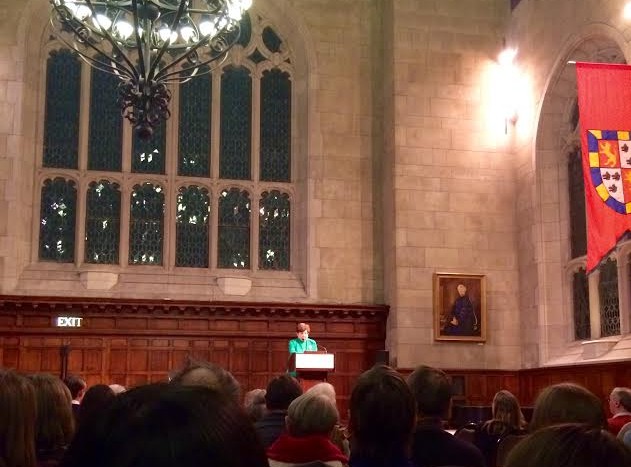 The event was very well attended by students and the outside public. I found it especially empowering to be in the presence of such a high achieving Bryn Mawr alum — definitely among the most prominent alum I have met so far.

In just 40 minutes, Rivlin described what was wrong with the current public policy system and proposed a course of action to fix it. According to Rivlin, our process of setting public policy is broken. The political system is broken so much that it is no longer doing what we need it to do— namely policy compromises. Party polarization is distracting us from:
Modernizing infrastructure
Investing in Science and Technology
Improving the future of low income people
Investing in early childhood education, especially low income
Tax reform (need more taxes on rich)
Comprehensive immigration reform
Reducing the national debt
As shown in the presidential race, namely from Trump and Sanders, politicians show anger at the system, and there is mutual blaming. The public is justified in being angry at the political structure because of the 2008 recession, big money politics, and inequality. Rivlin tells us we all have to relearn the art of compromise. In order to make inclusive prosperity possible, we need a President and Congress to work together. Inclusive prosperity is relative. A more relevant goal is sustainable increases in the standard of living in which all groups share, namely major groups: ethnic, geographic, income, class, etc. sharing in the standard of living.
It's a little unfair that the U.S. recovered from recession better than all the other developed countries, despite the U.S. causing it. Our tight labor market is pretty good, a B+ grade by Rivlin. We fall short on inclusiveness. The economy is growing, but Income is not increasing, except for top-whatever-percent. Anger will not get us closer to inclusiveness. We need policies that share the growth and increase the growth. Rivlin outlined policies designed to have both goals at once: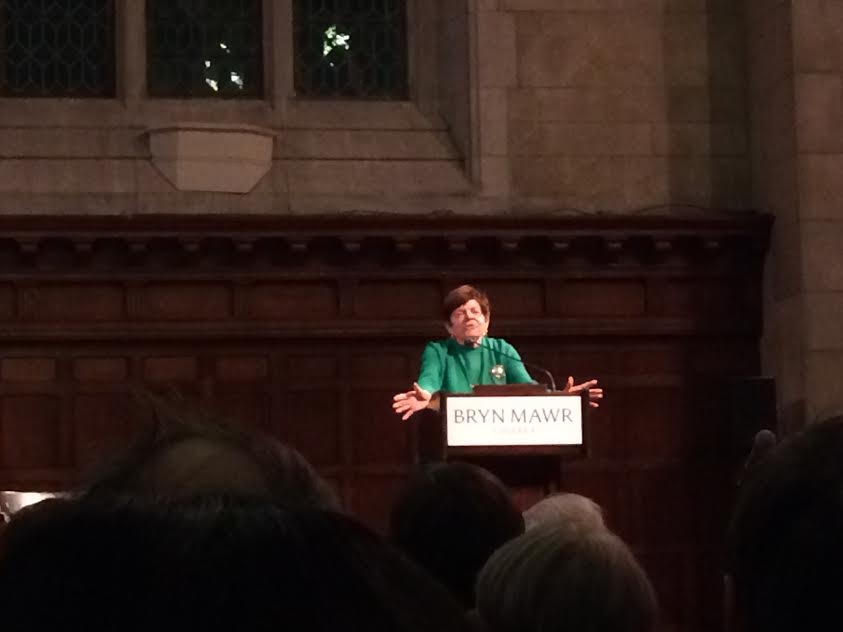 ——————————————————————————————-
Major investment in public infrastructure:
Bridges, roads, rail, air traffic control, Internet service, modernization… would raise productivity and incomes. There is low interest now so it is an opportune time.
Most Democrats and Republicans would agree on this investment if they took the time to talk to each other.
Education:
Early childhood education, increasing college access, less student loans reliance…
Again, both Democrats and Republicans would agree on this.
Rivlin points out that college should be more affordable, but not free. If college were free, the rich would get away with winning too much from the system, the taxes would be too high.
Immigration Reform:
Paths for legal citizenship. Get law abiding undocumented citizens out of the shadows to participate and contribute.
Tax Reform:
Corporate taxes could be lowered to be more globally competitive if tax exemptions for the rich were reduced. We need to protect the environment starting now. A carbon tax can start small, starting with taxes on infrastructure.
Restructure and modernize federal programs:
Simplify regulations and get rid of unnecessary ones. The federal government has too many small domestic programs. These programs live on for decades because they have few vocal supporters, and it takes too much time to evaluate if they are still necessary or efficient and effective. We let these programs limp along on slightly reduced budgets year to year. These accumulate into state and federal programs, with the federal government taking responsibility and blame.
National Debt:
How worried should we be about our national debt and what should we do about it? The debt is about 75% of our GDP. We don't have to worry too much because we aren't contributing to it very quickly. But for the future, we need bipartisan compromise to reduce the unnecessary federal programs to save for decades later as the population ages and relies more on social security and Medicare and Medicaid.
——————————————————————————————-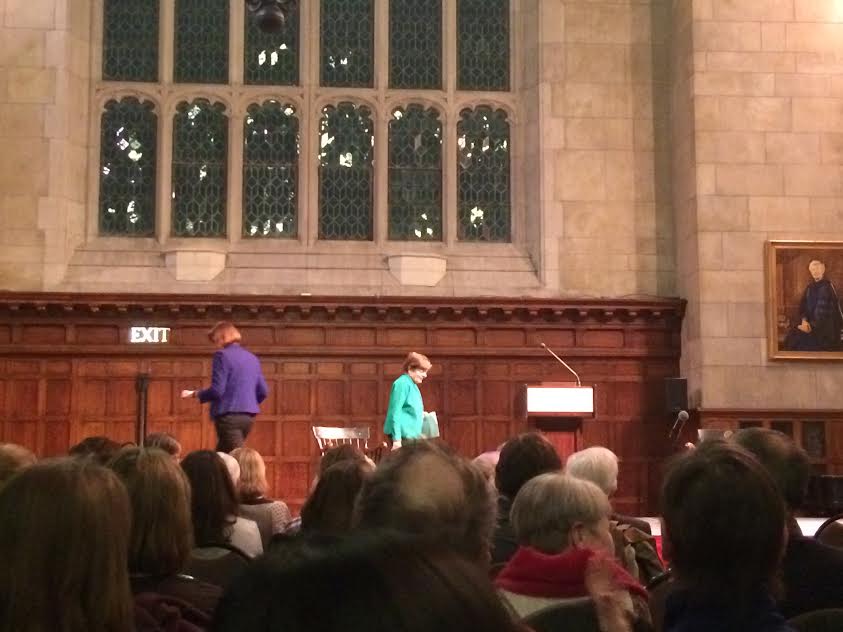 On working together:
Rivlin thinks it is sad we call it a victory in government when we don't close down our government or we don't default on our debt. That's a victory?!? There is lack of negotiation, deal making, compromising, and no more moderates. The Primaries attract people most dedicated to the party, and that tends to be the people unwilling to compromise. Rivlin suggests exploring the possibility of multi-member districts. Apparently it's not unconstitutional. As for which reforms to implement first, do the most doable ones first for confidence building: infrastructure. We need technique in negotiation between parties and chances for working together.
The public wants politicians to work together and will reward those who do so at the polls. Action for reform has to come from public pressure. Dialogue is really different from debate. Debate is trying to win. Dialogue is about finding common ground. It's hard but rewarding work. Mobilizing public opinion behind it is even harder. Rivlin has a hunch that women may be better at working together. The men in politics tend to get too much satisfaction out of winning.
What can students do: (Rivlin calls our generation idealistic and service oriented)
Participate in voting, even on off years
Practice the art of dialogue
Seek out people who disagree with you and try to understand why they think like they do
See if you can get them to ask you why you think your way
Try choosing a campus issue or a public issue to practice
=======================================================
It was honor to hear Rivlin's opinions on the current political scene and her policy proposals for a more inclusive prosperity in the U.S. She speaks from experience and many decades of working with both sides of the political spectrum. I agreed with everything she said, and I would definitely trust her with my money. As someone who is considering a Masters in Public Health, I would like to learn more about her work as the Leonard D. Schaeffer Chair in Health Policy at Georgetown.
After her talk, I found her Wikipedia page and found out that she helped work on the Marshall Plan after graduating Bryn Mawr and moving to Europe! She also originally wanted to go to graduate school for public administration but was rejected because she was a woman of marrying age. She went on to a Ph.D in Economics at Radcliffe College, Harvard University and became one of the nation's experts in fiscal and monetary policy.