On Tuesday, writer/speaker Lisa Birnbach visited Bryn Mawr to talk to students about Bryn Mawr and women's colleges in today's society. She is on a journey to 9 women's colleges along the East Coast researching and interviewing students for an upcoming article for Vanity Fair.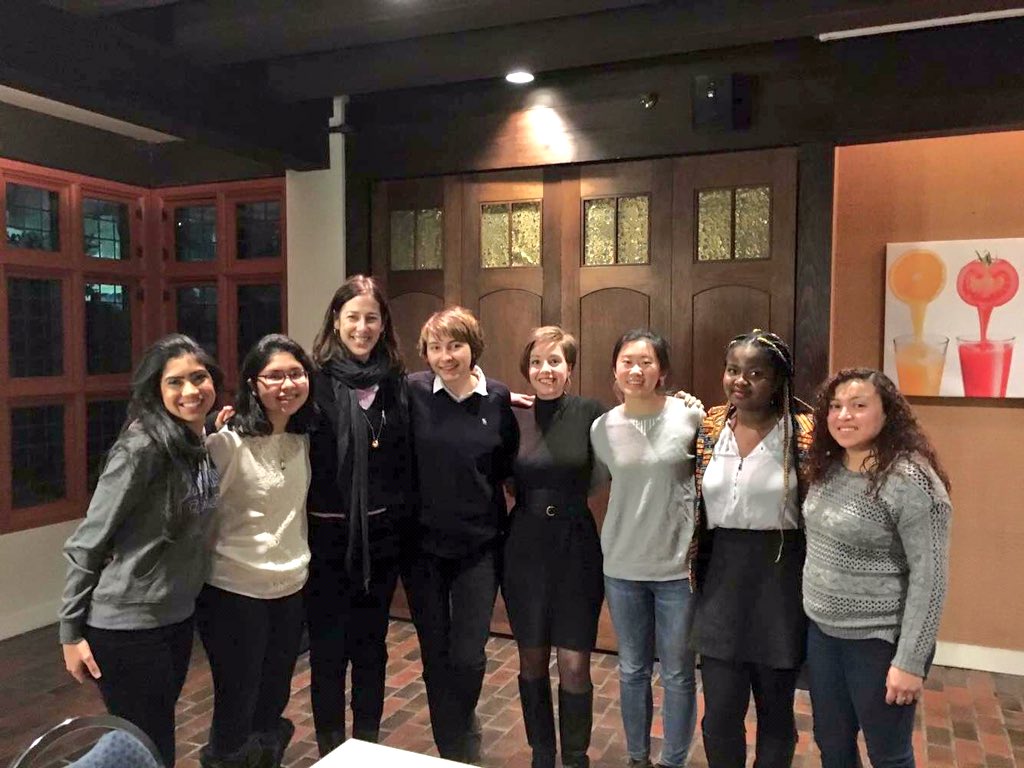 I was invited as one of the seven students to talk about my Bryn Mawr experience. The seven of us were only a small sample of all the amazing Mawrters, but we were quite a diverse group. There was a Brazilian, a transfer computer science major, a Posse Houston student, a queer clinical psychology student, a New Yorker, an SGA President, and me. Prior to talking to us, Lisa had also toured our beautiful campus and sat in on a geology class.
Lisa started off the conversation asking us about why we chose Bryn Mawr and how we had heard of it. Many had cited a high school mentor who had directed them towards the school. One girl had found out about it by googling on the Internet. My mom had actually found Bryn Mawr for me. A college friend of her's is on the Board of Trustees and one of her close friends is a Barnard graduate. I had actually considered Bryn Mawr to be one of my "safety schools" because the admission rate was so high. I now realize that admission rates and U.S. News Rankings have NOTHING to do with academics or quality of education. Admission rate is high because we are a women's college. We can all agree that Bryn Mawr is hard.
The conversation then drifted to stories of how Bryn Mawr has changed us for the better — empowerment, confidence, understanding of others, sisterhood, leadership, opportunities. On the softer side of personal change, many of us agreed that at a women's college, we learned to love ourselves more completely and how to take control of our social and dating lives as independent and informed Mawrters. We then shared our opinions on the transgender movement and feminism at women's colleges, agreeing that the two movements go hand in hand and can benefit each other. Lisa ended the conversation asking where Bryn Mawr students stood on the upcoming presidential election. It was pretty split between Bernie and Hillary.
Here were some of my points I contributed to why a women's college:
Freedom to learn without men in typically male dominated subjects.
Life long friends.
Feminism is still not widely accepted in our world.
You share a common bond over school traditions you could only do in a women's college environment.
You learn to dress for yourself, not for the cis-male gaze.
Many leading women in this country graduated from women's colleges.
In the end, it comes down to Bryn Mawr being an excellent school, which happens to be a women's college.
And how a women's college survives today:
Financial Incentives

No application fee
Travel Scholars, reimbursements, tours
Merit scholarships to domestic & international students
Attract first generation college students

Partnerships with Outside Institutions: (Bryn Mawr has the Tri-Co, Penn, and Villanova. Wellesley has MIT and Olin. Smith & Mount Holyoke are part of the 5 College Consortium. Barnard has Columbia. Scripps has the Claremont Colleges.)

Academic Opportunities
Social Life
Graduate Program Partnerships
Small school liberal arts feel with large school university options

Preprofessional Preparation:

Finance and Management Intensives, Job skills specifically for women to succeed

The Seven Sisters Network is Alive: continue to build strong and powerful alums to take over the world

Graduates of women's colleges continue to send their children to their alma mater or other women's colleges — legacies
Many siblings have also attended the same women's college

Campaigning for Philanthropic Gifts: Money is always important