Last night was the Philadelphia Asian American Film Festival's centerpiece event at International House Philadelphia— Strength In Numbers: Sights and Sounds of the Asian American Hip Hop Generation. The event consisted of a screening of select music videos, a panel discussion on Asian Americans in Hip Hop, and live performances by artists included in the Strength in Numbers project.

The panelists included the Mountain Brothers (Scott CHOPS Jung, Chris PERIL-L Wang, Steve STYLES INFINITE Wei), Catzie Vilayphonh of Yellow Rage, rappers Rekstizzy and Joanlee, and singers JL Jupiter and Ann One. The panel was moderated by Dr. James Peterson (Director of Africana Studies and Associate Professor of English at Lehigh University, Founder of Hip Hop Scholars, Inc and a frequent Guest Commentator on MSNBC and CNN).

Music Videos screened (all produced by CHOPS):
Scott CHOPS Jung opened up the panel discussion by introducing the concept behind his work and the Strength in Numbers Project — "to make music that when you closed your eyes, you couldn't tell they were Asian American."
The other panelists weighed in on sounding "Asian":
Steve STYLES: Being Asian is not the number one driver in our lives, it's hip hop.
Rekstizzy: "You didn't sound Asian" was a compliment. We're getting to a point where being Asian is cool, like growing up on Dragon Ball Z.
JL Jupiter: I was put in an ESL class at Rutgers, Camden. The teacher asked me why I was there because my English was fine, and I just shrugged.
Joanlee: Hip hop was about struggle and story telling. If I just tell my story and be honest with myself, I don't need to worry about what others think based on my skin tone.
Catzie: If you're Asian, obviously your stories are going to be Asian. We always assume it's the Asian Students Association that invite us to their college campuses. One time in Minnesota it was the Black Students Poetry Group that invited us, which was a pleasant surprise.
On the Role of the Internet in the Music Scene today:
CHOPS: We got together in 94′ at Penn State. The internet was so different back then. No Google. We had Asian Avenue. Now everyone puts their videos up and connects instantly.
Steve STYLES: It's easier to build communities with the internet. A lot of people we connected with didn't even know we were Asian. I think that was a cool thing that probably can't happen now because everything is on YouTube.
Chris PERIL-L: We sent out demo tapes though the post office.
First Experience With Hip Hop:
CHOPS: Radio. A friend brought a drum machine to class one day. It was cheesy as sh*t but I loved it. I now use a program called Cubase.
Catzie: When Kris Kross came out.
Rekstizzy: Big into 90s K-pop.
Rapper: I Get Around by 2Pac
Joanlee: Dear Mama by 2Pac because I was raised by a single mother. Also Mary J, Lauryn Hill, Snoop Dogg, Dre.
Steve STYLES: Public Enemy tapes from a friend at school.
Chris PERIL-L: Run DMC, I remember recording off the radio and trying to memorize the lyrics.
Ann One: NYC hip hop, Run DMC, Beastie Boys Licensed to Ill.
JL Jupiter: Growing up as Asian, we didn't curse. Listening to hip hop and all the cursing was like, "Woahhh."
Who is your Audience:
Joanlee: Middle schoolers to mid 20s. I used to go to open mics and it would just be Asian middle schoolers. Now my audience is more diverse, kind of like the audience here today.
Mountain Brothers: College students, the independent hip hop scene, Philly.
Ann One: I couldn't deal with the racism here in the States, so I went to Korea to build up my fan base. I've returned to the States and am building up fans here again.
CHOPS: We sent out Mountain Brothers demo tapes with our pictures, but we didn't get any responses. So we decided to send our music out without photos. Instead, we wrote a letter saying we have pictures ready to send if you liked our music. To us, it didn't matter what we looked like if you didn't like our music.
Hater Comments:
Joanlee: The comment I get the most is "Why are you trying to be Black?" Then what is Black? I'm just trying to tell my stories and my life.
Rekstizzy: I used to get a lot of "Oh look, it's Kim Jong Un rapping, hahaha," but I dyed my hair blonde so I'll probably see some "Oh look, it's G-Dragon" comments.
Catzie: Yellow Rage has a piece called, "Listen Asshole" and Asian women would come up to us and tell us we were a disgrace to Asians.

Pressure to Deliver a Message as a Person of Color Rapper?

CHOPS: We didn't really think much about our message. We didn't want to let people down musically, we wanted to be dope.
Steve STYLES:  We have a responsibility to be a positive human being, which is separate from the music. It's a little unfair to the artists. They have other ways to reach out to people that don't impinge on their art.
Ann One: I don't think music has to be politically charged to make a difference. Because we are so underrepresented, just doing something makes a difference.
==========================================================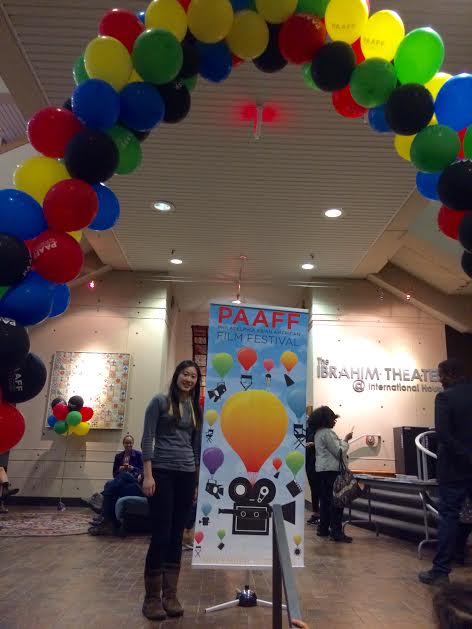 This event has a lot of personal meaning to me. I came across the Asian American hip hop scene by clicking through the "Related Videos" section in YouTube after watching Korean Pop (K-Pop) videos. Like many Asian American girls, I had a "K-Pop Phase" in my childhood where watching someone who looked like me perform on stage was something I never got to see in America. I could relate to what the Asian American hip hop artists were rapping and singing about. Thanks to YouTube, So
undcloud, iTunes, Pandora, Spotify, and the internet, it's a lot easier to explore established and up-and-coming Asian American artists.
It was such an honor to see the Mountain Brothers, the pioneers of Asian American hip hop and first Asian American group to be signed to a major record label, and the other artists together in one panel. I am also a huge fan of CHOPS and Ann One's music! Unfortunately, I couldn't stay to see Ann One perform live because I had to catch the SEPTA back to Bryn Mawr. Maybe someday I'll bring her to Bryn Mawr for Concert Series…
This was my first time at the Philadelphia Asian American Film Festival (PAAFF). When you're kept busy with all the schoolwork at Bryn Mawr, it's sometimes difficult to find time to leave campus. I'm glad I made the extra effort this weekend (despite all the schoolwork I am dreading to finish after this blog post). Going to PAAFF reminded of all the fun I had two summers ago interning at the Asian American International Film Festival (AAIFF) in New York City.
The 2015 Philadelphia Asian American Film Festival is from November 12-22, 2015.