This past weekend was a very busy weekend: Trisha Brown Dance Company performances, Shakespeare Performance Troupe's Star Wars, and… Family Weekend. I like to say that Family Weekend is the time for the school to convince parents that spending that much money to send their child to (insert college name) was worth it. Parents are given the opportunity to sit in on classes, tour the campus, tour Philadelphia, attend panels on student resources such as LILAC, Study Abroad, and Pre-Health Advising, attend faculty talks, participate in family friendly fun activities, and taste test Bryn Mawr's award winning dining services.
My dad came to visit me this Saturday. In past years, my mom, dad, and sister all came to Family Weekend, but this year my mom was traveling with my grandma and my sister was finally in college herself. For many students who live far away from campus, parents might not see the campus until Parents Weekend, or until graduation. Just two weeks ago, my parents flew to Minnesota to visit my sister for Carleton's Parents Weekend. Fresh from that trip, my dad had a comparison of what other college parents weekends are like, and Bryn Mawr performed very well.
The first thing my dad and I did when he drove in from New Jersey around noon was grab lunch in Erdman. After we enjoyed buffalo chicken wraps, butternut squash soup, and a couple Hope's cookies, we headed over to Dalton 300 for the faculty talks:
China's Technological Catch Up Strategy: Industrial Development, Energy Efficiency and CO2 Emission by Michael Rock
The Future of our Forests by Dr. Sydne Record
I took Professor Rock's ESEM on The Politics of Development in East Asia, and it was one of my favorite classes I have ever taken at Bryn Mawr. I remembered a lot about what he talked about from our class. I even read part of his latest book on the subject this past summer. Dr. Record's talk was also very interesting. I am currently taking Biostatistics, so I could understand a lot of what she does as a computational biologist. Both faculty talks complimented each other well because they both had to do with the environment and CO2 emissions. One took the economic approach and the other took the computational biology approach at looking at the complex problem of Climate Change. Listening to these faculty talks made me realize how much I am missing out on as a pre-nursing physics student. Given the rigorous pre-nursing requirement classes as well as my major classes, I do not think I will be able to participate in a 360 program such as China and The Environment or Temperate and Tropical Coasts in Transition. The only option would be to take the pre-nursing classes during the summers so I could make room for other classes, but then I miss out on internships or traveling abroad since I do not have time to study abroad either.
After the faculty talks, my dad and I tried to catch the end of the field hockey game against Johns Hopkins, but when we got there they had already finished. My dad and I then walked around campus and watched the pumpkin painting on Merion Green until the Wyndham food demo at 4pm. Sous Chef Terrence Foster demoed a Butternut Squash, Saffron & Apple Bisque. My dad liked it so much he took a recipe home and had three samples.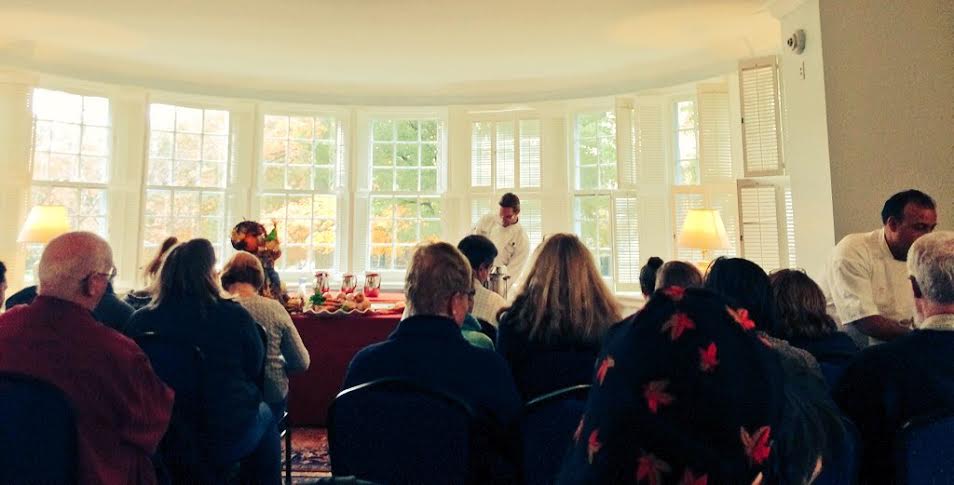 After the food demo, my dad and I ate a quick dinner in Haffner, then went to watch the Trisha Brown Dance Company perform Floor of the Forest (1970) in the Goodhart Glass Box. (I wrote about the performance in my previous post.) After that, we went back to my dorm room to rest until the 7:30pm Shakespeare Performance Troupe Star Wars show. My dad was very excited for this, and I was a little curious since I had never seen a Shakespeare Performance Troupe show before. The show was Star Wars in Shakespearean verse, and it was hilarious! The acting was great, the costumes looked authentic, and there was creative use of props to display planets, spaceships, and sound effects.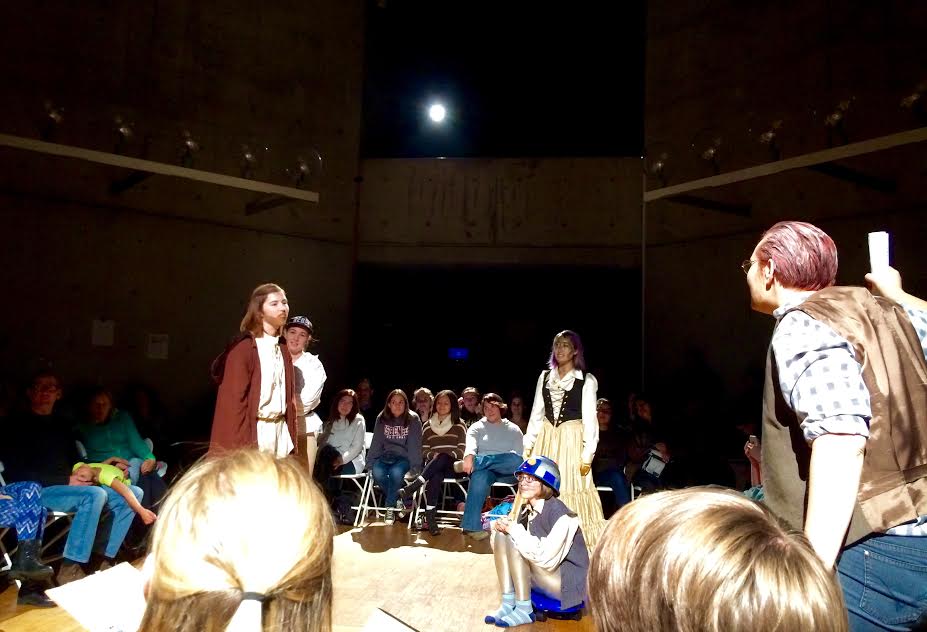 I think I enjoyed Family Weekend just as much as the parents did.