On Saturday May 13, I graduated! It's hard to believe that four years of Bryn Mawr have gone by so fast. Sadly, it rained on graduation, but the ceremony was still held outside under the tent on Merion Green and all 332 of us undergrad seniors graduated.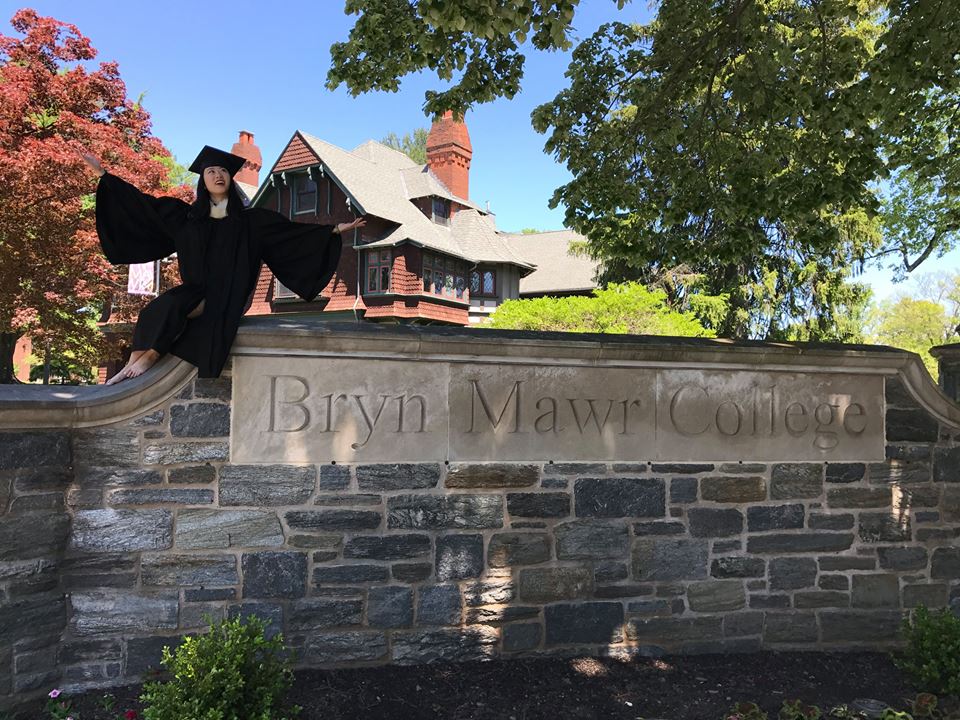 The day started with my parents, maternal grandmother, and maternal aunt arriving at Bryn Mawr for brunch in Erdman Dining Hall. We all got the made-to-order omelettes. After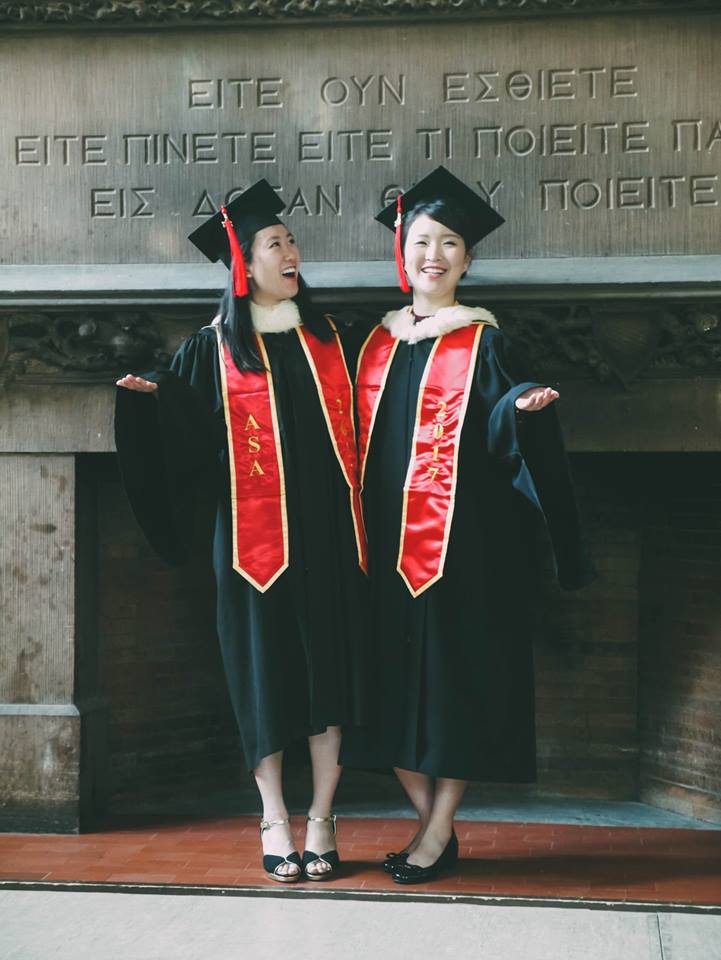 brunch, I returned to my dorm room to get dressed for graduation. There really was no point in wearing anything too fancy since it was cold and wet. I wore my original dress but put on leggings and a fleece sweater. I had initially wanted to wear heels but opted for boots instead. I also wore my Asian Students Association red and gold stole on top of my regalia. Each of my roommates were all busy taking care of their families, but Friend and I managed to get a quick photoshoot in the Denbigh dance studio. Then, it was time to get in our places for the procession. Graduates usually line up on Taylor Drive, but we lined up in Thomas Great Hall because of the rain.
Graduates lined up by major in alphabetical order and by last name in reverse alphabetical order. The physics majors managed to get a picture together!
Graduation took about 2 and a half hours. President Cassidy spoke, President Benston of Haverford gave a speech, and our commencement speaker was journalist Maria Hinojosa. Select faculty were also recognized in the ceremony. The program order for degrees was PhDs, Masters, Masters in Social Service, and finally, the Bachelors. At the end, the fresh graduates sang the Sophias in Ancient Greek and anassed.
After graduation are garden parties. Garden parties are typically held on Erdman Green, and we even had to rush to claim spots on the Thursday before graduation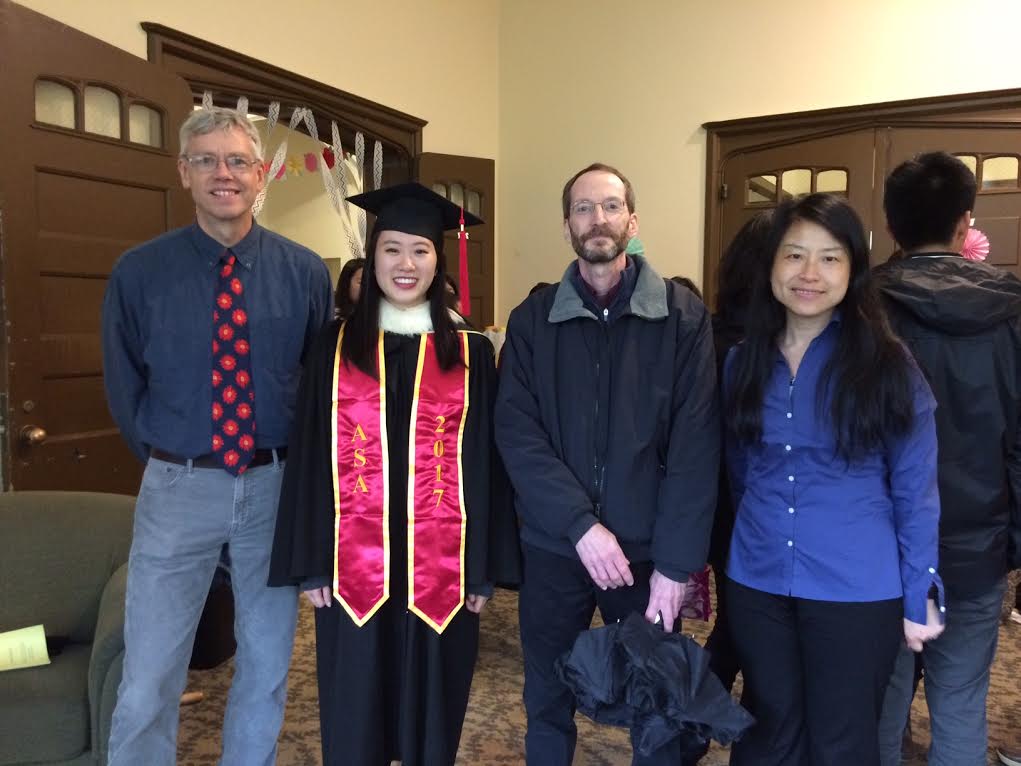 . However, the rain call was made on Friday and rain spots were assigned in Erdman, New Dorm Dining Hall, Rhoads Dining Hall, Hepburn Theater, and Thomas Great Hall. I had planned ahead and reserved the Denbigh TV Room for a joint garden party with 2 other friends. Garden party is a time for snacking on some cookies and tea sandwiches provided by Dining Services, meeting each other's families and friends, and taking lots of photos. I even had surprise visits by three of my physics professors and my Arts Office supervisor!
My garden party wrapped up, and my family and 3 garden party girls went out to Penang in Chinatown for dinner. I was happy that my family got to meet 3 of my close underclassmen friends. We got bubble tea after dinner, of course. I will miss Philadelphia Chinatown and all the memories I had eating out with friends. My parents drove us back to Bryn Mawr, and I slept in my dorm room one last time before moving out on Sunday. Sunday's weather was actually very nice. My family ate brunch at Turning Point in Bryn Mawr town and took photos around campus in the sun. We drove back to New Jersey that day, and now I have officially finished Bryn Mawr.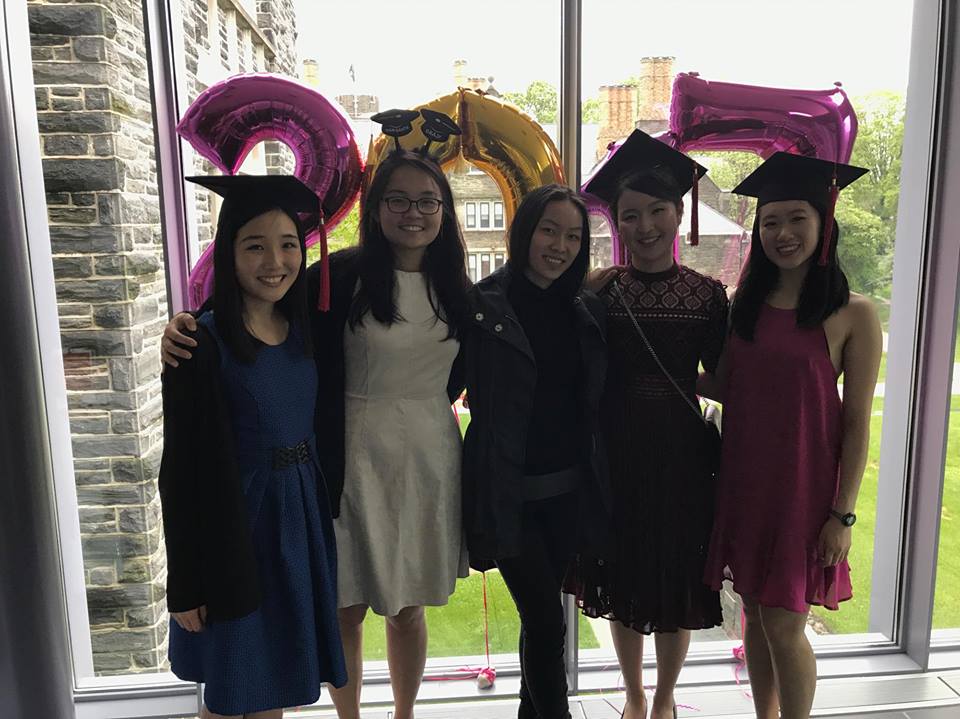 ________________________________________________________________
Which leads me to the end of this blog…
Being a Banter Blogger has kinda been my pride in blog form for Bryn Mawr. I can't think of a better student job on campus that incentivizes me to attend as many interesting events/activities as I can and write about and share it with others. I hope my blog has inspired future Mawrters to attend Bryn Mawr, current Mawrters to seek out new opportunities and resources Bryn Mawr has to offer, and alums to reminisce about the good college years. I enjoyed reading the occasional feedback and comments I received on this blog. Thank you for a wonderful 2 years as a Banter Blogger!
My story doesn't end here quite yet. I've developed a knack for blogging and plan on continuing to document my journey elsewhere. For now, you can tag along on Twitter at @mir88cee. I'm trying to set up a more "professional"-esque blog aside from the word vomit I throw up on my Tumblr. More on this to come… an announcement for my new blog platform will most likely be made on my Twitter and updated on this post sometime indefinitely into the future.
As for what's next in life… you probably know by now that I plan on attending an accelerated masters program in nursing in one or two years. (Gap year between undergrad and grad because classes at Bryn Mawr were hard, and I need a break.) Until then, I planned on working as a clinical research assistant preferably in the Tri-state area or in Philly. This did not work out well, despite applying to nearly 90 jobs since the start of senior year, because I only received 3 interviews and 0 offers. While most of my classmates were either going straight to grad school or landed a prestigious fellowship, I had nothing to say about myself in the Class of 2017 "Where They're Going" post.
Now that I'm home and have some space to reflect after months of shooting my resume and cover letters literally everywhere and anywhere, I think I just don't have much directly relevant experience and connections. I did not do summer research or land any prestigious science program. One year I applied to 11 Biostatistics programs run by NIH and got rejected from all 11. That's the summer I went to China through Haverford CPGC. The summer before, I had applied to Berkman Klein Center for Internet and Society and NPR internships. I ended up working for Digital Curriculum at Bryn Mawr. And my first summer in college, I wanted to go to Indonesia through Haverford CPGC or work for Asian American Legal Defense. Instead I was an unpaid social media manager for an Asian American film festival.
I'm searching for a mentor who will take me on for a position even if I perhaps haven't earned it yet because they see the potential in me. I don't know if that really exists, but stories of that happening to others bring hope for me. It has gotten to the point that even jobs and interviews I landed through a distant connection ended up rejecting me. My new plan is to offer to work for free or volunteer in some clinical setting. While my background is in community based settings and interpersonal skills, it is time for me to gain some experience in a lab or clinical setting. I have to be more selective in choosing my next step while also being open to anything I get. I am fortunate enough to have parents that let me live at home rent-free and to have financial security to afford the commute to and from New York City.
For now, you can find me at home in Ridgewood, NJ taking care of my grandmother, searching for free events in NYC, and trying to get my life together. I attempt to avoid that postgrad depression slump and push forward with even greater tenacity and motivation. Wish me luck, and bye for now!!!